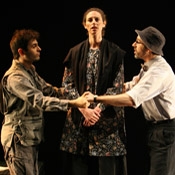 Naomi Wallace's The Fever Chart: Three Visions of the Middle East is profoundly depressing, less because of its stories than its stereotypes. The play presents three extended scenes that share only one vision: the perspective that sees persecuted Palestinians, aggressive Americans, innocent Iraqis, and whatever-adjective-is-bad Israelis. The sad stories the victims recite are manipulative as any Hallmark commercial. Who wouldn't feel sad over the deaths of cute children and sweet animals?
The waste of talent is depressing. The actors are gifted, the imagery appeals, the poetry pleases, and Jo Bonney's direction is sure-handed. But if you agree with Wallace, you'll be bored. If you disagree with Wallace, you'll be equally bored, and you won't be challenged, let alone persuaded. The Fever Chart, with its use of craft to serve bias, brings the liberal equivalent of Socialist Realism. Its contrivances do not convince. It's also dated: The atrocities here are all years old; don't expect references to, for example, the gunned-down Yeshiva students this past March.
The first piece, called Vision One: A State of Innocence, is a lot like The Twilight Zone meets an op-ed from The Guardian. It's not much of a spoiler to reveal that nobody is quite alive. An Israeli soldier, Yuval (Arian Moayed), guards a decrepit zoo. A Palestinian woman (Lameece Issaq) visits, and then a strange 96-year-old self-styled "architect" called Shlomo (Waleed F. Zuaiter) arrives. Grotesque Shlomo apparently represents Israel -- more specifically, Zionism -- complete with Yiddish accent and references to origins as a Soviet Pioneer (a hooked nose and moneybags would make the stereotype complete). Issaq's grieving, noble mother is affecting.
Vision Two: Between This Breath and You presents a grieving Palestinian father named Mourid Kamal (Zuaiter). Set in a clinic, there's a long prologue involving an amusing janitor (Moayed) before the play finds its stride: a conflict between Mourid and a nurse, Tanya Langer (Natalie Gold), who may have been the recipient of the lungs of Mourid's son. Like Yuval in the first piece, Tanya is privileged, cynical, and has ties to America. It's Wallace's strongest work, but it needs cutting by half. Langer's one-note nurse annoys more than she interests. Zuaiter's Mourid has gentility and heart. Moayed's lunatic would be funnier if he pushed less.
Vision Three: The Retreating World is weak, despite a strong performance from Omar Metwally as Ali. Ali was once a collector of prize birds; he now lives in a bombed-out land that is no longer "the city of dates." Newsflash: Medical blockades hurt civilians, and innocent people get caught in war! One feels bad for the pigeons, of course.
But worse for the state of American playwriting.
Presented by and at the Public Theater as part of Public Lab,
425 Lafayette St., NYC.
May 7-11. Tue.-Fri., 8 p.m.; Sat., 2 and 8 p.m.; Sun., 2 and 7 p.m.
(212) 967-7555 or www.publictheater.org.
Casting by Jordan Thaler, Heidi Griffiths.