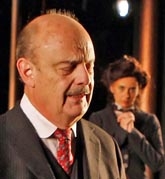 Can pursuing justice be a kind of crime? Those who seek it and those who flee from it can find themselves equally burned. The Glass Cage, a 1957 J.B. Priestly play receiving its American premiere at the Mint Theater, moves with the appeal of an episode of the PBS series Masterpiece or Mystery, though the ending works out less neatly than the police dramas that dominate those shows. And like them, The Glass Cage offers attractive people concealing, plotting, revealing, and unveiling their secret hearts, all in period costume. The play's stakes are high, involving money, history, and honor. It aims at transcendence, too, but doesn't quite achieve it. Where Priestley's An Inspector Calls effectively reinvented a murder mystery as a societal critique, The Glass Cage's sudden leap into religious imagery falls flat. Nevertheless, it's a good yarn with meaty roles and is performed by the Mint with élan, despite the unsatisfying ending.
Priestly wrote the play for a theatrical trio of siblings, Barbara Chilcott and her brothers Murray and Donald Davis, who ran the Crest Theatre in Toronto, which he visited in the mid-1950s. That's undoubtedly why a trio of siblings dominates the play. Into the prosperous 1906 home of David McBane (Gerry Bamman), a pious Toronto businessman who lives with his daughter, Elspie (Sandra Struthers-Clerc); his brother Malcolm (Jack Wetherall); and another brother's widow, Mildred (Robin Moseley), come the three children of the deceased black-sheep brother, Robert, who married a native woman and left the family business — or was he tricked out of it?
McBane's household is stuffy: We first encounter the living room as seminarian-in-training John (Chad Hoeppner), Mildred's nephew, reads a pious little parable to his aunt. When the three dark-haired cousins arrive, ostensibly to sign a paper transferring a small property in return for some money, they are immediately dangerous and fascinating. They want reparations for their father's ousting from the family business, which was not entirely aboveboard, and their poverty, which has forced them into seedy, rootless lives. They use their personal charms, with a dollop of blackmail and intimidation, to move toward justice.
Aaron Krohn plays Douglas, the oldest and most painstaking of the cousins. As poetic, wild Angus, Saxon Palmer tosses his lines charismatically; we see how he brings out the wildcat in sheltered Elspie. Jeanine Serralles as beautiful, damaged Jean sparkles as first a flirt, then a spider, and finally a kind of spiritual poet.
Lou Jacob's direction pulls strong performances from the cast, and a moody lighting design by Marcus Doshi and an evocative, non-naturalistic sound design by Lindsay Jones add depth to the action.
Presented by and at Mint Theater Company,
311 W. 43rd St., 3rd floor, NYC.
Sept. 21-Nov. 8. Tue.-Thu., 7 p.m.; Fri. and Sat., 8 p.m.; Sat. and Sun., 2 p.m.
(212) 352-3101 or (866) 811-4111 or www.theatermania.com or www.minttheater.org.
Casting by Stuart Howard, Amy Schechter, and Paul Hardt.