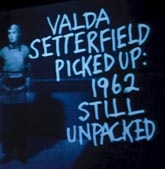 Maverick postmodern choreographer-writer-director David Gordon recently received a grant from the National Endowment for the Arts' American Masterpieces: Dance series to revise his experimental 1982 ensemble work Trying Times. While it's certainly valuable for today's audiences to get a chance to see updated reconstructions of any important historical dance work, I can't agree with the NEA's classification of Trying Times as a masterpiece — or even as one of Gordon's worthiest efforts. Far more compelling are the artist's later theatre-based, text-driven works, such as Dancing Henry Five, a brilliantly entertaining adaptation of Shakespeare's play, and Aristophanes in Birdonia, a delightfully brainy reworking of the classic Greek comedy The Birds (both previously reviewed by this critic, in the Feb. 6, 2004, and Jan. 26, 2006, issues, respectively, of Back Stage).
Though Gordon's productions have come to be known for smart incorporation of verbal wit, highly political content, and theatrical ingenuity, Trying Times is essentially a pure dance piece with a satiric courtroom scene tagged on the end. Set to a combination of the Stravinsky score and snippets of overheard subway conversations, the dance is a postmodern tribute to the ballet "Apollo." The famous Balanchine choreography is subtly referenced, boldly abstracted, and at times directly quoted.
For this restaging, which has been re-titled Trying Times 1982 (Remembered), Gordon made slight alterations to the dancing, which is often performed in front of a video recording of the original production. As the choreographic changes are minor, the effect is largely of documentary rather than aesthetic interest.
The disappointingly brief trial enacted at the end of the show constitutes the work's real significance. The choreographer is tried for such crimes as making dancers talk, creating genre-bending work that defies the principle of accurate labeling, and, that most horrific of postmodern practices, toying with revered artistic creations from the past.
Gordon's piece is ably interpreted by a distinguished assemblage of performers, including 74-year-old original cast member Valda Setterfield (Gordon's wife); Karen Graham, a 2002 Bessie Award winner; and an attractive contingent of student dancers from CalArts.
Presented by and at Dance Theater Workshop,
219 W. 19th St., NYC.
Dec. 11-20. Tue.-Sat., 7:30 p.m.
(212) 924-0077 or www.dancetheaterworkshop.org.