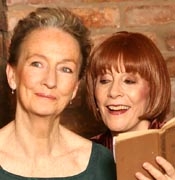 Vita & Virginia evokes the decades-long friendship between Bloomsbury novelist Virginia Woolf (Kathleen Chalfant) and aristocratic poet Vita Sackville-West (Patricia Elliott) through excerpts from their passionate correspondence. More a reading than a traditional drama, it makes up for its lack of movement with the fineness of its language and the considerable pleasures of watching two elegant, veteran actors in fine fettle.
As Eileen Atkins' script makes clear, Woolf and Sackville-West were letter writers par excellence. This type of highly literate, emotionally open correspondence seems particularly poignant in the Internet age, when even the most articulate emails are more akin to notes passed in class than to proper letters. Atkins' selections chart the rise of the two women's relationship from tentative flirtation, in which Sackville-West is clearly the aggressor, to a deep emotional and intellectual bond, ultimately cut off by Woolf's suicide in 1941.
A production like this rises or falls on the quality of the performances, and Chalfant and Elliott bring a graceful effortlessness to their readings. Sackville-West is the more colorful of the two; with her sassy bob, flowing velvet togs, and extravagant pearls, she's the image of the high-society artistic dilettante, and Elliott endows her with a humorously carnal and predatory grin, like a cat contemplating a tempting bowl of cream. (A generation ago, she would have been played by Glenda Jackson.) Ultimately, though, one suspects that Sackville-West's flamboyant persona was her most enduring and successful creation. By contrast, Chalfant's Woolf is a drab, almost spinsterish-looking figure who admits to being afraid of real life. ("If you'll make me up, I'll make you up," she writes to Sackville-West, declaring her passionate need for "more illusions.") Her suicide is all the more poignant for its understated staging — a credit to Pamela Berlin's tasteful direction.
Presented by the No Frills Company
at the Zipper Factory Theater, 336 W. 37th St., NYC.
Feb. 18-April 28. Mon., 7 p.m.
(212) 352-3101 or (866) 811-4111 or www.theatermania.com or www.thezipperfactory.com.