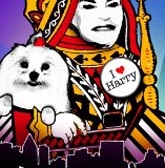 A tale of the tumultuous life of the mean-spirited, tax-evading hotel queen Leona Helmsley, Wild About Harry — book by Susan DiLallo and music by Daniel S. Acquisto — tells its story completely through dance. With virtually no spoken dialogue or singing, the production is not a musical. It is a ballet. Yet the style of its dancing is decidedly Broadway.
The show's choreographic duties were divvied up among five different dancemakers, each of whom staged several of the work's 15 distinct scenes. When employed as an expressive component of a drama, dance is particularly good at establishing a setting or developing character. Minute bits of movement can tell much about time and place or speak volumes about someone's inner life. Dance is not so good, however, at conveying detailed plot information, and therein lies the problem with Wild About Harry, directed by Elizabeth Lucas. Though many of the dances are well-crafted and visually pleasing, because they are apparently designed to chronicle the specific events of Leona's life, the choreography contains an abundance of pantomime, literal gestures, and staged movement and rarely blossoms into kinetically compelling dance.
The notable exception is Shea Sullivan's choreography for "The Queen of Mean" sequence, in which he uses the rhythmic intensity of ferocious ensemble tap dancing to portray the animosity Leona generates. Also noteworthy are Maurice Brandon Curry's effective use of ballroom dance to depict Leona's relationship with husband Harry Helmsley, and Josh Bergasse's concoction of a cute duet inspired by Hollywood musicals to show Leona's affection for her dog, to which she bequeathed $12 million. While it lacks dramatic clarity, stylistically Daryl Gray's cool jazz trio about a gay employee Leona allegedly fired wrongfully is a sensual gem.
Presented by Melinda Atwood as part of the New York Musical Theatre Festival
at Manhattan Movement and Arts Center, 248 W. 60th St., NYC.
Sept. 20-28. Remaining performance: Sun., Sept. 28, 7:30 p.m.
(212) 352-3101 or (866) 811-4111 or www.theatermania.com or www.nymf.org.