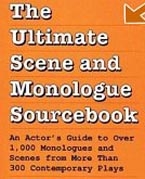 by Ed Hooks
As author, teacher, and actor Ed Hooks explains in the introduction to this updated, revised edition of his eminently useful book, he deleted approximately 15 percent of the plays listed in the original 1994 edition, because they seemed outdated or irrelevant or were out of print. But he replaced them with as many new ones.
Hooks doesn't include the text of his suggested audition monologues and classroom scenes. He wants you to read the entire play, as only then can you understand the material and make smart acting choices. But he does everything except supply you with the text.
The book (published by a corporate sibling of Back Stage) is organized into seven parts: Clear, succinct synopses and analyses of the plays are followed by lists of the plays' male monologues, female monologues, male-male scenes, female-female scenes, male-female scenes, and three-person scenes. For each one Hooks cites the act, scene, and page number, the characters and their age ranges, the given circumstances, suggestions for where to begin and end (also included are monologues that can be carved out of dialogue), whether it's comedy or drama, and how complex and challenging it is (and thus whether it's better for experienced actors or beginners).
This stuff is up-to-the-minute, for sure. You'll find Donald Margulies' Brooklyn Boy (2004) as well as Wilde's The Importance of Being Earnest, Martin McDonagh's The Pillowman (2003) and Strindberg's Miss Julie, plus works by Ibsen, Shaw, August Wilson — in short, something for everyone (but no Shakespeare, however). It's all cross-indexed so you can search by playwright, scene type, age, gender, and ethnicity.
Hooks (who is — full disclosure — a friend of mine) read until his eyes crossed in order to choose the ideal 300-plus plays and 1,000-plus scenes; he wanted material in which "conflicts and/or obstacles provide essential elements," as he writes in the intro. Thus these monologues and scenes are sure to be well-structured and playable.
Back Stage Books, 2007, paperback, 336 pages, $19.95.