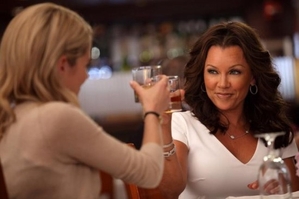 I could spend all day debating just what the deal is with Aubrey Dollar's obituary writer on last night's episode of "666 Park Avenue." Inspired by Gavin to let her imagination soar, Dollar's Anne writes a fanciful obit claiming the deceased was a CIA agent, and lo and behold! The very next day he's given a funeral that literally stops traffic. Pleased with herself and missing her dead mother (whose framed photo keeps her company in her cubicle), Anne writes a retraction to her mother's recent obit. No, she's not claiming it was all a mistake. Instead she randomly claims that her mother was a best-selling children's book writer. Snap! She instantly has better hair and nicer clothes. Still a crummy job writing obituaries though. Which can't be all bad, since she can afford an apartment in the Drake. (The writers of "666" are going for atmosphere, not logic, m'kay?) Impressed by her pluck, her editor gives her a plum assignment to dig deep into the mysterious KGB operative Kandinsky, whom she created for her first fictional obit. Guess what? He appears at her door, complete with the bag of torture tools she had given him in print.
I'd like to talk about how much I've always liked Aubrey Dollar, and how her guest star plot seems vaguely reminiscent of Sylvia Plath's villanelle "Mad Girl's Long Song" ("I think I made you up inside my head"), but ostensible star Jane insists that we talk about her. Oh, Jane. You and your roots are so boring, even Vanessa Williams can't resist driving like a maniac just to frighten you. That car trip comes at the end of a sympathy lunch suggested by Gavin, who wanted Jane to distract Williams' Olivia from the 10 anniversary of the death of their daughter Sasha. Olivia is gamely trying to have girl talk with Jane, asking about her sex life with Henry, but Jane is such a pill. "It's… healthy," she says. No wonder Olivia is shotgunning scotch.
Jane doesn't take too long before she's spilling out her fears about the Drake and her sanity. To be fair, the episode opened with her ankle being grabbed by ghost hands in that secret basement room, but Henry came and rescued her (far too quickly, for my tastes). "Sometimes I feel like the dead just won't stay dead," she mutters to Olivia. Then, realizing what she's said, she jams her sensibly clad foot deeper into her mouth. "Oh, Olivia! I'm so sorry. I didn't mean Sasha." Is it any wonder that Olivia almost kills them both on the way home?
Equally deadly is Henry's political storyline, especially an hour after the machinations on "The Good Wife." He's a nice guy, see, and just doesn't dream big enough! But Gavin knows all about dreams, and after a Masters of the Universe-style pep talk, he presses Henry to accost a council member at a club. Being pushy seems to agree with Henry, who lands a job from the encounter! He also has huge circle under his eyes, so maybe Jane's night terrors are starting to interfere with his REM, too.
That job isn't around too long, though, because after the council member rejects Gavin's requests for assistant in acquiring a building project in Greenpoint (theory: it's also a portal to hell, and Gavin wants to play Monopoly), Gavin shoves him down the elevator shaft. He makes up for it by requesting Henry's presence on the penthouse terrace at three a.m., telling Henry he still needs to dream bigger. Why work on a campaign when you can have a campaign? A campaign to help Gavin realize his evil dreams!
Evil is the right word for Gavin, at least according to poor dead Sasha, That rainy day wreck wasn't an accident, it turns out; she killed herself, and left Olivia a note calling her father "evil." Olivia has never told Gavin, because it might hurt his feelings. Although that's the thing about evil men: They don't really mind if people notice too often they're evil.
Oh, and Robert Buckley and his wife? They try to have sex before coitus interruptus happens courtesy of the hot blonde he's been Rear Windowing. And later, when they take Henry and Jane out dancing, there she is again! Even Henry notices how hot she is from across the way. Well, Jane told us he's healthy. We shouldn't be surprised that he uses his eyes. For Jane's sake, let's hope his big dreams don't include trading up in terms of arm candy.