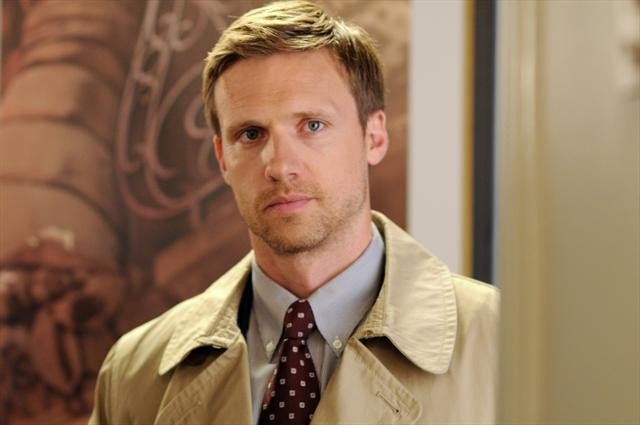 Poor Jane. For some reason, people—even her beloved Henry—are having a difficult time believing that a ghost chased her around the Drake waving a hatchet. Even that dumbwaiter she used to drag herself up five flights testifies against her; when the cops (including Teddy Sears as a detective with steely eyes and a melting smile) open the door, it's pretty clear that no one has disturbed the cobwebs in it for decades. And Henry flatly tells Jane that she should go and talk to someone; after all, her grandmother went insane. It's called genetics. He's not being mean!
Then again, Henry may just be looking for a reason to get Jane out of the picture. That publicist he picked up last week during his interview gets him into a room with some New York City political kingmakers, and reminds him that Jane is sweet, but she'll never understand his political ambitions.
Gavin would probably agree, if he weren't busy trying to figure out who gassed Olivia and stole the Red Box from his safe during the Halloween party. He doesn't have to look too hard; while inching toward torturing the man hired to put a scare into Olivia with a speeding van, he sees his lawyer's face blanch. It was him! So Gavin does what any powerful businessman with a flair for the occult would do: he condemns his attorney to an infinity spent wandering the empty, unending halls of the Drake in a parallel dimension, until the attorney proves useful. At least, his head proves useful.
Olivia still can't shake her headache from what she thinks was just too many cocktails at the party. The in-house doctor assures he she's fine, though chloroform showed up in her blood work. In exchange for keeping it quiet, Gavin loans him $50,000. Ostensibly, the money is for his student loans, but the doctor actually has quite a gambling problem. And when the money is all gambled away, an invisible brand leaves marks on his chest. Look who's in Gavin's power now!
For a man desperate to get an ornately carved wooden box back, Gavin never flinches. Even when he's having drinks with the man who paid to have the box stolen, he acts as if he holds all the cards. That's all the more shocking given that the man accosted Olivia at lunch and told her to try getting blood work done by a doctor who doesn't live in the Drake. She does, and confronts Gavin with her newfound knowledge. He comes somewhat clean, and the series' biggest surprise thus far is that Olivia doesn't seem to be as innocent as we thought.
But back to those drinks. Maybe Gavin is cool because he has a gift for the thief. A beautifully wrapped box! (Between "666 Park Avenue" and "Revenge," ABC has a monopoly on terrifying gifts.) After he leaves, the box is opened to reveal…the head of Gavin's lawyer. Gavin found a use for him after all!
After a massive fight with Henry, in which Jane basically says she's moving back to Indiana with or without him, he storms out and she angrily shoves everything off of a desk. That's when she discovers that the hatchet man was one of the Brotherhood responsible for the elaborate dragon mosaic in the basement. And how she realizes that his murdered wife was her…grandmother? Or the little girl was he grandmother? But then why does the ghost take the form of the little girl? Regardless, Jane has family ties to the Drake—ties that will be more fully explored next week.