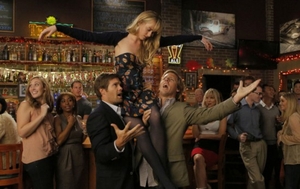 Tuesday night's episode of "Ben and Kate" started with an appropriately Thanksgiving-themed bang, as Ben (Nat Faxon) and Tommy (Echo Kellum) raced into Kate's house holding the live turkey they rescued from a raffle at the mall. Kate (Dakota Johnson) is initially disgusted, but lets the turkey stay once she realizes how cute he is.
(And now, can we just take a moment to acknowledge how great the "Ben and Kate" theme song is? It was composed by Michael Andrews, who also did the scoring for the film "Bridesmaids.")
Anyways, back to the episode, which gradually becomes less Thanksgiving-y. Ben, Kate, and Tommy's high school reunion is coming up, and everyone's nervous for different reasons. After running into his super stylish ex-classmate, Sarush, Tommy is worried that he won't be the most fashionable person at the reunion.
Kate's nervousness lies in encountering her high school nemesis, Anna. Anna, we learn, once sabotaged Kate's performance in "Jesus Christ Superstar" by forcing Kate to fall over mid-song, and land face-first in some guy's crotch (and thereby christening—no pun intended—Kate's high school nickname, "Junk Face"). Kate's also nervous about how to introduce Will to her ex-classmates. Is he her boyfriend? Neighbor? Friend? She and Will have never really sorted it out, and it's unclear.
And oh, one more thing—brace yourselves, people. Kate asks Ben why she's been receiving mail for a "Mr. and Mrs. Ben Fox." Ben brushes it off, explaining to Kate that the IRS thinks that he and Kate are married. But thanks to a nifty flashback, we find out than Ben and BJ are actually married. No, this is not a joke. They got married like seven years ago, supposedly so that BJ (Lucy Punch) could get a green card. Oh, and they've been keeping it secret from Kate all these years. Are you super shocked/confused? That's totally acceptable.
But let's get to the reunion, shall we? Will is perhaps unnaturally determined to have Kate confront Anna about the "Jesus Christ Superstar" fiasco. (By the way, did we mention that Kate played Jesus?) Anna, it turns out, always resented the fact that Kate got to play Jesus, even though Anna was clearly the better singer. But Will refuses to let Kate back down, insisting instead that the girls settle the matter once and for all with a sing-off.
We were all set to have Kate emerge victorious, but then Anna breaks into this hilariously awesome, beautifully sung ballad, complete with impromptu costuming and the use of the pool table as a set piece.
Next, it's Kate's turn. Ben and Will lift her up into a "full Jesus," and just as she's about to sing, in walks—or rolls, rather—Tommy. Remember how he wanted to be the most fashionable person at the reunion? Well, he enters with straightened hair, a red blazer sans undershirt, and those irritating wheelie sneakers that your little brother probably used to wear. And because history tends to repeat itself, he wheelie shoes his way right into Ben and Will, sending Kate catapulting to the floor for another spectacular face plant into somebody's crotch – this time Will's.
Embarrassed, Kate storms out of the reunion. Will follows her, and the two engage in a semi contrived argument in which Kate asks why he's trying to "fight all her battles." And then he responds by saying he's trying to defend his girlfriend (please note the use of the term "girlfriend"), and then Kate's really happy, and it's sweet.
Of course, the episode couldn't end without a Thanksgiving feast, and an epic plot twist. BJ decides that it's finally time to reveal to Kate that she and Ben are married. But wait, there's more. She also reveals—to the surprise of everyone, including Ben—that she didn't need a green card when she married Ben—she already had dual citizenship, having been born in Texas (what?!). The reason she married Ben was so that he'd be forced to stay in California, close to his then-pregnant sister. And oh my goodness, it's so cute that everybody forgets that they're eating the turkey from the beginning of the episode. The end. Happy Thanksgiving.
Lines of the Night
"Gender-blind girl Jesus…sweet" – Will, on learning of Kate's theatrical past
"You gotta punch Anna in the face with your vocal chords!" – Ben, encouraging Kate before the sing-off
"It's a post-fashion fashion! He's basically the Persian Andy Warhol!" – Tommy, complaining about how stylish Sarush is
"It's the perfect crime…there is no crime." – Tommy, after learning of BJ's elaborate marriage ploy