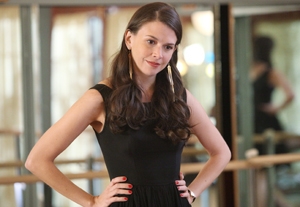 Welcome to Las Vegas, you guys! The city of shattered, vomit-encrusted dreams, in which "Gilmore Girls" creator Amy Sherman-Palladino has set her new ABC Family show "Bunheads."
In which Sutton Foster is on TV and not on stage... well, actually...
Curtain up on Michelle, a leggy, fast-talking brunette who works as a Vegas showgirl. Michelle is so unhappy with her seriously spangled life, that she takes it out on everyone around her. Particularly her fellow showgirls who take their tops off—and/or look like Muammar Gaddafi. Theater fans – God help you – will recognize the strains of Marc Shaiman's "Jet Set," from the musical "Catch Me If You Can" accompanying the opening number, featuring two-time Tony-winner Sutton Foster in a full-on feather headdress. Foster brings about as much down-and-out Vegas grit to the table as a kindergarten teacher, but no matter. We won't be in Vegas long thanks to Michelle's stage door stalker, Hubble (Alan Ruck), who is named after either Robert Redford's character in "The Way We Were" or the telescope. He walks a kind of creepy/reassuring line between serial killer and insurance salesman, but Michelle turns down his date because she has an audition – dun dun – for "Chicago."
In which we're all supposed to pretend Sutton Foster can't book a gig in "Chicago"…
If you hadn't suspended your disbelief by now—starting back at the quirky but still family-friendly showgirls—you've really got to do it now, team. Because we're about to pretend that Foster, with all eight million miles of her beautiful, leggy, self, can't get anyone to even look at her in an audition for the Las Vegas cast of "Chicago." After the aborted audition attempt, she's so desperate to change her stars that she decides that marrying Hubble is totes a good idea. Because he's a totally charming, sweet stalker and not a mentally deranged stalker, so it's all okay.

In which we go to Paradise...and it sucks...
Enter Paradise, the dubiously named beach town where Hubble brings Michelle after their Vegas wedding. Hubble lives with his mom, Fanny (Kelly Bishop), and her collection of creepy clown dolls. We also meet the dancer kids, including Boo (Kaitlyn Jenkins), who wears a leotard with dancing Snoopy on the front. There's another dancer girl who looks like a creepy child version of Megan Hilty (Bailey Buntain), a boring one who does nothing (Emma Dumont), and Sasha (Julia Goldani Telles), an outrageously good dancer and pointy-chinned mean girl. From her, we expect nothing but trouble. Now, on the agenda, a party to celebrate the wedding!
In which Hubble brandishes his... telescope...
Here we meet Truly, Hubble's heartbroken ex, who owns a shop in town named Sparkles where Michelle gets a hot dress for the party. When Michelle arrives at the shindig, however, the townsfolk are not impressed. The story about town, in fact, is that she's a hooker. Or a stripper. Or from Reno. Or all three. In an attempt to avoid total nuclear meltdown, Michelle takes refuge in Hubble's room, which feels very Family-Suite-at-the-Ramada-Inn-Biscayne-Bay, and they smooch and sleep together. Consensually. In fact, despite the fact that they have nothing in common and that any police department would happily grant Michelle a restraining order, she and Hubble are pretty hot in the sack. So they shag, right after she tells him that she doesn't love him.
In which Auntie Sutton teaches some things…
Things certainly got awkward back there when mommy dearest (almost literally, right down to the eyebrows) started shouting about Michelle and Hubbell's sex life, didn't they? The good news, though, is that Michelle can escape the insanity by visiting the conveniently located dance studio, and the dancer tweens who hang out there.
Here, Michelle the Showgirl becomes Michelle the Badass Dance Teacher and Assured Mentor. This happens through an amazing sequence in which Michelle runs a pretend audition for the brand-new musical "Dogs" (an overdue sequel to "Cats," she explains). The girls perform steps that look like they were borrowed more from a Beach Boys music video from the 80s – the Kokomo years – than from "Swan Lake." But what we're really learning here is that Michelle's future is so totally in Paradise, where she can teach children to dance. And be a positive influence in the world. And help a sweet, big-boned girl whose name rhymes with Poo. (Boo is secretly sassy and talented, you see, and Michelle is going to help that rosebud blossom!) And maybe Michelle will boost her own inner strength, too. See, everyone's winning. Even Fanny, who eavesdrops on the entirety of this scene – amazing, considering that it's like twelve minutes long.
In which there is a cliffhanger and a dance-off…
Now that Fanny doesn't hate Michelle 200 percent—we're down around like, 67 percent—they go to the bar and have some whiskey. Within two shots, Fanny and Michelle are apparently drunk. Otherwise, why would Michelle get honest enough to tell her scary mother-in-law she doesn't love her son? And why would said scary mother-in-law be kind of okay with that?
The drunkenness, of course, leads to a dance-off between Michelle and Fanny, and we're suddenly in "Step-Up Sixty-Seven: Jim Croce in Paradise Edition." Just as the dancing starts to take a more collegiate and less confrontational turn, and you're kind of wishing Channing Tatum would appear out of nowhere, Truly stumbles into the bar crying and tells everyone that there's been a car accident and Hubbell is… something really bad. That we'll all find out next week.
Laura Motta and Aileen McKenna blog as Lucky and The Mick on their Broadway-themed blog of insanity, The Craptacular.