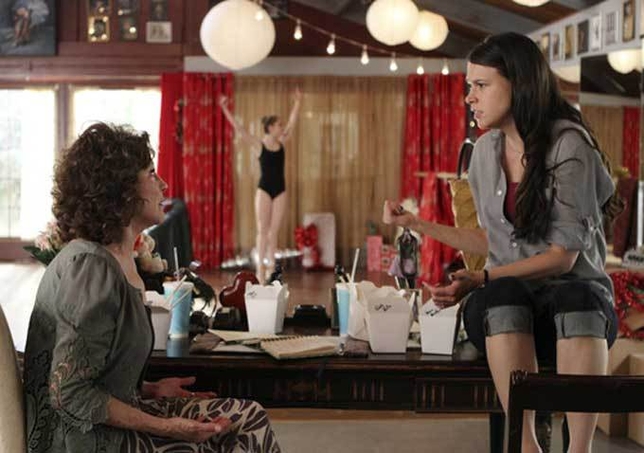 Welcome to the "Bunheads" Season One finale, where "The Nutcracker" is about to get cracking, boys are everywhere, and disaster is right around the corner…
In which we secretly wished the ringer was dead…
We open in the garden outside the studio where Fanny wants to see the new number Michelle choreographed for "The Nutcracker." When Michelle finally lets Fanny see the scene, it's like we've all been time-warped to another network where "So You Think You Can Dance" takes over our TV. The important part is that Fanny's not mad about Michelle's choreography, or her choice to allow Sasha stand-in as Clara. In fact, she's so not mad that she apparently silently agrees to have Sasha back on a full time basis. Which makes things really awkward when a ballerina with no personality called "The Ringer" appears. Fanny apparently called her in during Sasha's absence and she's arrived to intimidate everyone with her perfect pirouettes, which she does on a near constant basis. Michelle leaves Fanny to tell "he Ringer her services are no longer needed and heads up to the dressing room, where the buns are in the middle of a cold war over Charlie and no one is speaking. Michelle negotiates a détente in which Boo relinquishes Charlie, Baby Megan Hilty promises not to gush at the Dullard about her brother, and both the Dullard and Baby Megan promise to stop making fun of Carl. Sasha heads downstairs where Fanny leaves her alone with the task of telling The Ringer to hit the road. The Ringer continues to pirouette, undeterred.
In which Boo kind of grows a pair…
At the Oyster Bar, Michelle's fundraiser for the dance studio is under way. Girls are milling about in their dance costumes, shaking hands, and hey, there's Godot-oh-ohhh-baby, sharing a lingering glance with Michelle. Then we return to Dullard and Baby Megan Hilty -- looking like something has gone very wrong on the set of a music video for the latest Robert Palmer/Village People mashup -- who are being "nice" to Carl. Then Charlie appears and whisks Baby Megan away for some alone time. We cut to Michael and Fanny, looking all cute and couple-y and Michelle swans over, fishing for compliments. Michael gives her a bit of hell, until Michelle has to go be Momma Bear to a dejected looking Baby Boo Bear. Apparently, Boo has actually forgotten how to be a decent human being -- because what writer would bother having their characters stay in, well, character -- and must be TOLD that as the person who acted like a jerk, it's also her job to apologize. Boo, who must be emotionally and psychologically flagellated at least once an episode, takes to the microphone to do the flagellating herself, humiliating herself in front of everyone and apologizing to Carl simultaneously. And then, they dance.
In which boys are so confusing, you guys!
We return to find Fanny all upset because Michael has decided to go to Montana to build a house, and it seems clear to Fanny that there is no room for her in his plans. Michelle asks if Fanny has talked to Michael about her idea to follow him, but Fanny hasn't. Baby Megan Hilty isn't doing much better with her relationship, as shown when Charlie goes in for a hug while Baby Megan goes in for a kiss and their heads collide. At this point, Charlie stalks off in a rage because he's such a nice guy. We cut to Michelle, who is butting into Fanny's business hardcore and unloading all of Fanny's deepest feelings on Michael, who does not appear to be taking the news with grace. Good job, Michelle! You may have done real damage this time! Meanwhile, Sasha is hiding behind a cart of dirty dishes, hoping to finally lose The Ringer, who is stalking Sasha, waiting for her to get injured or abducted so that she can finally play Clara. Tyler -- a cute boy who is apparently on the basketball team AND an employee of the Oyster Bar -- busts Sasha in her hiding place and we sense sparks are getting ready to fly. Then Godot-oh-ohhh appears, and tells Michelle he hasn't got much time for this wooing business -- he's leaving for Australia soon -- and he's not waiting anymore. He's cutting straight to the kiss. Sure, this comes out of nowhere, but guess what, WE AIN'T MAD. Back at the studio, Baby Megan Hilty is dumping all over Matisse (Who knew that kid had a name?) about how she and Charlie certainly would have kissed if not for that accidental head-butt. Matisse tells Baby Megan Hilty to stick a sock in it and stalks off leaving us to observe Baby Megan Hilty's devastated face when Charlie rolls up with another girl in the front seat of his car. Shocking. He always seemed like such a good guy.
In which Michelle Ruins EVERYTING...
Backstage at "The Nutcracker," Fanny laments that her eyelashes are crooked, prompting Michelle to bust out her Showgirl Bag of Doom that contains everything from handcuffs to mace to Junior Mints. (Hold on to the mace detail. It's going to be important in a minute.) Once Fanny's falsies are glued back in place, we see Dullard and Baby Megan Hilty at each other's throats, because even the removal of Charlie from the proverbial dating picture has apparently not prompted these two to resume their parasitically codependant relationship. Fanny prepares to take the stage in her own show, presumably as Uncle Drosselmeyer, but the effect is more like Alice Cooper-meets-Professor McGonagall. Then the show starts, blah blah blah, Nutcracker Nutcracker, dancing dancing. With the A/C not working in the hall, the girls are fading, so Michelle reaches into the Bag of Doom for hairspray to give them all a reviving spritz. Remember that mace detail from before? Well, this is the moment in which Michelle inevitably MACES THE ENTIRE CAST RIGHT IN THE FACE. The performance ends in chaos. The Ringer, the only non-maced person in the room, highjack's Sasha's bow and prepares for her entrance, but it's too late. Fanny's Nutcracker ends as all Nutcrackers should. In the ER.
In which a little time in the hospital does everyone some good... or bad...
Down at friendly Paradise Hospital, Michelle rushes around trying to count and sort all of the dancers while The Dullard and Baby Hilty bond... over hating Charlie. Sasha, looking remarkably fresh after her run-in with lethal chemicals, has apparently decided to become a person we love and admire, because she uses her hospital waiting experience to hit on a boy. It's Tyler, the basketball player/waiter kid from Oyster Bar, who apparently has an alter-ego named Roman that likes to get busted up in mosh pits and wear guyliner. Like Sasha, we're impressed and kind of turned on. While they flirt and compare injuries, Michelle and Fanny have their first run-in since the incident. Fanny mentions that Michael took off without a word while Michelle nurses an ice pack. When she finds out that Michelle talked to him and spilled all of Fanny's secret yearnings, Fanny is furious. That's when Fanny accuses Michelle of being the single thing that's ruined, RUINED, her whole life. We're trying super hard not to agree, but Michelle is making it hard for us.
In which we cut to the dream sequence of all dream sequences...
Enter Michelle, back in her Chicago audition outfit, all sleek and Fosse-like. She starts to sing, and hence we approach the most distinct narrative bombshell of the season: that Michelle is a way better singer than a dancer, and maybe she should have considered Broadway before the whole Vegas thing. Ah, what could have been. The song is "Maybe This Time" from Cabaret, and it's meant to express all of Michelle's sweet yearning for home and personal success and stability, and it sort-of works, until we realize that the guy in the director seat is HUBBLE who is DEAD. Being dead hasn't really hurt him much, because he seems wiser and sweeter that way, and more reassuring to Michelle. Before Michelle is jolted rudely out of this demento-dream and wakes up red-eyed in the hospital, we do catch a glimpse of her and Hubble in Fanny's house, and Michelle has SYMBOLICALLY BROKEN all of Fanny's frog statues. Awake, Michelle staggers into the hallway to hear all the Bunhead parents calling for her resignation. She's horrified, but one by one, the Bunheads stand – beginning with Sasha – and re-enact a scene from Dead Poets Society that we had to Google to fully understand. But basically, they rather heroically call for Michelle to stay. She doesn't. Season One of Bunheads ends with Michelle peacing out on the girls, on Fanny, on the ER, and maybe on Paradise all together. The good news? Season 2 awaits...