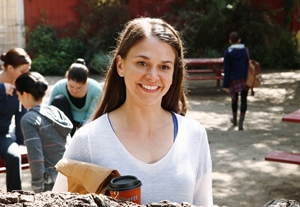 In the aftermath of last week's bombshell revelation, we're back in Paradise with Fanny and Michelle as they try to figure out what it all means. This time with approximately 600% less quick cuts, thank god, because we finally meet the hot guys we've all been waiting for, and that deserves some long… scenes.
In which the meek totally inherit...
We begin with Michelle and Fanny in the kitchen with Jerry, an attorney-type who has bad news. (Or awesome news, if you're Michelle.) The late, great Hubble, you see, was so enamored with Michelle during their brief marriage that he wrote his mother out of his will. That makes Michelle the sole owner of Fanny's entire life, including her vast collection of cuckoo clocks. Fanny's reaction? Not positive. (Though she might have been reacting to Michelle's just-released-from-the-asylum outfit, which involves rolled-up skinny-jean capris and cowboy boots.) Whatever the reason, the scene ends with drinking.

In which the cute boy (finally) turns up...
Enter the buns. Ginny, or Baby Megan Hilty, gives Boo a new snood – that's a thing that covers your hair, or an addictive computer game, but this is the former. And then boys happen. One of them is Charlie, who is dull Melanie's brother. (See! We knew she'd be useful!) Charlie has angular cheekbones and a princely, Legend-of-Zelda brow – the sort of things that trigger instantaneous ovulation in girls of a certain age. Boo, sweet child, has a crush on him. Back at the house, Michelle meets Claire, Baby Megan's mom, who is unfortunately not played by Megan Hilty. She offers encouragement, but then she spirals down the chute of pushy creepiness, offering to help Michelle sell the house. One expositional contribution from Claire: she shows Michelle the extent of what she's inherited -- seven acres, a vintage car, geese, a septic tank. (Translation: Here comes the inevitable domestication of unfettered Michelle.) Then Fanny turns up shouting, whack-a-mole style, and Michelle blows it off by taking Hubble's car for a spin.
In which Michelle fights the law, and the law wins...
Charlie decides to watch the buns dance, which sends Boo into a tizzy. Her plan to stand in the front is quickly smacked down by Sasha, who scowls like she's getting a salary for it. Fanny intervenes before Boo can retreat. Meanwhile, Michelle's joyride to self-esteem in Hubble's car is derailed when it breaks down. Herein ensues a long sequence where Michelle argues with a traffic cop and a tow truck guy. Cue Sutton Foster's adorable exasperation. This goes on for so long that you'll wish Gavin Creel would show up and sing a duet with her just to break things up. The outcome? Michelle is parked on a private road – what does that even mean? – and somehow gets herself arrested. No matter, though, because Fanny instantly turns up to bail her out.
In which we learn about everyone else's proverbial roots…
Both Mel and Baby Megan's families have popped up already, so now it's obvs time to meet Sasha and Boo's. First, though, we have to kvetch about awful Sasha. Boo forgives Sasha for all the mean things she says and does, because she's insightful, clearly, as all teenagers are after they've just been humiliated in front of their crush. Meanwhile, Sasha is watching this all go down—standing so close it actually made us concerned for the bunheads' collective peripheral vision—and Boo's defense just makes her more mad. Genuine friends are the worst, yo! Anyway, after Sasha dresses Boo down again, it's time to meet some Moms. Boo's mom is rounder than Boo, as expected, but generally awesome and supportive. Sasha's mom? Pinched looking, terrible, and generally unconcerned about her kid's existence. Shocking.

In which there is another 'telescope' to brandish…
Michelle gets up the private road and lands on "Bill's" doorstep panting and talking a mile a minute, because… that's what
Amy Sherman-Palladino
Michelle does. And then we see mystery man's face AND HE IS THE HOTTEST HOTTIE THIS SHOW HAS EVER SEEN THANK GOD. Also, his name is Grant. Also, also, he makes a joke about the size of his junk immediately, and points out how Michelle can see the nude beach through his giant telescope. (What is it with this show and telescopes?) So between the penis humor and the hotness and his fly green pants, we are already in love. Which clearly means Michelle is soon to follow. Next we learn some things, but who remembers to listen when Grant there, right? We were fully checked out until Grant demonstrated knowledge of bark beetles and how to be responsible for things, making his wealthy self the most suitable spouse ever.  Too bad he's so busy getting ready for a date with someone else.

In which Michelle finds a cabin in her woods…
Busy pondering ownership of things and her place in the world—thanks Grant!—Michelle wanders by the dance studio where she finds Sasha trying to escape her lackluster home life through dance. Michelle bonds with Sasha over memories of sneaking out when she was a kid, while Sasha looks kind of sour faced and painfully thin. Feeling all warm and fuzzy, Michelle starts to trek back to the house when… what's that she finds? A cabin on the property! That's furnished! And there's a claw-foot bathtub in the center of the room with a zillion windows! (Every girl's secret dream!) Approximately half a second after she opens the door, we all know what this place means. Michelle has a home, ya'll! So now, she just has to go tell Fanny the plan. Which goes about as smoothly as the removal of an impacted wisdom tooth. But hey, at least it's not a cliffhanger again!
Laura Motta and Aileen McKenna blog as Lucky and The Mick on their Broadway-themed blog of insanity, The Craptacular.