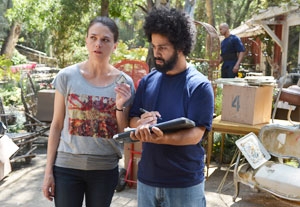 This week on "Bunheads," there was a dream ballet, you guys! A real dream ballet! There was that, an audition, a thwarted seduction, and Sasha being nice. The only person who didn't show up was Baby Megan Hilty. Maybe next week...
In which we learn about Mother/Daughter relationships…
We open with movers from Vegas who unload all kinds of junk that never actually belonged to Michelle. Fanny wants the crap to disappear pronto but ends up being assaulted by Michelle's non-stop non-versation, leading Fanny to ask "How long did I tune you out?" Which makes us wish we could have been doing the same thing. Anyway. Next we visit pleasantly plump Boo and her overweight Momma. They are bonding at the farmers market. Momma Boo doesn't like Baby Boo's fixation on the upcoming Joffrey Ballet auditions because Momma Boo thinks her baby is perfect as she is, no matter what happens. This seems sweet until Momma Boo reminisces about eating cake straight out of the box with Boo, and we realize she's a codependent emotional overeater, which is… less darling and more depressing. Then we're back to Michelle, who is in the kitchen in the guest house where nothing works. The gas can't be turned off and now its flooding the joint, and Michelle is hurdling boxes of stuff that's not hers. And then it's the middle of the night, and Michelle is awoken by Fanny, who wants to bond by helping unpack. Seems reasonable…
In which scene changes cause whiplash… Again…
We return to find Michelle eating chips in her tiny house in her underwear/bathing suit (?) and all the students can see inside through her wall-o-windows and that's so awkward, right?! Then we see Boo stretching and ignoring Sasha, who is being suspiciously kind. And then we're at that restaurant where Michelle drank two episodes ago, and we see that hippy/surfer bar owner talking with Truly and Fanny about catering the auditions. There's a try-hard joke that likens overdressing salad to water-boarding—before Fanny gets a phone call from Joffrey and rushes home to get a fax. Because there's no way anyone at the Joffrey could just share information verbally, via that device they're already using called a telephone. And now we're home where we learn that Fanny thinks the Joffrey people are cancelling the auditions. Truly is being useless, which she admits she enjoys. (Can't wait for the episode where Michelle teaches her to have a spine, all through the magic of dance!) Meanwhile, Joffrey is not cancelling the auditions, and anyone who can read knows that. They just want to make sure the dance floor is in good repair. And then BAM we're in Boo's kitchen in the middle of the night, and she is eating dry broccoli and finding a massive cake that says "Better Luck Next Year." Because Momma Boo would totes buy that cake five days before the auditions and think no one would ever find it. Totally logical.
In which we resist the obvious dirty jokes about tension rods…
So Michelle has learned her lesson about eating chips in her undies and now she wants curtains, so she's trying to hang the world's longest tension rod. Hilarity apparently ensues as Michelle fails to make it work because tension rods that long are a) a nightmare and b) possibly not even something you can purchase in reality. On the hunt for some tools to help with this situation, Michelle ends up in the dance studio where Fanny is on the phone with some intern at the Joffrey. Michelle can't understand why Fanny won't just fix the floor. Then Fanny gets angry because she can't afford to fix the floor and Michelle shows a sudden, remarkable lack of sensitivity, telling Fanny to enjoy her spiral down the rabbit hole of bitterness before peacing out. Awkward.
In which four somewhat nonsensical things happen in about seven seconds...
Boo is weeping at the dance studio because her pointe shoes are broken. That's when Sasha turns up, but instead of her usual tight-jawed Keira Knightley condescension routine, she's sympathetic. WHAT'S GOING ON? Is she about to hit Boo with some pepper spray or a bucket of water? (She doesn't.) Then we're back at Michelle's with Truly, who has made Michelle curtains. Then Truly drops two truthbombs. 1. She recaps Fanny's sad, ballerina-to-suburban-mom life trajectory in two sentences and ends it with, "This is all she has." (This whole show could be recapped similarly...) 2. She mentions that she knows what everyone else wants, but misunderstands her own needs. Cut back to Sasha, who's riffling through her mom's wallet. WHAT'S SHE GOING TO DO WITH THE MONEY, WE WONDER? Cut again to an incredible moment: The first "Bunheads" dream ballet (?) starring Michelle as Sutton Foster doing the Chicago audition that she didn't get to do in the first episode. What's apparent is that Michelle, for a former-Vegas showgirl, seems talented enough to win two Tony Awards. How surreal! The dream sequence ends when the audition guy ominously appears and tells her to get lost. Then she wakes up.
 
In which Michelle decides that the dance floor must be fixed...
The next day, Michelle goes to the hardware store dressed in two sensible, distinct tones of salmon and talks to the hardware store guys about resurfacing the floor. When the guys quote her a high price, she tries to seduce them. They do not seem to need seducing, so she begs Fanny to help her fix the floor, lest the bunheads face a lifetime of regret-filled audition dreams. Then we see the bunheads in school and, ta da, Sasha has used her mom's cash to buy Boo some new shoes. (We secretly hoped that Sasha would then commence beating Boo about the head with them, but it didn't happen.) That's when we see Fanny and Michelle riding home after securing the services of a nice old man to fix the floor. 
In which the Joffrey Ballet people arrive for the audition...
Which they do, of course, because Fanny and Michelle have enough steely determination between them to resurface six floors all by themselves. They split a bottle of wine in triumph, but are interrupted by Boo, who's been knocked out of the running. Fanny's response is to put Boo into a dark wig and make her pretend to be someone else. When she's cut again, Fanny goes for a red wig. The red wig version of Boo is cut too. Later, Sasha offers some not-evil words of conciliatory encouragement and adds, as a sideline, that she "needs to fill out some forms." Some important Joffrey Ballet forms, no doubt. We end with another taste of Michelle's creepy Chicago dream sequence. Because all of the bunheads were seen. Except Michelle...
Laura Motta and Aileen McKenna blog as Lucky and The Mick on their Broadway-themed blog of insanity, The Craptacular.