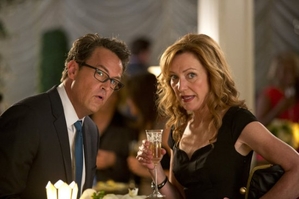 If you were wondering whether Ryan King (Matthew Perry) is as much of an egotistical douche as I keep saying he is, then look no further than the first scene of episode 4 of "Go On." King is walking around his house, trying to find the best place to put a life-sized cardboard cutout of himself. In the end, he decides the only spot in his giant house to put this ridiculous item is in place of his dead wife's sewing machine. You know – one of the few items of hers still lying around the house. Who cares about something so sentimental? It's a cardboard cutout of yourself! Priorities!
So King decides to hand off said sewing machine to cat-lady Sonia (Sarah Baker, a wonderful actress who has now spent four episodes as the butt of pathetic cat jokes). But Lauren (Laura Benanti) warns King that giving away personal items is going to be hard. And while he doesn't agree with her at first, he certainly sees her point when a photo of Sonia and the sewing machine causes him to break into tears mid-way through his radio show.
In such a fragile emotional state, King's boss Steven (Jon Cho) will do anything to make him feel better. Including using King's trauma as a bargaining tool to get King into an exclusive pickup hockey game run by former NHL player Jeremy Roenick. King's been trying to get in on this game for five years to no avail. Steven mentions the dead wife to Roenick once, and not only is King in, but Roenick and company let him win the game. See what happens when you're famous and go through an emotional tragedy? People give you what you want.
Speaking of winning, is there any way we can give all the awards to Julie White, who plays Anne, the foul-mouthed lesbian mourning the loss of her wife? This week, Anne finally got something more to do than spew snarky one-liners in the group meeting. See she's been invited to a wedding, and she's worried about facing it alone. King can relate. "It's hard to be a '+1' when you're a '-1,'" he explains to the group. So he offers to go with Anne, and Anne reluctantly accepts.
As I'm sure you expect, that's not the best idea. King, as we've learned by now, is a master at suppressing his own feelings and making terrible choices. Anne? Not so much. She pleads with King to back off as he tries to set her up with fellow party guest Sasha, telling him she's not ready. But King convinces her otherwise. (He also gets mistaken for Rachel Maddow at the lesbian wedding, which was, admittedly, funny). Flash to Anne in King's house, pouring her guts out because Sasha kissed her. "I had no idea how not ready I was," she cried. "I can't picture ever being ready. I feel so stuck. I want to move forward."
And then… Anne kisses King.
I know what you're thinking: "This romance came out of nowhere!" But don't fret, Anne and King aren't getting together anytime soon. Anne just needed to get that first kiss out of the way. Though for lesbian Anne, kissing King wasn't exactly a walk in the park. "God that stubble feels so weird," she barks, on her way out the door.
Back in 'Transitions,' we get to see Lauren's signature move as group leader: she "gets the cry." King sums it up pretty well: "You sense someone's wounded, circle them with a bunch of 'How does that make you feel?'s, and then you pounce like an emotional cheetah." Meanwhile, I'm crying because Laura Benanti is so much better than this material. Please for the sake of all things good in this world, Hollywood, FIGURE OUT SOMETHING BETTER TO DO WITH LAURA BENANTI!
I'm sorry. Clearly I'm holding in some of my anger. Perhaps I should let it out like Jeremy Roenick and the rest of his pickup hockey game player do when King finally tells them to stop letting him win? One by one, they bash into King, checking him left and right until he's laying on the rink, beaten and broken and covered in ice shavings. "That's good," King mutters at one point, "That feels like the truth."
And by the end of the episode, King's embraced his truth and got his sewing machine back. Where the cardboard cutout goes, however, remains a mystery. So much for progress.
Lines of the Night
Here are some of the best lines from Episode 4:
"What's wrong with you people? How do you go and see a Pixar movie" – King to his 'Transitions" group, after they "awwww" at everything he says.
"That's not really the endgame." – Anne, after Faustra suggests she find a man to solve her problems.
"That's part of the wonder that is Ryan. He's not looking for clues that he's not awesome." – Steven, on Ryan's humility.
"Wait, she's got kids? I've got kids. We get together, we all move into a split level ranch, hire a wise-cracking maid? It's 'The Lady Bunch.'" – Anne, on every lesbian relationship ever