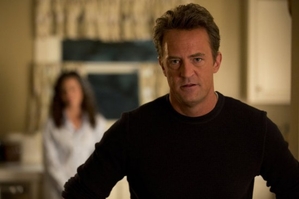 Most people would freak out if they saw a ghost. Scream really loud. Maybe throw something. Cry. Run out of the room. But Ryan King (Matthew Perry) isn't most people. His dead wife Janie (Christine Woods) has been appearing in his kitchen for days now, and King has barely blinked an eye. They have witty conversation about her boobs. They fight. She encourages him to go shopping and cook for himself. Why, it's probably the healthiest relationship King has going for himself. I can see the new spinoff now: "Ghost Wife." Tagline: "The only thing scarier than her being a ghost… is her meatloaf."
The thing is, we might actually watch 'Ghost Wife.' Because for as much as we've hated King throughout "Go On," we really started to like him when he was in the kitchen with Janie. Their banter was endearing. And despite a few ill-placed spit takes (with milk, no less), we might have even kinda sorta started to – gulp – care about King.
Of course, Janie isn't back for good, so those positive feelings might very well change. Janie's just here to nudge King a bit and get him to start progressing with his life. "It's actually very normal," Lauren (Laura Benanti) explains. "A lot of people see and even speak to a manifestation of a departed love one. It's a coping fantasy."
Lauren could use a manifestation of her own to speak to. As the Transitions group discovers when they follow her to her day job, Lauren's been temporarily working as a valet - er, "Parking Services Manager" – until she can get her masters in Psychology. And since she needs a job with flexible hours, and she knows that her parking job sucks, Lauren's taking the test for her Real Estate license. Only she's already failed it three times before because she has terrible testing anxiety.
"We can quiz you!" Yolanda (Suzy Nakamura) offers with alacrity. The group agrees, and ambushes Lauren later at her job. "You say helping other people can be therapeutic," says Owen (Tyler James Williams). "Maybe helping you will help with our healing?"
CUE STUDY SESSION MONTAGE. The team simulates stressful testing conditions so Lauren can focus, spinning her in a chair and screaming their problems at her while she answers each question. It's a fast, funny sequence, and it actually showcases Sarah Baker quite well. (Spoiler alert: there's not a single cat joke this episode made at her character's expense. Imagine that?). But it doesn't work. Lauren still can't focus.
And either can King. He's still hung up on Janie, despite trying to move on with two blond bimbos he and Steven (John Cho) pick up on a girl-hunting hike. Finally, King admits his biggest fear to Janie. "If I start taking care of myself, then I'm really admitting you're never coming back," he tells her, knowing he has to move on. And faster than a TV cooking show oven reveal fake-out, King cooks a turkey (symbolic of his behavior?) and Janie vanishes. "I'll be back," she promises before leaving, like a super-hot Terminator.
King later describes to his radio audience, "There's something magical about a great team." King and Janie are that team. But the group and Lauren are also that team. "You're great with us around you," King tells Lauren as the group files in to take the real estate exam with her. "Be great."
She is, as she passes her exam and gets that job. Must be nice to have such supportive friends, huh?
Although, has anyone seen George (Bill Cobbs)? He seems to mysteriously have disappeared this episode.
Lines of the Night
"I spent a half an hour talking to my grandmother once. It was really spooky. I can only imagine what it would have been like if she was dead. " – A very creepy Mr. K (Brett Gelman)
"When I came in here today, I thought I was the craziest person on the planet. Thank you." – King, to Mr. K.
"You can't pass a Real Estate exam? You're not qualified to take 4% for doing nothing?" – King, to Lauren.
"Everyone! Stop being weird in my van!" - Annie, to the group during the Lauren ambush.
"Excuse me nerd? Can I cheat off of you? No? Sorry." – Lauren, struggling with her test anxiety again.
Follow Dave Quinn on Twitter @NineDaves.