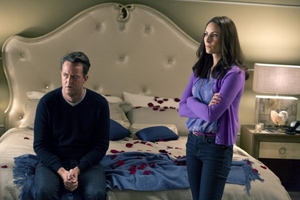 Some people don't like their birthdays. Like Ryan King (Matthew Perry) for example. He's never been into celebrating his birthday. When his dead wife Janie was alive, she would spend months planning elaborate events, like dinners and surprise parties and stuff. And he hated it. So now that she's gone, King feels a little bit of relief. He doesn't have to do anything this year! Surely his friends will respect that and leave him alone, right?
Yeah not so much. See, King's Transitions group knows the first birthday after a loss can be tricky, and the group wants to find a way to support him. So they set up a Ryan King-themed scavenger hunt around the city. And before he has a chance to object, they throw the one thing in his face he can't seem to say no to: Love. "We love you," they admit, nearly in unison (Editor's note: AWWWWWW!) Scavenger hunt it is!
The day doesn't get off to a great start. In pairs, the group works their way through tasks that mark important events in Ryan's life. Like getting a photo of King up on the "celebrity clients" wall at the local dry cleaners. (A task accomplished only when King convinces the owner he's Rachel Maddow – and excellent call-back to Episode 4.) Or streaking to mark that time he was arrested for streaking in college ("Streaking? How original" Anne [Julie White] quips, making us love her even more than we had before). King pouts through most of these tasks. "When I am into something, I am in," he later explains to Lauren (Laura Benanti). "When I am not I act like a little boy who's mad at his mom for taking him to the bank, and I go boneless."
"You are the worst!" Lauren shoots back. "These people care about you. They are trying, and if you keep pushing them away, they are going to stop trying." Eventually, she settles on the best piece of advice she's given the narcissistic King yet: " Fake it 'til you make it." For someone who claims, "being a jerk is a pre-existing condition for which there is no cure," this piece of advice is perfect for King. "I can pretend I enjoy everything," he says. "I've interviewed Soccer players!"
By the end of the third task, King is having fun. "Amazingly, this is the first birthday I've enjoyed in years," he tells Lauren. But that fun time may not last long. Thinking they're following the scavenger hunt, the group jumps into a limo waiting outside King's office to take them to their next task. Halfway through, they realize said limo has nothing to do with the scavenger hunt at all, and is instead a fancy birthday surprise King's dead wife set up before she died. (Like, a fancy birthday surprise in a hotel suite with candle-lit dinner for two and a rose-pedaled bed. Bad, huh?)
(Side note: that birthday surprise Janie planned for King seemed like more of a birthday surprise for her, but whatever).
So team Transitions tries to sweep away the evidence before King finds out what's going on. But they're too slow, forcing King to face what he's been avoiding all along: his first birthday since Janie's death. And just when you think that's going to bring him down, Anne and Mr. K (Brett Gelman) start dancing to romantic violin music. And everyone laughs. And suddenly King realizes – he's not so alone after all.
"I'm becoming a better guy," King later tells the ghost of his wife Janie (Christine Woods), who appears to him on the balcony of said hotel suite. If that isn't a birthday gift for all of us, then I don't know what is.
Lines of the night
"Are there teams? Because I call Ryan, Lauren, and anyone except for Mr. K. We're all God's children, but I'm in it to win it, and there's something wrong with you." – Anne, being great.
"That's the first nice thing you've ever said to me. I'm about to get attached. If you want out, tell me now." – Mr. K to Anne.
"Oh, all of a sudden you don't speak any English?" – Yolanda (Suzy Nakamura) to Fausta (Tonita Castro).
"People trust me because I have a soft voice. But I'm baaaad." Sonia (Sarah Baker) to King.
"Yeah, I hate to speak ill of the dead, but this broad is becoming a real pain in my ass." – Anne, speaking about Janie.
"It's never a good time to talk about money, but you each owe me $200" – Yolanda, right as King realizes Janie's birthday surprise.