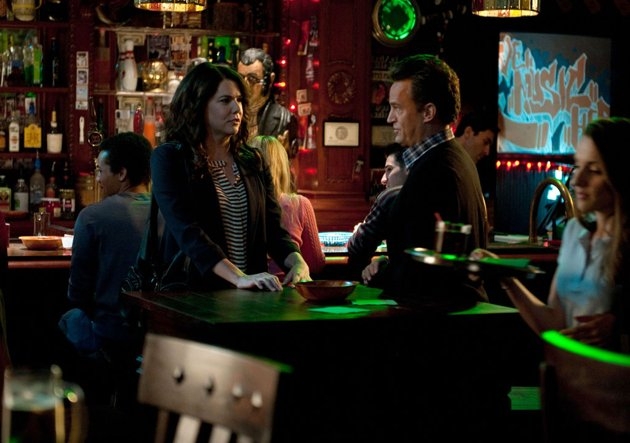 Here's the thing about Thanksgiving. No matter whether you're spending the holiday with your closest friends or your extended family, there's a good chance there will be a handful of tense moments, a splattering of awkward conversation, and a few unwanted guests here and there. Like feeling sleepy after eating turkey, these Thanksgiving clichés are pretty unavoidable. So rather than try to avoid it, it's probably best to just embrace the holiday for what it is.
Which is exactly how Ryan King (Matthew Perry) is handling Thanksgiving this year. In the past, King spent Turkey Day at his radio show, broadcasting for all those "guys in prison and sad people at home who's TVs are broken.". But this year, King collects a smorgasbord of friends and strangers together for dinner at the radio station. Included in the bunch? Team Transitions of course – including Owen's (Tyler James Williams) mom Joyce (Vanessa Bell Calloway) and Anne's (Julie White) two kids. King's assistant Carrie (Allison Miler) makes the cut too. As does his boss/best friend/college bud, Steven (John Cho).
It's a pretty dysfunctional group. Though oddly King, who's spent the past eight episodes mourning the loss of his wife Janie at every turn, doesn't gather these people together to distract himself from spending his first major holiday without his wife. (That would only be logical to his narrative. Clearly we can't have that!) No, instead, King brings everyone together so he can distract himself from the feelings he may or may not have for his friend Amy (Lauren Graham).
You see, Amy, Steven, and King were all best friends in college. A trio who hung out together all the time, and teased one another with sharp banter and silly bar games. (Amy's fond of playing Nazareth's "Love Hurts" on jukebox bars over and over and over again.) The whole time, Steven thought that King and Amy sort of had a thing going on. But King doesn't feel ready for that this soon after Janie. So when Steven expresses interest in Amy, King vows to get them together.
Only… he does kind of have feelings for Amy. And even though he's not ready to act upon them, he quickly becomes jealous when Steven and Amy mention spending Thanksgiving together in Santa Monica. The alternative? Have a dinner all his own and invite all his crazy friends. "If [Steven and Amy] do go out it will close a door for me.," he tells the Transitions group. "So what I need you guys to do at Thanksgiving is to create an atmosphere that's as desexualized as possible."
Said atmosphere is really easy to create. The entire Transitions group meets Amy at the door, asking her a million creepy questions off the bat. Anne's kids are obsessed with Ryan King – which actually irritates Anne more than anything. Owen's mom Joyce – a woman who King says "can scare the sex out of anyone" – proceeds to get into a heated argument with Lauren (Laura Benanti) over how she raises her son. And Mr. K (Brett Gelman) is just… well… himself.
But Steven can tell something's up. Every time he tries to get alone time with Amy, King distracts them. So Steven confronts King, forcing King to admit he has feelings for Amy. "I've been thinking about it and I'm not ready to act upon it but I may have some feelings for her and I'd like to keep the option open," he tells Steve. "So I guess you're going to have to step back."
"No," responds Steven.
"But really sad stuff happened to me," King says, in a whiny voice.
"No, I'm not doing that. I'm into her. I'm not backing down 'cause you think you might want to do something one day maybe."
So they decide to settle their argument the same way they did in college. With a game of Booze Rodeo. Steven and King go to a bar, and whoever drinks the most stranger's drinks without getting punched wins.
King ends up winning the game (though we get to see him AND Steven get punched, which is appreciated). But he doesn't win the girl. And not because she doesn't have feelings for him too. "I do," Amy tells him. "I have forever. But you're just not ready. And anyway, I'm not going to be the first one. Janie was the love of your life. I can't follow Michael Jordan."
Smart advice, And certainly a nice door to leave open for a recurring Laruen Graham guest spot! Now if that's not something you can be thankful for, I'm not sure what is.
Lines of the Night
"I was planning on going to my really cool neighbor's, but they haven't invited me, so I don't think I will…" – Sonja (Sarah Baker), on her Thanksgiving plans.
"You look amazing. It's kind of weird that you're not saying I look amazing back. It makes you seem jealous and catty." – King, to Amy.
"Shut up. Don't question it! [Whispers] This is what we prayed for." – Yolanda (Suzy Nakamara), when Anne questions King's Thanksgiving invitation.
"That's what you're doing in [your rooms]? That's so much worse than I thought" – Anne, upon discovering that her kids are huge Ryan King fans.
"We always promised each other we'd never let a girl come between us. Pals Before Gals! I know it's not as cool as Bros before Hos but it was a simpler time back then." – King, to Steven, on Amy