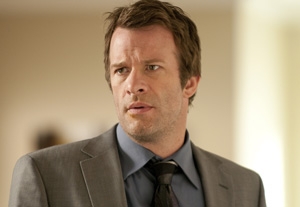 When HBO premiered "Hung" last year, much was made of its salacious subject matter: High school teacher Ray Drecker (Thomas Jane) moonlights as a gigolo and is a huge hit thanks to his endowment. But the series was far smarter and more insightful than the sensationalistic marketing campaign implied. The series was a meditation on lost dreams, of not living up to expectations, and on the elusive nature of true love.
Most of all, the series was a terrific showcase for three wonderful actors who have long labored under material not worthy of them. And the second season, premiering June 27, continues to provide great material to chew on. As Ray, Jane is charming and natural, far more at home in the skin of this average guy than as the action hero Hollywood tried to pigeonhole him as in middling fare like "The Punisher" and "Dreamcatcher." Ray could come off a sleazebag, yet Jane makes him sympathetic and even romantic. Not that Ray is without faults. In one episode, he tells a pregnant client he can no longer sleep with her because he believes she should go back to her husband. A few minutes later, he's upping his price for one last night with her. Jane pulls off this transition effortlessly. His calm demeanor is matched by Jane Adams' nervous energy as his business partner, Tanya. Adams is a unique talent, and never has a role been more suited for her offbeat style than that of this would be poet-pimp. Also excellent is Anne Heche as Jessica, the ex-wife Ray still loves and almost serviced (unbeknownst to her) at the end of Season 1. As the new season begins, their relationship takes unexpected turns, and there is genuine chemistry between Jane and Heche as they commiserate about going from high school superstars to middle-aged disappointments.
Able support comes in the form of Rebecca Creskoff as Lenore, the high-class madam moving in on Tanya's territory. Her unapologetic nastiness is a thrill to watch. And as Ray and Jessica's children, Charlie Saxton and Sianoa Smit-McPhee create refreshingly real depictions. They nail their portrayals of disaffected youth without being annoying clichés.
If the first four episodes of "Hung" are any indication, it looks as if Season 2 will deal less with Ray struggling to make it as an escort and more with his relationships with his family and bosses. A power struggle between Lenore and Tanya is brewing, with often-hilarious results. And the scenes between exes Ray and Jessica are sweet and promising.
Despite Golden Globe nods for Jane and Adams, "Hung" has yet to garner the type of awards buzz or water-cooler talk of other HBO shows. It's a shame, because the actors are doing some of the best work of their careers on one of the best-written shows on television.
Series created by: Colette Burson and Dmitry Lipkin. Written and directed by: Various. Starring: Thomas Jane, Jane Adams, Anne Heche.