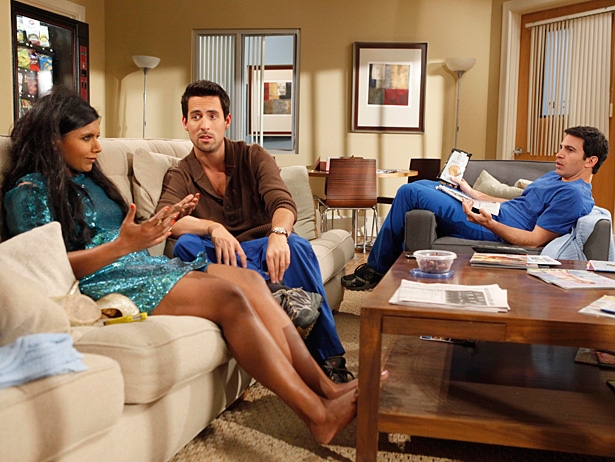 Mindy is, literally and figuratively, at the bottom of a pool—which is where all love-starved, career-oriented woman find themselves at some point, isn't it? Maybe we can't have it all, but that's not even what Mindy wants. She wants to be Sandra Bullock circa 1999. This fantasy leads her to deliver a drunken rant at her ex's wedding followed with an escape by bicycle that ends in said pool, with a submerged Mindy hallucinating that a Barbie berates her for her single status. It can only go up from here, right?
"Your life is not a romantic comedy," Mindy's married and responsible friend Gwen (Anna Camp) says as Mindy is splayed on the floor of her office. "Right now, it seems more like a sad documentary about a criminally insane spinster."
"Kind of sounds like I'd win an Oscar though," Mindy responds, always an optimist.
When we meet Mindy, she is a successful OB/GYN doctor who is unlucky in love. She resorts to sleeping with her hot British colleague Jeremy Reed (Ed Weeks), who she likes to think of a romantic comedy version of Hugh Grant, though Gwen, again, suggests that he might be more like "Hugh Grant in real life." ("I'm not going to want to sleep with you in your 40s and 50s," he says matter-of-factly when Mindy suggests postponing sex. Such a charmer.) On the other end of the spectrum is the cocky, self-involved Dr. Danny Castellano (Chris Messina), who constantly antagonizes Mindy and even suggests she should lose 15 pounds. Again, what a nice guy. But despite their flaws and their cringe-worthy quotes, these characters are lovable and you root for them.
So how does Mindy end up in this arid love desert? She grew up convinced Tom Hanks was her boyfriend and imagines elaborate fantasies of romantic comedy scenarios playing out in her real life. She met her ex (Bill Hader) in an elevator, and their meet-cute was the stuff of Mindy's dreams -- before he left her for the Serbian bagel girl.
The pilot episode details Mindy's post-ex's-wedding-breakdown disaster and ends with a promising blind date. But even as Mindy navigates finding the perfect first-date outfit, getting time off from work, and suppressing her overly dramatic side, she still can't avoid screwing everything up. Her newest patient goes into labor while Mindy's on a date with a great guy (Ed Helms), and while she tries to get out of answering the call and delivering the baby, she can't ignore the emergency without looking like a complete jerk.
Kaling doesn't shy away from the tough subjects: age, race, sex, and weight. Her character is the quintessential everywoman who has impossibly high standards -- he must be 7 inches taller than her -- while maintaining realistic expectations about where she is in her life. Scratch that, Mindy is a full-blown optimist who is after her fairy tale ending, and we're here to watch her plead and plummet until she's achieved her happily ever after. After all, who hasn't wished their life was a movie?
Suzy Evans is the senior web editor at Backstage. Follow her on Twitter @suzyeevans.
Lines of the night
Here are some of the best lines from Episode 1:
"If you are disorderly, you are a rapist of peace and quiet." – Police officer to Mindy
"My Body Mass Index is not great, but I'm not like Precious or anything." – Mindy on being a desirable date
"Do you think they'll ever catch the real drunk girl who fell into the pool?" – Danny Castellano on Mindy's claim to wrongful imprisonment
"I'm all for lonely people making connections, but this is the doctors' lounge, not the wooded area behind the highway rest stop." – Danny Castellano on Mindy and Jeremy's canoodling
"May he have the wealth of Mayor Bloomberg, the personality of Jon Stewart, the face of Michael Fassbender… the penis of Michael Fassbender." – Mindy before her big date
"Maybe I won't get married. Maybe I'll do one of those 'Eat, Pray, Love' things. Forget it. I don't want to pray. I'll just die alone." – Mindy after her failed date