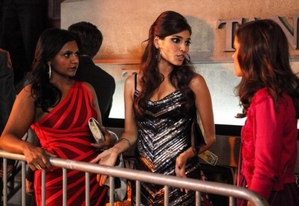 What's up, doc? Apparently that's what all the nurses and receptionists call the medical professionals in Mindy's practice inside and outside the office…even when they all decide to go clubbing together.
Mindy can't keep spending her Saturday nights drowning herself in red wine. When Mindy learns that her hip receptionist Shauna (Amanda Setton) spent the weekend at one of New York's happening clubs, Mindy bribes her to get an invite. "I might be in my 30s in doctor's years but I'm like 22 in club years," Mindy begs.
Somehow everyone in the office hears about the upcoming soirée, and it turns into "Office Club Night." The only person not attending is Mindy's BFF Gwen (Anna Camp), and Mindy has never been clubbing without her. Although Gwen doesn't work there and she has grownup responsibilities. Naïve assistant Betsy (Zoe Jarman) snags an invite, though, to disastrous results later. More on that momentarily.
The resident 30-something curmudgeon, Dr. Danny Castellano (Chris Messina), is against "Work Night Out," though he needs to prove Mindy wrong when she says that seeing him at a club is like seeing a vampire on a beach. So he decides to come with, instead of scheduling his c-sections for Saturday night when the hospital is quiet.
The club is not quiet, of course, and after Mindy speaks a little too loudly about all the NBA players she's going to bang because black guys are scientifically proven to love Indian girls, she has her big Hollywood slow-mo moment at the entrance, ogling the crystal chandeliers and the flashing lights, only to be brought down by the doorman.
Other than Shauna, none of these people are clubbing pros. Mindy drinks red wine with ice because there's no sangria. Morgan (Ike Barinholtz), the new nurse who's also an ex-con, brings a duffle bag of toiletries and morning-after essentials, only to be mistaken for the bathroom attendant. Betsy orders bottle service because she thought the blue bottle looked pretty, while Danny thinks it looks like the liquid that is poured on maxi pads in commercials. And our resident sexy Englishman Dr. Jeremy Reed (Ed Weeks) is off in his own little world hitting on vulnerable bachelorettes. You know who proves to be pretty good at clubbing though? Danny. He ends up being a great dancer, and Shauna starts making eyes at him only to be rejected on the dance floor.
While Danny doesn't like Shauna, there is the sliver of a spark when Danny asks Mindy to get a drink and she turns him down because she's been invited to the VIP area. (Whoever would turn down Chris Messina is an idiot, but we're pretty sure this is the beginning of a will-they-or-won't-they thing.) Cue requisite romcom slomo sequence as Mindy enters the VIP area, only to find a nerdy guy, Josh, invited her there. Josh turns out to be the NBA players' sports attorney, and of course, Mindy gets all of them sharing their favorite Tom Hanks romantic comedies, which they are surprisingly knowledgeable about. (Who remembers "Splash"?)
Meanwhile, Morgan is giving Jeremy a pep talk in the bathroom. Jeremy has joined "Kaylee's Bridal Angels," and Morgan harps on his days in prison to convince Jeremy to think with his head and his heart. When the moment actually comes, Morgan helps him ditch Kaylee using explosive diarrhea as the excuse. (We know how good Jeremy is at breaking up from last week.)
Mindy gets invited to the after party with the athletes, but – shocker – decides against it because she promised to spend the night with her co-workers. (That and Betsy is either throwing up or getting escorted away by a Ukrainian cell phone salesman.) Morgan settles the bottle service bill with the bathroom attendant money and, again, cue requisite office dance party!
All was not lost from the stint with the VIPs, and Josh has arranged a limo for Mindy. One gaze over the car shows that Danny might be going home with some girl and Mindy looks disappointed – maybe she likes him too! – but more on that next week we hope!
Lines of the Night
"I spent my weekend watching the movie 'Amélie,' and when I woke up, I had spilled so much red wine on myself I thought for a second I had been shot." – Mindy on her Saturday night
"I think you need to be booking domestic covers before you call yourself a super model." – Dr. Jeremy Reed on his Saturday night companion
"I can't do clubs anymore. They make me feel judged and rejected by people I would normally judge and reject." – Gwen on why she can't go clubbing
"You look handsome like a youth minister." – Betsy on Dr. Danny Castellano's club outfit
"Keep your racism voice down!" – Shauna on Mindy talking about how black men love Indian girls
"Why are you using the voice you use when single moms come into the office?" – Betsy on Dr. Jeremy Reed's club voice
"Weird. It's like if Hermione liked Voldemort" – Mindy on Shauna liking Danny
"I don't know those words." – Shauna
"I am trying to guess your job based on your figure. Are you the mistress of a black congressman." – Josh to Mindy