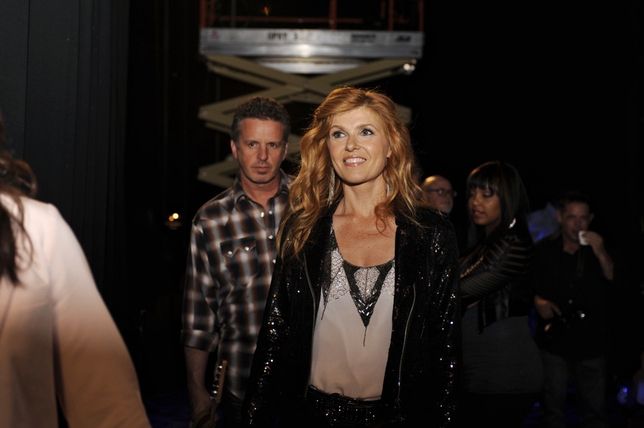 The newest musical drama has arrived, and so far, it's damn good. True, ABC's "Nashville" is about country music, but don't change the channel just yet. Within the show's first five minutes you'll undoubtedly be hooked—that is if you're a sucker for musicals and cheesy drama, but aren't we all?
It's the classic tale of old-versus-young, talent-verses-sex, and all that fun stuff. We open to Rayna James, the 40-something legendary queen of country, performing (where did that voice come from Connie Britton?!) alongside her lead guitarist Deacon Claybourne (Charles Esten). A mother of two and accomplished musician, Rayna still has diva tendencies, but is the most hard-working of those around her. After the show, Rayna meets Deacon's bashful niece, Scarlett O'Connor, and her trying-way-too-hard-to-be-cool musician boyfriend Avery Barkley. Rayna thanks friend and politician Coleman Caldwell for coming to the show and says she'll perform at his upcoming mayoral campaign event.
Then comes Juliette Barnes (Hayden Panettiere). Juliette is an ultra-sexed Taylor Swift, for lack of a better young country reference, but don't let her long lashes and cute face deceive you. This power-hungry vixen wants what she wants, and she'll probably get it with those looks and that voice, yet we'll find that her voice isn't all real—got to love that auto-tune! The pop-star-with-a-country-façade is no fan of Rayna's and makes it known in a biting comment on their first introduction. "My momma listened to you while I was still in her belly." Ooh, not so nice Juliette, are we?
While Juliette is blowing up the charts, Rayna's not as hot as she used to be. With album sales slumping, Rayna's upcoming tour is expected to be hurtful to her already-suffering bank account. The label, which both Rayna and Juliette are under, has come up with the plan to combine the singers' tours. Perfect solution? Not exactly, since Rayna, the country legend that is, would be opening for the new teen singer. Financially smart, but a blow to one's pride and accomplishments? Totally.
Vehemently opposed to the idea, Rayna decides to continue her tour solo, even if it means the loss of the label's promotion. She asks producer Randy Roberts to find her a new hit record to get her back on top, but that takes time, and Randy's busy sleeping with Juliette anyway.
But the slutty Juliette has a soft side too. Tears well up as she listens to Deacon play at the Bluebird Café, a real-life famed music venue in Nashville. Cornering him outside, Juliette asks Deacon to write with her and even proposes to make him lead guitarist for her tour. He may be loyal to Rayna, but it's obvious the spell Juliette casts over all men.
Soon after we find that it's not just loyalty tying Deacon to Rayna, it's love. On a windy stroll along a bridge the two briefly reminisce on their past romance. Rayna says she'd change everything if she could live her life over. Deacon does too. Uh oh, sounds like there's some repressed emotions just waiting to burst. The so-called mistakes Rayna's made in her past become more apparent as we learn more about her marriage to washed-up husband Teddy Conrad, who seemingly wasn't her first choice for a hubby.
Tired of playing the supportive husband (in all ways but financial), Teddy decides to start building his life back up by running for mayor, but unfortunately for Rayna, with the help of her wealthy, controlling, politician father Lamar Wyatt (Powers Boothe), whom she detests. Pissed that her father is wooing Teddy with money, Rayna chews Lamar out only to be blackmailed into supporting Teddy's campaign. Guilt-tripping Rayna, Lamar threatens to spill the secret of Maddie, one of Rayna's—and supposedly, but now maybe not—Teddy's daughters. Bring on the soapy drama ABC, we love it!
Oh wait, except for the next scene where Rayna sits pensively in her a car amid a green-screened thunderstorm with waning, somber guitar chords. A little too much cheese guys.
Things stay emotional, but turn serious as a moody Juliette rejects Randy and a love is born on stage between Scarlett and endearing local musician Gunnar Scott as they perform together at the Bluebird. In the best part of the episode we find that Scarlett and Gunnar have the best voices of them all. Over her wispy crooning and his soft cries a montage reveals Juliette seducing a nervous Deacon on her couch and Rayna arriving at Teddy's campaign announcement. Opponent Coleman looks disappointed, but through the fake smiles and waves the family drama subsides for a bit—but no doubt, not for too long.
Lines of the Night
"Why do people listen to that adolescent crap? It sounds like feral cats." – Rayna on Juliette's music
"You're not some overnight sensation. Though you are sensational overnight, to the best of my recollection." –Deacon on Rayna
"Around here punk is code for can't-play-at-all." – Deacon's response to Avery's "alt/country/punk/cerebral" music