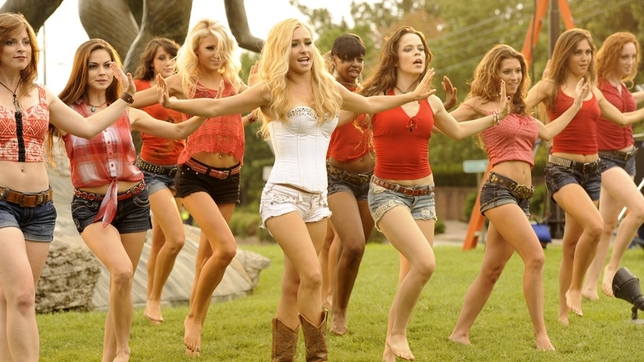 Juliette Barnes (Hayden Panettiere) is hindering Rayna's (Connie Britton) life once again, but this time literally. Her music video shoot jams up traffic as Rayna's young daughters whine over not being able to join the herd of teenage girls screaming for autographs. "Come on, Mom! She's like the best singer in the world!" they shriek.

Now that the label has stopped promoting Rayna, she meets with long-time friend and famed producer Watty White for help. Watty believes an intimate tour of just Rayna and Deacon, her guitarist (and ex-flame), is the best bet. Playing the songs they wrote together, just as they did when they were in love years ago, sounds great, but um, a little awkward for her husband Teddy.

"Sleeping on the same tour bus?" is Teddy's response to the tour idea. We can't blame him, though--who wouldn't be jealous of the guy your wife wanted over you?

Watty then meets with Scarlett and Gunnar, whose onstage chemisty reminds Watty of the young Rayna and Deacon. Watty offers to record a demo for them. Gunnar's thrilled, but Scarlett nervously walks away since her boyfriend Avery doesn't know about her and Gunnar's songwriting. Avery's music aspirations are failing, so as a supportive—and timid—girlfriend, she swallows her secret for now.

The moment Rayna leaves the studio Juliette sweeps Deacon away to finish the song they started writing last episode. She starts off by seducing him, as she did during their last writing session, but Deacon stops here, insisting they write. Sometimes work before play, hun.

Although still opposed to Teddy's campaign for mayor since it's controlled by her greedy father, Rayna reluctantly attends Teddy's charity event anyway. He's dragged away the moment she arrives, leaving her alone with a group of women who end up talking about Juliette Barnes. Rayna just can't escape her.
Back to Juliette and Deacon's songwriting-session-come-love-fest. She continues probing Deacon about leaving Rayna's tour to become her lead guitarist. Calling him and Rayna an old married couple, Juliette tells Deacon to consider his future—aka ditch the married woman, get with the hot young one. Juliette then proceeds to take her clothes off and jump in the lake. Deacon follows.

Teddy goes into his "vulnerability study" where his campaign managers dig for dirt to prepare for what his opponent Coleman could use against him. It seems Teddy is hiding something about his financial controversies, but all the talk of numbers is a bore compared to the episode's steamier drama.

Finally Scarlett's secret songwriting with Gunnar is spilled to Avery by a girl at his show (and for the record, Avery's music does suck). Avery's pissed, more because Scarlett's successful and not so much because his girlfriend is singing with another dude.

Sex and singing aren't enough to woo Deacon just yet, so Juliette sends him a $50,000 vintage guitar. Rayna's not happy with the bribe. But there's more upsetting her than the thought of them writing songs together, probably because writing songs usually entails love and Rayna seems to still have some left for Deacon.

As a candidate's wife, Rayna goes through a vulnerability study too, but sans Teddy. We learn that Rayna and Deacon dated ("More than that" she calls it) for 11 years. Apparently Deacon's drinking problem was what split them up, although they never officially broke up. And when Deacon got out of rehab? Surprise, Rayna and Teddy got married! Major blow.

Just as the questioners are getting warmer uncovering the dirty secrets, asking if Rayna's been romantic with Deacon since, she ends the session and leaves. It seems Rayna is hiding something too.

In one last attempt to win Deacon over, Juliette gives him a demo of their song, acting hard-to-get but hiding her desperation. "I think something about you makes me wanna grow up," she tells him.

At the Bluebird, Deacon announces that he wants a special friend to join him in a song. Juliette's face beams as she starts to stand up until Deacon introduces Rayna. Juliette turns stone cold. She sulks angrily as the two sing one of their old love songs, one with lyrics that still hit home now. Deacon grabs Rayna's hand. Uh oh...

During the song Wyatt looks at Scarlett and Gunnar and points from them to Rayna and Deacon. Although previously hesitant, Scarlett's in for the demo.

After the show Rayna and Deacon sit in his car, both admitting they shouldn't have sung that song. Old feelings are returning in a tense moment where we think they might kiss, but Rayna leaves. Broken up and nearly in tears, Rayna comes home to Teddy. He notices something's up. She hugs him and says "I love you," but we know those words were meant for Deacon. The drama is just beginning to boil.