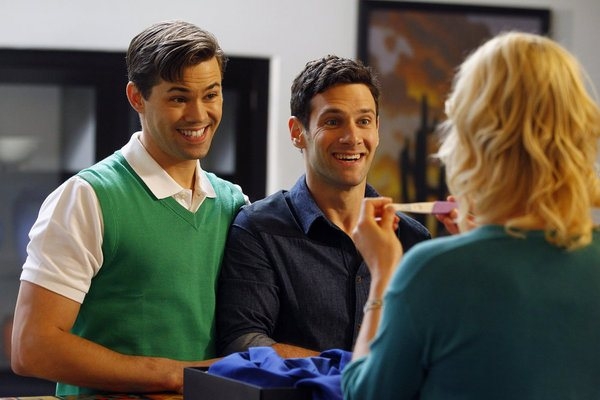 If you were sitting across from me in my apartment right now I would, first of all, be EXTREMELY freaked out as to how you got in here but probably wouldn't ask you to leave because I secretly would enjoy the company. And secondly, you would see not only a Lady Gaga coffee table book but also an Oprah Winfrey one. A few feet away sits a record collection that includes literally every Bette Midler album ever made as well as a staggering supply of Lily Tomlin comedy albums. Topping it all off, in the other room, my boyfriend is sleeping in our Pottery Barn bed, which actually belongs to a friend that plays a gay personal shopper on a hit television sitcom.
Basically what I'm trying to tell you is that I'm gay.
I just watched the pilot episode of NBC's "The New Normal," and within the first five minutes was overwhelmed with a feeling of exciting change. This isn't the first great depiction of gay people on television. "Modern Family," "Happy Endings," and "Glee" give us relatable and lovable gay characters on a weekly basis, but somehow "The New Normal" takes this one step further.
Andrew Rannells and Justin Bartha are, first of all, incredibly cute, and second of all, one of the most believable gay couples I've ever seen on television. We see them in bed; we see them kiss; we see them touch; and all previous weird subtle restrictions on how gay is too gay seem to have been thrown out the door. These guys play a couple that so clearly loves each other, like any other happy relationship on TV.
In the pilot episode we meet David (Bartha) and Bryan (Rannells) who really want to have a baby. We also meet Goldie (Georgia King), a girl who gave birth to her first daughter at fifteen and who's had enough of being stuck in her stagnant old life in Ohio. After discovering her boyfriend in bed with another woman, she steals her insanely right wing conservative Nana's car and heads west with her daughter Shania (Bebe Wood). Once arriving in California, Goldie decides to become surrogate and meets David and Bryan.
Nana aka Jane (Ellen Barkin) finally tracks Goldie down and shows up at the hospital just before Goldie goes in for egg implantation. Jane's ultimate nightmare has become a reality, Goldie is going to have a gay couple's baby and there's nothing she can do about it. In this scene, we also learn why Jane dislikes gay people so much. (Spoiler Alert: She was married to a closeted one.)
Now, lets get to the bigger question here. What does Nene Leakes have to do with any of this? Besides, solidifying the fact that "The Real Housewives" franchise is America's new breeding grounds for talent - sorry Second City - she also plays David's assistant, Rocky. Leakes is genuinely wonderful on the show and no matter what your feelings on reality television might be, its exciting to see someone being cast so outside of the box and fitting in so beautifully. There's something about Leakes and Barkin being on a show together that is at once the most shocking thing I've ever seen, as well as the most fitting thing I've seen in years.
As a gay guy, and I promise I won't start all these recaps by saying that, I was so excited by the end of the first episode of "The New Normal" because it was a nice reminder of the progress that has been made and the progress that continues to be made for myself, my friends, and Melissa Ethridge.
"The New Normal" is sure to get a lot of flack from gay people and gay haters alike. The gay haters protests will be obvious and ignorant, and the gay people's will be that it's "too over the top" but in reality, the characters of Bryan and David are just like many people I know. Sure they have their "TV friendly over the top quirks" but more importantly, they love each other and they want a child to share in that love. I am excited to live in a world where the President of the United States has endorsed gay marriage. I'm excited to live in a world where gay marriage is on the ballot in four states this November. And I'm excited to live in a world where network sitcoms are finally showing what's happening in so many American families, in such a clear, normal, cool, funny way.
Wanting a baby, loving your partner, and having a crazy ass mother, or grandmother, with too many opinions butting in - that's all pretty normal, and at the very least it's "The New Normal." I'm excited to see what happens next.
Jeffery Self is a writer and an actor. His TV series "Jeffery and Cole Casserole" played for two seasons on Logo, and he has since then appeared on various other shows including: Desperate Housewives, Hot In Cleveland, 90210, Torchwood, Shameless, and 30 Rock as Randy Lemon. He's currently writing his first book, which will be published by Running Press Publishing in the spring of 2013. Follow him on Twitter: @jefferyself