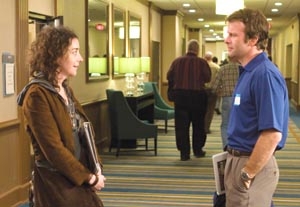 "Everyone is blessed with one special thing," said porn star Dirk Diggler in 1997's
Boogie Nights
. In Dirk's case, it was his God-given endowment below the belt that made his career. But imagine if Dirk wasn't just starting out his life but was instead a washed-up basketball coach with a pair of ungrateful kids and a home in desperate need of repairs. Such is the premise behind the new HBO series
Hung
, which focuses on middle-aged high school teacher Ray Drecker (Thomas Jane), who sets out to become a male escort when money gets tight. The premise may give some pause, but HBO has a long history of making great shows out of offbeat concepts:
Flight of the Conchords, The Sopranos, Big Love
. On the other hand the network also gave us
Arliss
and
The Mind of the Married Man
.
Fortunately,
Hung
is in the capable hands of Alexander Payne, who directed the pilot and serves as an executive producer on the series. With his films
Election
and
Sideways
, Payne has shown a skill at making the outrageous plausible and his antiheroes endearing. He's aided by a script by Colette Burson and Dmitry Lipkin (
The Riches
) that walks a fine line between sensationalism and absurdity.
Hung
would not work without its two leads, and Jane and co-star Jane Adams are sublime. As Ray's would-be pimp, the always wonderful Adams gets to channel her nervous energy into a role finally worthy of her talents. And Jane, an actor who has been on the cusp of superstardom for years, is wonderfully dry as Ray. A-list status has long eluded this actor. Perhaps his proclivity for lousy Stephen King adaptations (
Dreamcatcher, The Mist
) hurts him. Perhaps Jane suffers from the same disease that plagues peers like Josh Lucas: Jane is a gifted character actor who gets thrust into leading-man roles because of his looks. That's why the role of Ray is such a good fit for Jane. He's the lead, but Ray is no hero. He loses his wife, his house, and his kids in the first episode. He's repeatedly humiliated and humbled by his attempts at becoming a professional gigolo. With his wry voiceover and his attempts at playing seductive, Jane gets to show comedic skills not glimpsed since his hilarious guest appearance on
Arrested Development
.
Here's hoping the show succeeds and Jane soon gets his pick of roles. If not, well, Stephen King is always churning out new novels.
Genre: Comedy/Drama.
Written by: Colette Burson, Dmitry Lipkin (pilot).
Directed by: Alexander Payne (pilot).
Starring: Thomas Jane, Jane Adams, Anne Heche, Loren Lester.
Premieres June 28 on HBO.