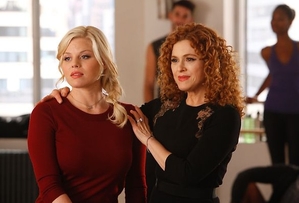 For about five seconds this week, the world of "Smash" is a glorious place to be because Jeremy Jordan is wearing nothing but underwear. Don't get too excited though, team, because that all falls apart very quickly when Karen's dad arrives out of nowhere and Jimmy has to put on clothes and sneak out the window.
Meanwhile, back in front of the Flatiron Building – theater STILL doesn't go here – Ivy Lynn is complaining about how her mom is the absolute worst. Which is perfect, because surprise, Ivy! Momma Rose Lee has just been cast in "Bombshell" to play Marilyn's mother who is also coincidentally the absolute worst.
Downtown, while Jimmy is on his way to rehearsal, his past catches up to him in the form of his dealer – clearly a reject from the Gateway Playhouse cast of "Rent" – who wants to settle their debts. Jimmy's only moderately worried, though, because he's going to steal some things from some rich people at a "Hit List" fundraiser while Ana basks in her diva moment wearing nothing but a pair of ruched Spanx, which the New York Times editor really likes.
Back at "Bombshell," Tom is being a terrible director and Julia is trying to undo fifteen years of damage to her relationship with Scott in a few days – thank god she lives in "Smash"-land!--while Ivy and Momma are struggling to work together/being nasty to each other/singing a song.
By the end of things, Derek has happily fronted Jimmy cash to repay his dealer just in time for Karen's dad to blow up Karen and Jimmy's spot. Julia is still kissing Scott's butt, and Ivy hates Tom forever, but she acts real good with her Mom so we smell some Tonys.
The Awesome
Ivy Lynn Tells Tom What's What
Much as Ivy Lynn and her aggressively rectangular wardrobe drive us up the wall, we couldn't help but cheer when she rebuffed Tom – who is allegedly her friend – for hiring her famous mother to be in "Bombshell." Of course, we're puzzled as to why Tom is suddenly "Smash's" bad guy, and why he would consider hiring Lee Conroy when he knew it would piss off and re-traumatize his leading lady. But that's showbiz…when it's on a mediocre TV show.

A Drug Dealer is a Person in Your Neighborhood
We know that drug dealers are supposed to be bad people. And that this particular drug dealer's general lack of badness should be a character flaw. But honestly, he just reminds us of SqueeGee Man from "Rent," and that warms the cockles of our hearts. Plus, we think Jimmy and The Dealer make a cute couple, and we'd kind of like to see them smooch. We're happy to have him around.
Karen Sings a Great Song in a Great Way
Joe Iconis's song "Broadway, Here I Come" has been the brightest star of this season thus far, and never more than when it was sung on this week's episode by Karen. And it wasn't just that it was lovely to listen to and had some real dramatic momentum. It actually made you see that Karen left "Bombshell" for a good reason – because she was actually better suited to "Hit List." Smash can be a pretty good show when it's, you know, logical.

The Awful

Thank God Ana Just Happens to be an Aerialist Like Spider-Man
Because otherwise how would we have pulled off this moderately-sung, Pink-did-this-three-years-ago number in just a day?! Without the threat of a 90-pound girl in a mesh body-stocking falling in their vichyssoise, how could we get New York City luminaries to empty their pockets in support of what is clearly the best show since "Spider-Man: Turn off the Dark"? I guess we'll never know, because Roommate Ana, the secret circus performer, was here to save the day.
Julia's Fifteen-Year-Old Plotline That Only Emerged Two Episodes Ago
So now that the "Smash" writers are over their incessant, obsessive need to tear down Julia's character by showing us that she's a terrible writer, they've found a whole new way to make her look like a headcase. They've saddled her with Scott, the downtown producer whose theater is staging "Hit List." And they've given him and Julia 15 years of backstory that no one's mentioned until like, right now. Their conflict? Back in the day, Julia chose to work with Mike Nichols instead of Scott. Frankly, we'd have chosen similarly. And if Scott was still mad about it 15 years later, we wouldn't spend our days like Julia does, carefully composing remorseful emails. Especially if we made as much money and had as much power as Julia does.

Marilyn's Mom Gets a Bad Wig, and Marilyn Sings Along
Wow, what a touching, fully staged song between Marilyn and her mother, you guys! They're wearing recycled wigs, and Marilyn's mother is presumably lying on her deathbed, and Bernadette Peters sounds almost as bad as she did at the end of the "Follies" run in 2011. Real gut-wrenching stuff, according to everyone else on our television screen who is crying. Thank goodness "Smash" gives us viewers such helpful cues, otherwise our cold dead hearts might forget they were supposed to be feeling something altogether.

The Inexplicable

Karen's Dad Butts In
It's not that Karen's dad's reaction is unnatural. Most dads would probably do much worse if they caught a strange dude sneaking out of their unwed daughter's apartment. It's mostly just... why is he even here? Seriously. Even Karen forgot he was coming. Did we really need all of this rigamaroll just so Derek could find out Jimmy and Karen are boning?
Why Is the Watch in a Box, Jeremy Jordan?
When Jimmy starts desperately rifling through jacket pockets at a fancy theater benefit to pay back his scary drug dealer, you might expect him to find money. Or maybe an errant debit card, or a stray pair of earrings. (You know, stuff people leave in pockets.) Instead, Jimmy finds... a brand new gold watch. Still in the box. Jackpot for him! Confusing for us. If someone had just gotten it as a gift, wouldn't they put it on? And if not, why would they leave it in a jacket pocket, especially if it was worth real money? We're obsessing, we know. But in that moment, clearly the people who write "Smash" weren't.

Julia The Dramaturg... of "Hit List"?
Once again putting aside the fact that Scott is looking for a Book Doctor and not a Dramaturg, on what damn planet does hiring Julia for this job seem like a good idea? Not only did she screw you over the last time you worked together, but she is your actual competition right now, bro. Plus if you hurt Jeremy Jordan's feelings, Jesse L Martin, we may never forgive you!