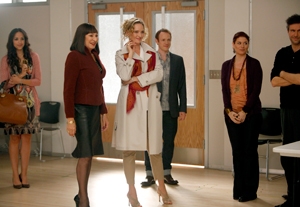 Did I miss something? Last week on "Smash," the workshop for "Marilyn" - now called "Bombshell" - was over, the cast was dispersed or mostly back in "Heaven on Earth," there was no star, and the whole project was in limbo. Now, what seems like only a few days later, all the creative personnel and ensemble are back together in the same rehearsal studio giving a presentation to a bunch of real-life producers including Emanuel Azenberg. (In the real world, a year usually elapses between workshop and pre-production.) Apparently, Ellis (Jaime Cepero) sleeping with Rebecca Duval's manager resulted in the star agreeing to do the show. But she's missing from the presentation because her plane from Cuba has been delayed, which conveniently necessitates Karen (Katharine McPhee) being promoted to understudy.
Eileen (Anjelica Huston) appears to cave in to Ellis and is considering giving him co-producer credit. Don't do it, Eileen! Ellis is the demon seed and must be stopped! Then composer Tom (Christian Borle) and his sorta boyfriend John (Neal Bledsoe) are seen entering yet another fictional show. This one is called "End of Daze," and it's at the St. James. Is there a religion theme running through the "Smash" version of Broadway, just like the real one this season?
BTW, the St. James was the home of the megaflop revival of "On a Clear Day You Can See Forever," directed by "Smash" consulting producer Michael Mayer. Were they poking fun at him by having "End of Daze" referred to as a "train wreck"?
And what are Tom and John still doing dating each other? I thought they had lousy sex and disagreed about politics? What is holding them together other than the need for Tom to keep from slumming with the lowly, sports-loving chorus boy Sam (Leslie Odom, Jr.)?
Ivy (Megan Hilty) has an inner music video moment as she delivers a pop song about taking risks and fantasizes about taking back the role. Back in rehearsals, Derek (Jack Davenport) is screaming at Karen (who should really know what downstage means at this point), and the chorus kids who befriended her just a few episodes ago are now taking bets on how soon she'll start crying or get fired.
Dev (Raza Jaffrey) gets insanely jealous when Karen reveals Derek made a pass at her when she first auditioned. Wait a minute, didn't she tell Dev all about Derek calling her over to his apartment and attempting to get her into bed?
Eileen heads back to her favorite dive bar with Nick (Thorsten Kaye), the hot bartender who just hands her a stack of money and hints he has "friends" who have the same kind of cash to invest in "Bombshell." Ivy suddenly gets mature and advises Derek to treat Karen more gently. Next, we're given this week's production number, which asks us to imagine cute young chorus boys Fosse-ing their asses off as middle-aged studio execs, and for some reason Tom stands in as Daryl Zanuck. This looks like one of the better, funnier songs for the show. John sees Tom and Sam laughing together and finally gets the message that his romance with Tom isn't going anywhere.
Tom and Julia (Debra Messing) attend an amateur production of their first hit "Three on a Match." Obie winner Kristen Nielsen, the funniest actress in New York theater, is a riot as the director. Eileen begs for money from the bartender's rock star friend, while Dev contemplates moving to Washington. Back at the amateur production, Julia tearfully reveals to Tom that her husband Frank (Brian d'Arcy James) found out about her affair with the leading man Michael (Will Chase), and we cut to a commercial for adult diapers.
John bids a weepy farewell to Tom and Julia leaves a weepy voicemail for Frank. Eileen slaps down Ellis again - yay Eileen! - for probing into Nick's background. Back at rehearsal, Derek has a hallucination and imagines Karen dressed as Marilyn. What the hell is going on? Derek actually apologizes to Karen at her apartment for hitting on her in the pilot. Just as he's leaving, Dev sees him and starts throwing punches, assuming Derek has been up to his old tricks. All of this could have been avoided if Derek had just used the phone. Ivy brings up that very point as she places ice on Derek's wounds.
Eileen rather stupidly pisses off Emanuel Azenberg and her other previous investors by having her new rock star partner burn up their contracts. The episode ends with Karen singing a ballad during a montage of wrapped-up plot threads. Just as she finishes, Uma Thurman as Rebecca walks in, and we're ready for next week.