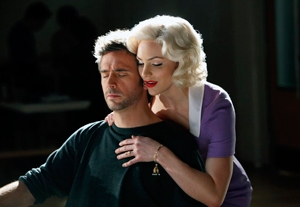 Last week on "
Smash
," we were given a tease of Uma Thurman's movie star Rebecca Duvall, about to assume the lead role of Marilyn Monroe in "Bombshell." This week, Rebecca takes over rehearsals and by the end of the episode, she is a force with which to be reckoned. 
Ivy (Megan Hilty) has been recast in the chorus to provide vocal support for the musically challenged Rebecca. Ivy and Karen (Katharine McPhee) are actually getting all chummy, forming an unlikely alliance against Rebecca. And has Derek (Jack Davenport) been taking peyote? Just like he did last week, the nasty director has a bizarre hallucination of Karen as Marilyn. This time she's singing "Our Day Will Come," which came out after the iconic movie star died. (Actually, it's this week's rationalization for McPhee to sing a pop sing.) Meanwhile, Julia (Debra Messing) sets up Tom (Christian Borle) and Sam (Leslie Odom, Jr.) on a date - finally! - and has to deal with the devastating issue of her teenage son Leo (Emory Cohen) flunking two classes. She has a nasty confrontation with her estranged husband Frank, which earns Brian D'Arcy James another residual check.
Then Rebecca demonstrates her basic misunderstanding of musical theater by asking for longer book scenes and fewer songs. America gets to see an actual gay, interracial romantic encounter with Tom and Sam kissing after discussing their favorite Sondheim show. (And, BTW, nobody's favorite Sondheim show is "
The Frogs
"!) Then Sam gets all condescending to Tom about his lack of commitment and how holy sex is. Because he goes to church and believes in God. Huh? Sam advises they take their potential affair slowly and leaves.
Eileen takes a look at the dirt Ellis (Jaime Cepero) has dug up on bartender Nick (Thorsten Kaye) and snoops around his desk. Ellis catches her and impertinently asks, "Was there something you needed from my desk?" To which I would have replied, "I own this desk as well as your ass, Ellis. Now get the fuck out of here."
Julia and Frank meet with Leo's guidance counselor, giving Messing a big scene, with Julia pouring out her heart about her infidelity, and Betsy Aidem, one of my favorite New York stage actors, as the guidance counselor has a great reaction shot. We then cut to the rehearsal with another great theater actor, Henry Stram, playing Lee Strasberg in another musical number - this show is going to be four hours long and have a cast of 60. Rebecca gives a terrible performance, dramatically as well as vocally, and her violent boyfriend bursts in and nearly gets maced by Eileen.
Karen and Dev (Raza Jaffrey) have a touching moment as she finds out he lost the press secretary job - we never did find out what secret power his rival had to get the position despite a dirty past. Later, when everyone is at a screening of Rebecca's latest movie, Ellis finally gets what he deserves when Randall (Sean Dugan), Rebecca's manager - the one Ellis slept with - overhears the little snake calling him a loser. Randall cuts him dead. Yay, Randall!
Julia and Tom get into a deep theological discussion while waiting for Rebecca to show up for a story conference, and then the movie star comes in with a personality transplant. All of a sudden, she's remarkably honest and aware of her limitations. She even suggests getting a vocal coach. Julia gets home in time for serious talk with Leo and Frank, while Karen comes home to an empty apartment and we see Dev having a drink with that flirty co-worker.
It must have been an early meeting with Rebecca because Eileen had time to meet Nick and confront him about his shady dealings. He tells her they can take their relationship slowly - just like Sam did to Tom. Do I detect a pattern?
Rebecca actually does a good job with "Dig Deep," the number about the Actors' Studio, and I love the chorus girl in red with the beret. This leads us to question why, if Rebecca is a decent performer, was she so awful in the earlier scenes? The episode ends with the movie star stating, "I've got lots more ideas." Cut to the creative team looking frightened. Scenes from next week appear to include a Bollywood number. Maybe a fantasy sequence for Dev? Now I'm frightened.