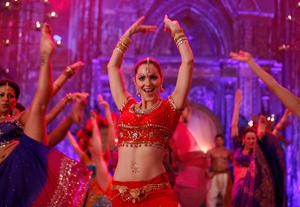 "
Smash
" just keeps getting weirder and weirder as flighty movie star Rebecca (Uma Thurman) and nasty British director Derek (Jack Davenport) wrestle for control of "Bombshell." Leo (Emory Cohen) runs away from home, and Dev (Raza Jaffrey) finally gets a big production number of his own in a Bollywood fantasy. All of this is going on as the Marilyn Monroe musical prepares for an out-of-town tryout in Boston. News flash: No Broadway show has tried out in a commercial Boston run at least since Leo was born.
The episode opens with Derek explaining to Karen (Katharine McPhee) that he's had hallucinations of seeing her as Marilyn, and it's not because of drugs; it's that he thinks she'd be perfect in the role—never mind that Rebecca is playing it. Of course, that rat Ellis (Jaime Cepero), the human tape recorder, overhears it. He takes the opportunity to squeal to Randall (Sean Dugan), Rebecca's manager. Rebecca invites Karen for a night out and has her sing a pop song at a hot club. What is it with this girl? She just walks into a room and gets to sing a song without warming up or anything. It's like she's a walking karaoke machine.
Tom (Christian Borle) and Julia (Debra Messing) have come up with a new song for Marilyn's shadow selves—you know, those figures that are supposed to be voices in Marilyn's head? I'm sorry, but this device doesn't make any sense. If your star is not a great singer, you write material tailored to her talents (Lauren Bacall in "Applause" anyone?), not give her new song to a chorus girl while a couch whisks her offstage. This is just an excuse to give either Karen or her rival Ivy (Megan Hilty) a new ballad to warble. Rebecca schemes to make Karen hated by the rest of the company by assigning her the song and then taking her on a whirlwind spree of Manhattan nightlife. This causes Karen's boyfriend Dev to seethe with jealousy.
Messing gets yet another opportunity to cry and get hysterical when it's revealed that Julia's son, Leo, is missing. Borle also is allowed to emote a bit as Tom tears up and sobs on the shoulder of Sam (Leslie Odom Jr.), the sports-loving, churchgoing gay chorus boy.
Rebecca and Derek battle for control of the show as the movie star enlists the stage manager to make her smoothies. Ann Harada, as the put-upon SM, gives a fantastically funny deadpan reaction as she listens to Rebecca's instructions for preparing the nutritious snack. After Derek demands that Eileen (Anjelica Huston) rein in her star, Ellis finally finds his rightful place—grinding smoothies.
Suddenly we are at Brooklyn Academy of Music, where Eileen and her bartender boyfriend, Nick (Thorsten Kaye), are attending an avant-garde production and run into Eileen's hostile ex-husband, Jerry (Michael Cristofer). Honest, down-to-earth Nick tells Jerry and a bunch of snobs at the intermission that the BAM show is boring while Jerry snuggles up to his new girlfriend, who is about eight feet tall. Nick and Eileen leave for his apartment, where we learn he has a thing for whales.
Meanwhile, back in Manhattan, Rebecca joins Karen and Dev for dinner at an Indian restaurant. As the star and Dev quarrel over Karen's future, she begins a fantasy inspired by the Bollywood videos playing incessantly on a nearby monitor. What follows is one of the most bizarre sequences in the entire series, but at least it's more entertaining than that horrible MTV number with the masked dancers and the revolving bed from a couple of episodes back. The entire cast is got up in Indian saris and tunics in an elaborate all-stops-out number that must have cost a fortune and taken hundreds of hours of rehearsal. But if this is Karen's dream, what are people she hasn't even met—like Nick, Leo, and John (Tom's Republican ex-boyfriend)—doing in it? It was like a bad acid trip, but I did love seeing Derek slavishly feeding grapes to Ivy.
Leo returns home after Julia has learned that he's been staying at friend's house because he "needs some space." That's because his parents split up over Julia's affair with her leading man. Instead of yelling at Leo for behaving like an irresponsible jerk, Julia and Frank (Brian d'Arcy James) welcome him home with loving hugs and a nice dinner.
Ivy enlists Ellis in a scheme to steal the new song from Karen, and Hilty gets to deliver the moving ballad about Marilyn's childhood as the entire company is brought to tears by her soulful performance. The episode ends with Rebecca realizing that she has not one but two women after her role and bluntly stating that Marilyn should be singing that song, not one of the shadows.
Next week we are off to Boston, and Michael, the actor who slept with Julia and ruined her marriage, re-enters the picture.