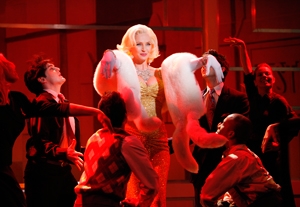 I'm exhausted. I'm still recovering from the
Bollywood number
in "
Smash
," and what's more, "I'm. In. TECH." That one little sentence, uttered by Karen (Katharine McPhee), has become an instant catchphrase on Twitter and Facebook. Employed as an excuse to avoid any sort of difficult decision, the expression means someone is so busy working on the technical phase of rehearsal just before opening that they can't be bothered with anything. You can use it yourself—as in "I can't finish this recap, I'm in tech!" (OK, I stole that from Twitter, but it's still good.)
Anyway, the episode opens with everyone shedding their Indian garb from last week's episode and preparing for the out-of-town try-out of "Bombshell." In the background, Tom (Christian Borle) and Sam (Leslie Odom, Jr.) warble an actual classic show tune - Cole Porter's "Another Openin', Another Show" from "Kiss Me, Kate" - as the cast and creative team pack up their neuroses and shattered love lives and head for Boston. Movie star Rebecca Duvall (Uma Thurman) looks frightened as she steps onto the stage of the theater, and nasty director Derek (Jack Davenport) looks concerned, which foreshadows all kinds of problems.
Tom wants to introduce a new song for Ivy (Megan Hilty) and Karen (Katharine McPhee) but we never hear it. The leading man playing DiMaggio (Tony Yazbek), who we saw for maybe a few minutes a few episodes back, quits for a pilot. That means Michael (Will Chase), who was fired for sleeping with lyricist-book-writer Julia (Debra Messing), will have to be rehired. They're in tech, dammit! Julia refuses to allow it since she obviously can't control herself around Michael. If this were real life, Julia would not hesitate to have him back in the show. Even Mia Farrow was willing to work with Woody Allen in the midst of their painful breakup (though Diane Keaton took over her role).
But I digress. Rebecca confesses to understudy Karen that she still has stage fright, despite being a megastar of such blockbusters as "Casual Fridays" and "Casual Friday 2." Back in New York, Julia demonstrates her newfound domestic happiness - husband Frank (Briand d'Arcy James) has moved back in - by successfully flipping pancakes, albeit burned pancakes.
Derek finally gives Rebecca some direction: "Use your fear." How incisive. Ivy begins to suspect director and star are getting it on. Not only has Rebecca stolen her part, but now she's stealing her man?
And what is with it with Ellis (Jaime Cepero) and Ivy, who now seem to be BFFs? Shouldn't he be backing Rebecca, since she's a big star and he wants her to bring in the big audiences for "Bombshell"? And didn't he sleep with her manager Randall (Sean Dugan) in order to get her cast? So why would he conspire against her? And why do I have a feeling someone is going to be slipping Rebecca peanuts soon? She mentioned that she was allergic to them at least 50 times last week. And what does it say that the "
Dark Shadows
" commercials are the highpoint of the hour? I loved it when Helena Bonham Carter as Dr. Julia Hoffman says, "Is he for real?"
Sam hints that he's estranged from his family, who apparently live in Boston, since they didn't even know he was in town. What's the backstory? When we finally meet Sam's family, it turns out they're OK with him being gay, they just don't like his career choice of dancer. Isiah Whitlock has a nice scene as Sam's father.
Karen's boyfriend Dev (Raza Jaffrey) almost sleeps with his work colleague, the scheming R.J. (Tala Ashe), while Derek does have sex with the insecure Rebecca. OMG, what is with Derek and his leading ladies; does he have to sleep with all of them?
Shaken by his near-encounter with R.J., Dev hops on a train to Beantown and proposes to Karen, prompting her now immortal line, "I'm in tech." Plus, Katharine McPhee displays the most emotion we've seen from her during the entire series.
A shattered Ivy and Karen meet with the chorus kids in the hotel, and of course the rivals use their pain as an excuse to sing. Ivy launches into a totally "American Idol," non-Broadway blues number and we're
suddenly in a music video
, flashing back on Derek jumping on anything with a pulse.
Frank and Leo (Emory Cohen) nobly sacrifice their own feelings and urge Julia to go to Boston and accept Michael as leading man. Plus, it's conveniently spring break, so they're going too. Sounds like fun.
In perhaps the most ridiculous plot development of the show and maybe all of television, Dev and Ivy meet at a Boston bar and get ready to bury frustrations by heading for the nearest bedroom. What is with these people? Anytime they have a problem, they jump into bed with the first person they meet. Either that or they scream "I'm in tech!"