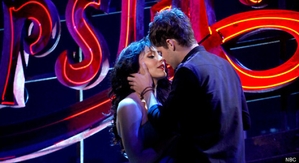 This week on "Smash," guys! "Hit List" is getting staged at the Winter Fringe Festival; "Bombshell" is still lumbering its way toward Broadway, "Liasons" is a total mess thanks to its Hollywood-actor leading man; and all of the people in all of these shows are still a lot less intelligent and articulate than you need them to be.

Karen, for starters, is still in love with Jimmy, and he's decided to keep it in the friend zone, delaying the inevitable moodily-lit sex scene for yet another episode. Julia, having written an erudite, brilliant new book for "Bombshell," sees it get duly passed over in favor of her earlier, crappier draft of the same show. Tom starts telling Derek how to do his job, which sends Derek packing and straight into the arms of "Hit List," which needs a director. It also needs a leading lady, as it turns out, because Karen is barred from working on the show due to her "Bombshell" commitments.

Ivy Lynn is pretty miserable at her new gig, too, mostly from dealing with Hollywood diva Terry Falls (Sean Hayes), who's now basically directing the show and bringing all of his moderately horrible ideas to fruition.

Karen eventually decides to defy the "Bombshell" producers and does the "Hit List" staging anyway. The episode ends with a production number that involves a wind machine. So far, so good, right? Right...?
The Awesome

Derek is Right for the First Time Ever
He treats women pretty poorly, forces the characters in his hallucinations to wear hideous high heels, and stages Fake Fosse Numbers so bad we'd nearly lost all faith in The Big Bad Wills this season. You know, until this week, when Tom – the composer – starts changing the direction of one of the central numbers in his show, and Derek loses his mind. In the process, he also actually makes the totally fair point that Tom is WAY overstepping his bounds and quits "Bombshell" in one blaze of righteous glory. We're with you, Big D, wherever you may go.

Jerry Gets Some Humanity
For a guy who's always tended to splash about in the shallow end of the character development pool – right next to Ellis – Jerry really broke the mold this week by being, well real. When he issues Karen the ultimatum that keeps her from performing in "Hit List," he has both an actual good point about the show's marketing and a real business reason to keep Karen out of Winter Fringe. In other words, Jerry is being a good businessman, which forces him on this occasion to be a bad guy. You know, the way real adults have to be bad guys in the real world sometimes. Color us surprised. Not only did we kind of see his side of the story, we still hated His Royal Jerkiness for being so inflexible, too.

The Awful

Hey, We Chose the Bad Version of This Show
The last episode's alleged cliffhanger involved whether Eileen would choose Julia's original draft of "Bombshell," or the most recent, re-worked one. We'd attempt to care, except that all drafts of "Bombshell" seem fundamentally, equally inept, so the difference between draft 1 and draft 7 seems sort of slippery and relative. Our only request: If we're getting back draft 1, can we also get back Will Chase?

Honest Ivy McCupcake
It's Ivy's job in this episode to share her brutal, wide-eyed honesty with all who will listen, but mostly with her co-star, Hollywood's Terry Falls. Necessary to this process, naturally, is her "Liasons" costume, which makes her look like a frosted peach dessert and/or like she's playing Christine Daae at the Schenectady Playhouse this fall in "Behind the Mask: The Other Phantom." All of this is supposed to be showing us that Ivy is a really great actor, you guys. And not roughly a decade too old to play Cecile. And that she has really, really amazing hair. All things that are obviously true.

"Smash" Lies All The Time
Remember that time that Ivy took Derek's advice, said "eff it all!" and gave the best performance of her life on that one big song she gets in "Liasons"? No, you don't? That's probably because her "Liasons" performances are all unremarkable and over-acted. In fact, basically all of her "acting" within the show is like that. While all of Karen's acting within the show is under-baked and expressionless. And Derek's genius vision is a poor facsimile of Bob Fosse or Baz Luhrmann or Michael Greif. Because while "Smash" successfully tells us about how talented and interesting everyone is, they've yet to actually show us any of those gifts. That's a pretty big disconnect.

Tom's Obvious Rise Continues to Beat Us In the Face
Wow! That plot twist where Eileen and Julia decided Tom should direct "Bombshell" totally caught us off guard, you guys. Because that definitely wasn't foretold in a minimum of three previous episodes. Not at all. But hey, at least Tom is thicker than the makeup spackled onto Megan Hilty's face; his apparent confusion about who could possibly be able to direct "Bombshell" really spiced things up there. And what a realistic touch, too, given the fact that his direction for "Never Give All the Heart" lead to a shouting match/Derek's quitting "Bombshell" only hours earlier.

The Inexplicable

Why Are We Always In/On/Around the Flatiron?
This is an office building. Theater doesn't even go here.

Who Let Baz Luhrmann in Here?
At the end of this episode, we catch a glimpse of a possible "Hit List" production number, and wow, it's a doozie. With Karen and Jimmy poised at opposite sides of the stage, power ballading each other hard enough to wreck each other's hairdos, it looked sort of like Baz Luhrmann had directed Sarah Brightman concert, only she'd just returned from the outer reaches of the galaxy and hasn't had time to change out of her space suit yet. Of course, it's the Winter Fringe – upcycling is in vogue, and it saves money.

"Smash" Math: Funny Two Times Removed Equals Not Funny
Good luck to anyone who has drunk enough of the "Smash" Kool-Aid that they actually found a moment of Terry Falls' antics amusing – even in a meta way. And good luck to the "Smash" writers who thought they could turn a purposely unfunny character saying purposely unfunny things into something other than a tedious bore.
Laura Motta and Aileen McKenna blog as Lucky and The Mick on their Broadway-themed blog of insanity, The Craptacular.