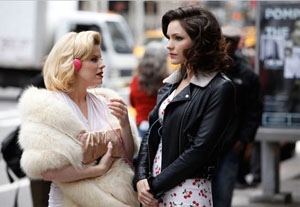 In the past few decades Broadway musicals slipped from the pinnacle of popular culture to a niche status thought to be reserved for gay men and rich elitists. The average ticket buyer might enjoy a show once a year, but as a steady diet, forget it, way too expensive and chichi. Recently, Fox's hit TV series "Glee" has done much to restore the musical's cool factor among the masses, making it okay to adore Patti LuPone and Stephen Sondheim. Now NBC is gambling that the gleeks and other fans of tuners will be willing to tune in every week to "Smash," a behind-the-scenes look at the making of a major musical based on the life of Marilyn Monroe from raw concept to opening night. Is "Smash" a smash? On the basis of the first four episodes made available to the press, the verdict is mixed.
Created by Theresa Rebeck, the series combines the unusual-for-TV elements of Great White Way backstage machinations with familiar soapy story lines. All the characters have big stakes riding on the "Marilyn" musical. Vying for the lead are veteran Ivy Lynn (Megan Hilty), who longs to break out of the ensemble, and fresh-from-Iowa newbie Karen Cartwright (Katharine McPhee), equally determined to make her mark. Lyricist Julia Houston (Debra Messing) must balance her creative ambitions with her desire to adopt a baby and a spouse (Brian d'Arcy James) who demands more of her time. Producer Eileen Rand (Anjelica Huston) is in the midst of a nasty divorce from her business partner–husband and is out to prove she can mount a show on her own. There are predictable affairs, backstabbings, and plot twists to offset the "insider baseball" aspects of the main theater thread.
It's as if Rebeck, a prolific playwright on Broadway ("Seminar," "Mauritius") and off, as well as a veteran of the small screen ("NYPD Blue," "Law & Order: Criminal Intent"), is dumbing down her scripts to make the rarefied world of New York theater palatable for the "CSI" crowd. There are also the occasional non-"Marilyn" musical numbers, which feel as if they've been shoehorned in, such as Karen attending a baby shower in a karaoke bar and belting out a country and western song.
Despite the lowest-common-denominator gimmicks, "Smash" has got a lot going for it, principally the songs by Marc Shaiman and Scott Wittman, the team behind "Hairspray" and "Catch Me If You Can." Shaiman's music pays grand tribute to Broadway and several other styles, while the clever lyrics by Shaiman and Wittman are a cut above anything on the Main Stem or the boob tube right now. Michael Mayer, who directed the pilot and the first few episodes, exquisitely intercuts the raw workshop versions of the numbers with the finished Broadway product, à la Rob Marshall in "Chicago." Kudos also to Joshua Bergasse for the razzmatazz choreography.
The cast is sparkling. The multifaceted Messing is at her best when she's allowed to show her edgy side in snarky exchanges with the funny Christian Borle, as Tom Levitt, a gay composer who is Julia's collaborator. These scenes recall the best of Messing's work on "Will & Grace." McPhee and Hilty both have powerful, supple voices and loads of charisma, but I give Hilty's savvy Ivy the advantage when it comes to landing the star role (no spoilers here). Huston makes for an elegant, tough presence as the sophisticated but sometimes desperate entrepreneur, who can turn into a tiger when she's cornered. Jack Davenport channels a more charming Simon Cowell as a smarmy British director.
Nick Jonas, who shows up in Episode 4 as a teenage TV star who got his start on Broadway and is being pursued as an investor by Eileen, is the first of many promised guest stars who might bring in viewers. Future luminaries include Uma Thurman and Bernadette Peters.
If the series is successful, there is talk of taking "Marilyn" to the stage in real life and developing new shows in future seasons. Will the TV public cotton to this Broadway saga? Only further episodes and the ratings will tell, but what a great way to build an audience for a possible Main Stem musical.
NBC, Mondays at 10 p.m. EST, premiering Feb. 6
Genre: Musical, Drama
Creator–Executive Producer: Theresa Rebeck
Director–Consulting Producer: Michael Mayer
Casting: Bernard Telsey
Starring Katharine McPhee, Megan Hilty, Debra Messing, Christian Borle, Anjelica Huston, Jack Davenport, Jaime Cepero, Raza Jaffrey, Brian d'Arcy James