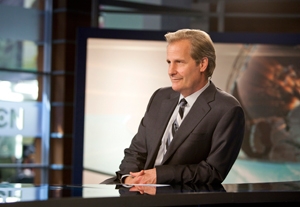 This just in: Aaron Sorkin's new HBO drama "
The Newsroom
" is his most Sorkin-y effort to date. Sure, the series focuses on the radical reinvention of a news broadcast and the man behind it, but there's no meta-narrative here. "The Newsroom" gleefully embraces pretty much every Sorkin hallmark, from his driven-but-damaged characters and their snappy, jargon-rich dialogue to his
frequently satirized
"walk and talk" dolly shots. It's a style that's served him well during the too-short run of the critically acclaimed "
Sports Night
" to the network megahit "
The West Wing
." But occasionally, it's backfired in a big way, and Sorkin's last attempt to get behind the scenes of an imaginary television show – "Studio 60 on the Sunset Strip" - was nothing short of a primetime disaster. But when it comes to subject matter, the politics-meets-television chimera that comprises "The Newsroom" epitomizes all the things that Sorkin does best.  We're on in 3, 2…
The Meltdown
At rise, we find our hero, cable news anchor Will McAvoy (Jeff Daniels) on stage at a Northwestern University panel, sitting dormant between two screaming partisans. Daniels is an excellent casting choice, and he brings undeniable gravitas to a role that evokes Peter Jennings or Tom Brokaw. In the opening minutes, that substantial physicality sets McAvoy apart from the manic slathering dimwits flanking him onstage. But just when it seems like his calm, practiced schtick is bailing McAvoy out of any substantial commentary, he snaps. Daniels plays it like a guy fed up with the resignation at the heart of the news media machine. It takes a cocktail of vertigo medication, a hounding panel moderator, an ignorant question from an audience member, and a possible hallucination to set McAvoy off, but Daniels' performance communicates that McAvoy's been on the edge for a while. Sorkin is
clearly enamored
with
Howard Beale
moments, and while McAvoy is undeniably heavy handed, it's still fun to watch.
The Reprogramming
On the other side of the opening credits, we find ourselves at the New York studios of the fictional News Night broadcast. McAvoy has just returned from vacation to a disturbingly quiet newsroom floor. He's cryptically greeted by smarmy "wunderkind" executive producer Don Keefer (Thomas Sadoski) and assistant Maggie Jordan (Alison Pill), who has a knack for awkwardly mumbling her way to promotions. McAvoy quickly discovers that while he was relaxing in St. Lucia with CNN news anchor Erin Burnett, his former EP Keefer jumped ship and took over the 10 p.m. broadcast with McAvoy's former mentee. Also, network head and old-timey news drunk Charlie Skinner (Sam Waterston) has made some major adjustments to News Night. (Waterston manages to somehow balance a slurry, boozy approach to the character with the razor-sharp dialogue – not an easy feat.) Inspired by his anchor's well-publicized university meltdown, Skinner decides that News Night needs a shakeup.  Foremost among these changes is the replacement of Keefer with McAvoy's ex-flame and veteran producer MacKenzie MacHale (Emily Mortimer), who just returned from a long-term assignment in Afghanistan. McAvoy isn't happy about working with her for reasons that aren't entirely clear. Regardless, she's a destabilizing force, looking to mold a new kind of news program around her controversial anchor.  Mortimer gives us a much-needed counterpart to Daniel's jaded anchor. She plays MacHale as consistently perceptive and ambitious, but with a healthy sprinkling of idealism.
Breaking News
MacHale and McAvoy heatedly hash out the logistics of their new relationship through an unfortunately stilted exchange best described as "platitude vs. attitude." (McAvory renegotiates his contract with the network, reserving the right to fire MacHale at the end of each week. She gives him an inspiring speech about Don Quioxote, or "Man of La Mancha" if you're counting theater references.) Then rumblings hit the news floor. There's been an oil leak in the Gulf of Mexico, we learn, and the staff scrambles to figure out how big a story they have on their hands. Producer Jim Harper (John Gallagher, Jr.), MacKenzie's number two, has a hunch that something major has just happened. Of course, by the time the audience sees the date marker (or "
chyron
" in TV news speak) that lets us know that it's April 2010, we've all figured out this is the story of the BP disaster.
After some head butting regarding the magnitude of the story, what ensues is a mad dash to "tear up the rundown" and orient that evening's newscast around the oil spill. What follows is a chaotic montage of phones ringing, people shouting, "get me so-and-so" and general boilerplate newsroom hubbub.
And We're Live…
The newscast itself is a rousing success. Through the headset, from the control room, MacHale insists that McAvoy stay off prompter as he navigates the hour with renewed energy and aplomb. It's enormous fun to watch Daniels bring McAvoy to life as he constructs the newscast on the fly as MacHale feeds him guests and statistics in real time. When the dust settles, the News Night team is energized. On the air, they found a new template that may promise to be salvation of the program – and potentially the salvation of cable news. It remains to be seen if "The Newsroom" can aspire to a goal as lofty as MacHale's, but we'll have that story for you as it develops...
Win Rosenfeld is a producer and national television correspondent. He's produced and reported for PBS, NPR, and Current TV. He's a bad actor, but his portrayal of Linus in the 3rd grade production of "You're a Good Man, Charlie Brown," was widely acclaimed by his family.