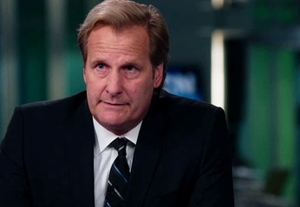 Television news pioneer Fred Friendly once famously said, "In America, television can make so much money doing its worst, it cannot afford to do its best." Aaron Sorkin insisted on flogging us with that particular bit of wisdom so relentlessly in the first installment of "News Night" that viewers were left longing for some real humanity under all that moralizing. The second episode, "News Night 2.0," is an earnest attempt on Sorkin's part to show us that his characters are working by showing us…his characters working.
In or Out?
We fade up on "News Night"anchor Will McAvoy (Jeff Daniels) sitting in his luxurious Manhattan loft, sifting through a stack of headshots and résumés, getting acquainted with his super-hot staff of young go-getters. Two things are immediately clear: News anchors do their homework and they get their decorating ideas from the Apple Store.  But what else is going on in the internal life of Mr. McAvoy?
Well, for one, he's not all that enthusiastic about the direction his new executive producer and ex-girlfriend MacKenzie MacHale (Emily Mortimer) is taking the show. Or is he?  We know the question of Will's commitment is at the core of the episode (and maybe the series) because, well, at one point MacKenzie asks him point blank, and he deliberates for a few hours before shocking absolutely zero HBO viewers with his answer. But if his conclusion isn't exactly surprising, exploring how he gets there is a worthwhile pursuit.
The White Board
Mac calls a morning meeting where she unveils a whiteboard on which she sets forth her vision for the new "News Night" 2.0. (At this point, the phrase "2.0" seems kind of "1.0" but we'll let it slide because the show takes place in 2010.)  Her plan is simple: The sole aim of "News Night" will be to inform the American electorate in the most responsible, non-sensational way possible. It should be noted that later in the episode, Mac hires economist Sloane Sabbith (Olivia Munn) for an important job, party because she's hot, which doesn't exactly jibe with the no BS philosophy, but let's just call that a pragmatic asterisk on the "News Night" 2.0 plan.
For the most part, Mac's bullet points are met with an amusing combination of befuddlement and wide-eyed idealism, the latter of which is exemplified by associate producer Maggie Jordan (Alison Pill). This day, Maggie is tasked with locking down a big guest, Arizona governor Jan Brewer. Brewer is slated to talk on the air about SB 1070, a controversial anti-illegal immigration act. After a mind-numbing bit of Sorkinese patter with her senior producer Jim Harper (John Gallagher, Jr.), she sets off to conduct the pre-interview, unsupervised. Both of them are likeable enough, and this show has plenty riding on their chemistry.
The Black Hat
If Mac is the shoulder-mounted angel of Will's better nature, in this episode we meet the counter-balance in Reese Lansing (Chris Messina). Lansing is an executive desperate to ensure that "News Night" maximizes advertising revenue from the residual buzz of the now-famous Northwestern University meltdown. We learn that he's been in Will's ear for quite some time, much to the chagrin of big boss Charlie Skinner (Sam Waterston), who wants to make sure that Mac's experiment in straight-talking, information-first news gets a chance to work. Messina certainly plays slimy well enough to be a credible bad guy, but the lameness of explicitly personifying the money-grubbing aspect of TV is kind of a letdown.

The Show Blows Up
I wish "Newsroom" was as awesome as "News Night." Last week, we were treated to a very believable, high stakes, successful newscast in the making. This week, we got an even more pleasurable viewing experience: the show bombs terribly. It turns out that Maggie blew the pre-interview with Brewer's office because she hooked up with the Governor's press secretary in college. During one such interlude, his ex-girlfriend showed up unexpectedly, and Maggie ended up hiding under the bed while the two "reconciled" on the mattress above her.
Now, despite her best efforts to stay professional, she can't resist taking a shot at him on the phone, and as a consequence he sabotages Maggie by scrubbing the interview at the last minute. The staff ends up replacing Brewer with a colorful ragtag group of Arizona wackos including a second runner-up in the Miss America pageant. Daniels plays the scene brilliantly, throwing back and forth from one useless guest to the next with equal parts cool competence and winking bewilderment.
So far, at least, "Newsroom" is at its best when we are watching news getting made. The excitement comes from watching these smart journalists think on their feet. After all, idly theorizing about stuff is for bloggers anyway.
Win Rosenfeld is a producer and national television correspondent. He's produced and reported for PBS, NPR, and Current TV. He's a bad actor, but his portrayal of Linus in the 3rd grade production of "You're a Good Man, Charlie Brown," was widely acclaimed by his family.