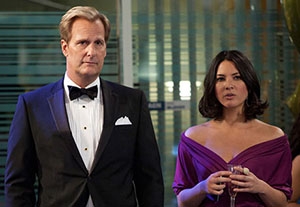 This week, things took a turn for the scandalous at ACN, when News Night's fearless leader found himself woefully entrenched in the tawdry tabloid cycle.  Drinks in the face! Guns in the face! You ain't seen nothing Yeti.
Should Old Acquaintance Be Forgot?
The story begins in the waning moments of 2011, with News Night anchor Will McAvoy (Jeff Daniels) lighting a cigarette at his desk in a four thousand dollar tuxedo, while his colleagues are partying on the other side of a glass wall. His contemplative moment is cut short when his producer and one-time main squeeze Mackenzie McHale (Emily Mortimer) pops in to ask a favor on behalf of her new boyfriend. He's a nice-enough U.S. attorney, one of many who have been charged with prosecuting the bad actors in the financial crisis, and he feels media-types like McAvoy have been too hard on them. The prosecutors mean well, he argues, but were defunded by a corrupt Congress and "out-lawyered" by the banks. Will is intrigued, no doubt, but also kind of ticked off to have such a potentially important source getting romantically serious with Mac. Of course, she insists she's moved on, and she encourages Will too as well.  But nobody who's ever seen any dramatic television believes that either one of them is willing to chalk the other one up as the "one that got away" quite yet.
Sasquatch-What-Happens
Speaking of "the one that got away," freakin' Bigfoot is all over this episode! On the symbolic level, the appearance of the furry apex predator of legend may be Sorkin's jab at tabloid culture. Maybe it's a comment on our unhealthy national obsession with apocryphal titillations. Maybe it's an attempt to develop the character of blogger Neal Sampat (Dev Patel), who's desperately trying throughout the episode to make a case to his incredulous co-workers for the creature's existence.  Regardless of its purpose, I bet the Bigfoot Wikipedia page got a lot more traffic than usual last night.
OMG TMI
Egged on by the dual-doctorate-wielding finance whiz Sloan Sabbith (Olivia Munn), Will decides to spit some game in the direction of an attractive partygoer. But just when it seems like Will's night might be turning around, he finds his face on the receiving-end of his would-be hook-up's glass of champagne. She turns out to be a gossip writer for TMI (which seems like a hybrid of InTouch and TMZ,) when he just can't mask his disdain for her line of work. Things get more complicated for Will a few nights later when he decides to bandy about an unloaded gun in the presence of another comely suitor, before smoking a joint with her. The night after that, he manages to insult yet another date and ends up with yet another Jack Tripper moment on his hands. By the end of the episode, the tabloids are all over Will, and his boss Charlie (Sam Waterston) wants to brainstorm damage control strategies. It's comically bad luck, unless there's a conspiracy underfoot. And Charlie has no doubt about that. By his lights, the network is finally fed up with the new News Night and is looking for a way to finally force Will out by painting him as a cad. Once again, CEO Leona Lansing (Jane Fonda) speaks loudest when she's not speaking at all. For Will, if he's supposed to believe that the multi-billion dollar media company he works for is capable of engineering a multi-pronged, coordinated attack to discredit one of their own network stars, then anything is possible and he's happy to take another look at that Bigfoot data.
Just the Facts
The episode ends with the reveal that Congresswoman Gaby Giffords has been shot. Historically speaking, Sorkin reminds us that during the period directly after the shooting, NPR and the TV news networks almost unanimously declared the Congresswoman dead. But Mac won't follow suit until she gets confirmation. It's a move that flies in the face of the ACN execs encouraging News Night to just "call it," for fear of getting left behind in the news cycle. The scene serves as a thematic button to all the gun talk in this episode, and it even casts a macabre light on the many beverages that were somewhat comically thrown at Will's head. But it also speaks to the dangers of the tabloid journalism mindset and how those same instincts can infect even the most serious journalists. News Night comes out ahead because they put a premium on getting the story right. Of course it's pretty easy to be gutsy and take the high road when you're a fictional newscast covering an event with perfect hindsight.
Win Rosenfeld is a producer and national television correspondent. He's produced and reported for PBS, NPR, and Current TV. He's a bad actor, but his portrayal of Linus in the 3rd grade production of "You're a Good Man, Charlie Brown," was widely acclaimed by his family.