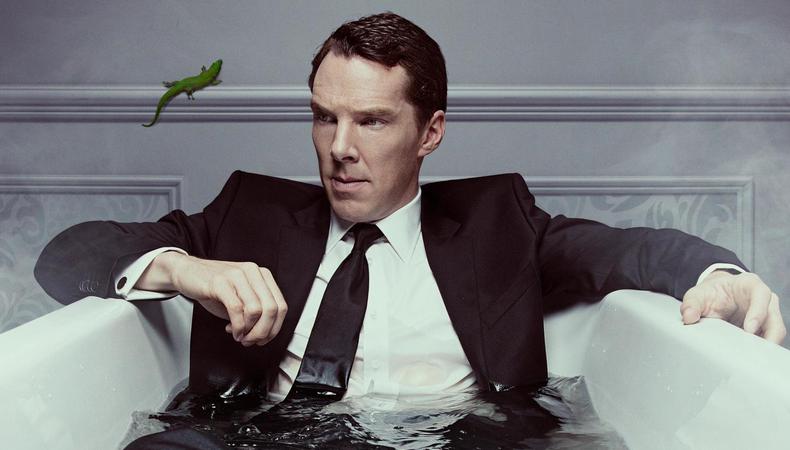 "It wasn't as good as the book." Those tend to be the usual, smug words from anyone who read the novel before it found its way onto the screen. Following the rip-roaring success of Normal People when we fell in love with Connell and Marianne, or how enthralled we were by Eve and Villanelle's cat-and-mouse game in Killing Eve, Backstage decided to delve inside the minds of the actors tasked with the job of developing roles based on a character adapted from a novel.
And with lockdown still rather touch-and-go, why not indulge in a little more box-set binging and make sure you're up to date with these stunning portrayals? Who needs to book an acting class when you can watch a masterclass on-screen? Take a look at this remarkable list of actors and how they handled the book.
It is no wonder Naomie Harris was named best female actor by the Royal Television Society for her portrayal of Hortense in the televised adaptation of Andrea Levy's best-selling novel, Small Island. In an interview with the BBC in 2009, Harris said: "When I read it, I cried with laughter. Small Island is without a doubt one of my favourite books."
The story is set in 1948 and explores themes around post-war Caribbean migration through four narrators. "Hortense is a very complex character. She appears outwardly to be incredibly proper and haughty but inside she's really a naive and frightened child… there are so many sides to her and as an actor I got to make choices about when to show those sides."
The two-part series was broadcast over ten years ago but it still feels as relevant as ever, particularly in the wake of the Windrush scandal and the move to uncover black British history. "I wanted to be part of a drama bringing attention to that period," Harris told the BBC; and she described how reflecting on her own heritage helped to develop the role. In doing so, she discovered that the story of Hortense and Gilbert (her love interest played by David Oyelowo) was not dissimilar to the experience of her own grandparents and the challenges they faced when they arrived in the UK.
If you have an interest in adaptations in general, this show is perfect for you – not only can you compare the book to the TV show but the National Theatre's phenomenal sell-out production can also be found online.
"How people's lives entwine together is one of life's mysteries," remarks narrator Hugh Quarshie; and with multiple overlapping storylines and unexpected links between the characters, Small Island will keep your mind guessing and your stomach lurching. It may be a beautiful story of dreams, ambition, love and loss, but it is perfectly underpinned by Harris' performance, which will have you giggling one moment, crying the next.
We may know and love him from his playful performances as goofy, devilish characters in countless romantic comedies. But this is Hugh Grant as you've never seen him before.
Based on the true story of British politician Jeremy Thorpe, A Very English Scandal kicks off in 1965 before the legalisation of homosexuality in the UK. Grant plays the lead role as the former MP and Liberal Party leader who was accused of attempting to murder his ex-lover Norman Scott. The BBC production was adapted from the non-fiction crime novel of the same name by John Preston.
In his preparation for the role of Jeremy Thorpe, Grant studied both the script and the book it was based on, but also videos, testimonials, and other sources of the man himself. In an interview with IndieWire, Grant said: "I dug and dug, read books, went to see people who knew him. That builds up a whole inner psychodrama – that's the important stuff."
Looking for your next TV role? Check out our UK castings
With so many twists and turns, it is staggering to think this all happened not so long ago, and it's no surprise that it's still described as one of the 20th century's greatest political scandals. When the criminal trials took place, Grant was 19. "I grew up with him, I'm good at imitations."
The show has its funny moments, all of which Grant perfects with his well-nurtured comedic timing, but it also features sinister, sombre moments which he tackles with nuance and depth. He elaborated: "Really for me, it was all about pain. He had two sources of pain beneath the smooth, witty, jocular exterior: one was living in the closet, and I think his narcissism was a source of unhappiness, too."
For this rich, multi-dimensional performance, Grant was nominated for a BAFTA, an Emmy, and a Golden Globe.
National treasure Benedict Cumberbatch is no stranger to portraying characters from books, having performed as the iconic Sherlock Holmes since 2010. But his approach to playing Patrick Melrose was a little different because the titular role, written by Edward St Aubyn, is semi-autobiographical, and much of what Melrose endured was inspired by Edward's own experiences. Cumberbatch considers St Aubyn a friend and spoke with him regularly on his quest to build and discover the role. In his BAFTA speech, he described St Aubyn's wit and courage as "an extraordinary thing to try and mirror and achieve."
Cumberbatch's Melrose is an aristocratic Englishman and recovering heroin and cocaine addict who goes on a wild journey to battle his demons and heal wounds from a childhood of abuse and neglect. In his BAFTA acceptance speech, Cumberbatch thanks his wife, admitting: "I had to go pretty weird for this one – there were some things I had to do and it was very nice to come home and feel stable again."
In terms of an adaptation from print, this was no small task. The original Patrick Melrose story takes the form of a quintet, so we follow him on his torturous, spiralling journey across five books. In an interview with Vanity Fair, Cumberbatch revealed: "So much of your background research, your development of deeper psychology and internal thought processes and psychology, it's there on the page… So I just always, always went back to the books on pretty much every level."
Don't let the themes of trauma or tragedy put you off this show. The writing is exquisitely laced with wit, humour, and profound quotes you'll want to scribble down and remember forever. The performance will catch you by surprise - you're chortling one moment at a particularly acerbic remark and you're stopped in your tracks the next when the extent of Patrick's pain and suffering is exposed. After multiple nominations over ten years you could say that Cumberbatch was "seventh time lucky" to win the BAFTA for acting – or you could say this was the role he was born to play.
Does this need any introduction? If you haven't yet seen Jodie Comer's jaw-dropping performance as vindictive assassin Villanelle, what planet are you living on? We will forgive you if you're not up to speed with Series 2 or 3 yet but if you haven't even started digesting the first instalment... Stop what you're doing and get on BBC iPlayer this second!
Comer as Villanelle is a master of accents and languages as the formidable hitwoman jets from one country to the next from mission to mission, manipulating everyone she meets, and killing a few others on the way.
But how did she grasp so many different dialects? In an interview with Nylon, she divulged: "I have an amazing voice coach, Paula Jack, who helped me so much with all of my accents and languages.... I had a lot of voice clips sent to me in normal speed and really slowed down for me to try and get to grips with the vowels and stuff. Then I wrote the words out as they sounded rather than how you spell them – just so that if I was ever on set and I needed a quick glance at my script, I knew the pronunciation."
The hit televised series Killing Eve is based on Luke Jenning's novella series Codename Villanelle. The show seems to divert a bit from the original story but in an interview with the Guardian, Luke explained he was very much part of the "enthralling" storylining process and team. When he saw Comer's audition tape he said she "looked and sounded exactly as I had always imagined Villanelle. Poised, clear-eyed, shimmering with threat."
From there, Comer mostly worked with the screenplay penned by Phoebe Waller-Bridge. She told the Royal Television Society (RTS): "It was all on the page for me, and (Waller-Bridge) allowed me the freedom to find her myself on set, so it was a real collaboration when making her and as I felt more comfortable I started to find things in her."
In a previous interview with Backstage, Comer said: "What I love about Villanelle is that she's so many characters in one... She reminded me of an actress. That's how I approached her."
She concludes: "I love her. I feel so lucky." So do we, Jodie, so do we.
It was about time they adapted Malorie Blackman's Noughts and Crosses for the screen. It was tipped as one of the "best books of the 21st century" by the Guardian and one of the "most influential novels" by the BBC. Set in a dystopian world where the status quo has been flipped, we discover that the African Empire invaded Europe 700 years ago, resulting in the "ruling class" being black Crosses oppressing the white "underclass" Noughts.
Masali Baduza dazzles as the smart and sensitive Sephy who falls for Callum, a disadvantaged, disgruntled Nought played by Jack Rowan. She stands proud as a member of an influential family and daughter of a powerful politician, the Home Secretary of "Albion." Baduza creates a multi-dimensional character who is sincere, inquisitive, and charming. She faces many challenges but shines brightly in each scene.
Baduza may have been born in East London, but not as we know it – she hails from East London in South Africa, though her regal RP accent for Sephy is flawless. She used her own experience of growing up in her native country to inform her take on the plot, dynamic, and racial tension. Baduza found it a stirring experience to be filming the show in South Africa and told the Evening Standard: "It's only been 24 years since the end of apartheid so everything's still raw, you can still feel it."
For her layered portrayal of Sephy, the Royal Television Society listed Baduza as a "Rising Star" and "one to watch." In an interview with the RTS, she said: "All of the Sephy and Callum scenes were either just heart-breaking or heart-warming... they were very emotional and quite literally life or death so to get into that headspace was quite challenging."
In order to develop the character, she started her preparation by gleaning as many details from the original text and sources online: "After I auditioned for the role I went into crazy research mode – I read the books and watched all of Malorie Blackman's interviews about them... I knew from the minute I read the script exactly who she was and where I wanted to go with her."
The story evolves over six episodes and was released in early 2020. It not only deals with forbidden love but explores themes around police brutality, civil unrest, and racial injustice. This is a relevant, engrossing show and Masali Baduza's performance will win your heart and mind.