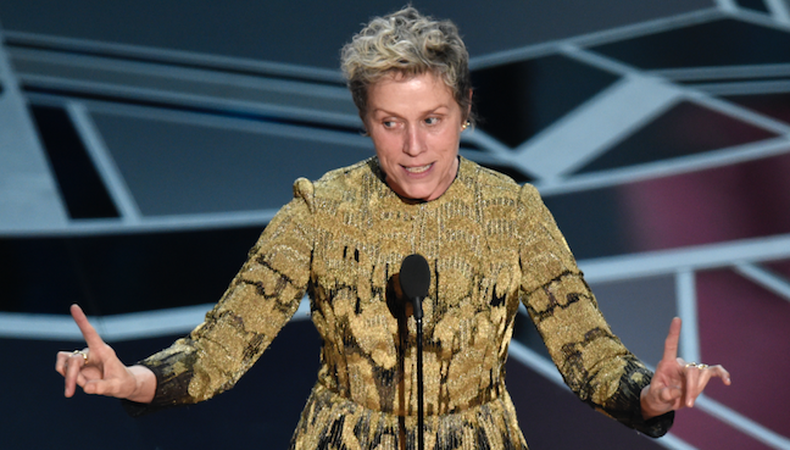 Hello and welcome back to our roundup of news from across the industry. From stage to screens big and small, we've got you covered. It's everything you need to know and all you can't afford to miss.
Stars put their names to Acting Your Age campaign.
Actors and figures from across the industry have put their names to a campaign that seeks to highlight the 'invisibility' of middle-aged women on stage and screen. Frances Barber, Ricky Gervais, and Michael Sheen are amongst the supporters of the Acting Your Age campaign, launched last week by actor, writer, and activist Nicky Clark. The 51-year-old said that no superpower compared to 'the middle-aged woman's ability to be invisible'. She said that 'an entire generation' of women are absent from TV and film, adding that 'women over 40 if featured at all, are seemingly cast as supportive ex-wives, bitter ex-wives, or therapists'. Clark, who recently restarted her acting career after caring for her family, called on 'writers, directors, producers, showrunners and other performers to take on board Frances McDormand's call to creative arms, referring to her mention of inclusion riders at the Oscars earlier this year.
Actor Michael Sheen lent support, arguing that middle-aged women are the 'overlooked and underappreciated secret engine of transformation in our society...But you would never know this from how they are represented in film and television. Is their reality too challenging and upsetting to the status quo? What are we so frightened of?' Supporter Ricky Gervais said that his writing and casting ethos tried to reflect 'real life'. 'I would never make a hero or heroine twenty-two because it was more marketable when the story made more sense if they were forty-two or fifty-two. I also try and make relationships age appropriate and push back on this ridiculous Hollywood notion of the sixty-year-old leading man needing a twenty-five-year-old wife.'
Equity conference reveals urgent issues.
Equity's conference last week brought to the fore the urgent issues facing actors across the industry, including the discrimination of LGBT+ actors and lack of rights for parents in performing arts. The agenda of the annual gathering of representatives also saw motions raised to protect actors from rogue bosses and improper working practices. Equity rep Robert Swinton said that members had made him aware of theatre producers getting away with denying actors the legal requirement of rest days and paying below the minimum wage. Debate around the issue raised the problem that at present an individual worker must raise a legal complaint against employers. Speaking on the motion, Tracey Briggs said that currently an actor would have to put their head 'above the parapet' to be a 'named complainant'. Equity is now campaigning to change legislation, meaning complaints could be made by the union on behalf of actors.
The conference also saw the union promise to tackle discrimination by creating a 'set of best practices' for casting and working with LGBT+ artists. Members heard testimony from a gay actor who had been told by a casting director to 'keep the straight on' in his post-audition chat so as to better his chances of getting heterosexual roles. Members voted overwhelmingly to create a steering group that will create industry guidelines for casting directors, adding to the work done by the LGBT+ committee. Elsewhere in the conference members voted for a steering group to provide pastoral care for BAME actors at drama schools, with member Ariane Barnes saying that 'the approach towards mental health and the issues that face women of colour and actors of colour are still not being tackled on a broadly recognised scale'. Read the full agenda here.
What's next for #MeToo and Time's Up?
At London's female-only AllBright Club, female film professionals from across the U.K. gathered at a Sundance London event last week to discuss the long-term response to the #MeToo and Time's Up movements. Picturehouse's director of programming, Clare Binns, opened the day, saying, 'we're lucky to be here, doing what we love. We want to help other people to do what they love'. Film4's Julia Oh added that 'more women in film means more opportunities for women in film'. According to ScreenDaily, much of the discussion focussed around new research from the Writers' Guild of Great Britain that revealed only 16% of feature screenwriters between 2005 and 2016 were female. Writers for TV faired better, with data from the same period showing that 28% of shows had predominantly female writers.
Screen Production News
John Malkovich is to play Poirot in 'The ABC Murders' for the BBC, joining the ranks of David Suchet, Albert Finney, and Alfred Molina as actors who've portrayed Agatha Christie's infamous creation. The most recent outing for the Belgian inspector was Kenneth Branagh, starring and directing his own version of 'Murder on the Orient Express'. Malkovich is joined by Rupert Grint and Andrew Buchan, best known for 'Broadchurch'. Read more here.
Stage Production News
Immersive theatre company differencEngine went bust last week, leaving actors, crew, and audiences out of pocket and abruptly ending their latest show 'The Hollow Hotel'. Some £10,000 is owed to staff working on the London production, billed as their 'best and most ambitious production yet'. The company announced via email that the show 'faced an extraordinary array of problems and adverse circumstances' and that they were 'unable to find any solutions'. A performer in the show told The Stage that the show was suffering from poor ticket sales, creative differences and that initial reviews 'screwed us'.
A new theatre is to open as part of the redevelopment of Wembley. The team behind King's Cross Theatre will run a new space on the site of Fountain Studios, a live TV venue previously used by Pop Idol and The X Factor. Opening this autumn, the building will feature a flexible auditorium that can house between 1,000-2,000 seats in any setup. The first production in the venue is to be announced in the coming weeks.
Lenny Henry is to star in the Theatre Royal Stratford East production of 'King Hedley II' by August Wilson, revived as part of Nadia Fall's inaugural season as artistic director. The work is part of the playwright's collection of stories examining the lives of black Americans called 'The Pittsburgh Cycle', opening on Broadway in 2001. Henry plays Elmore, a 'smooth-talking hustler' dealing in stolen refrigerators. 'King Hedley II' opens in May 2019.