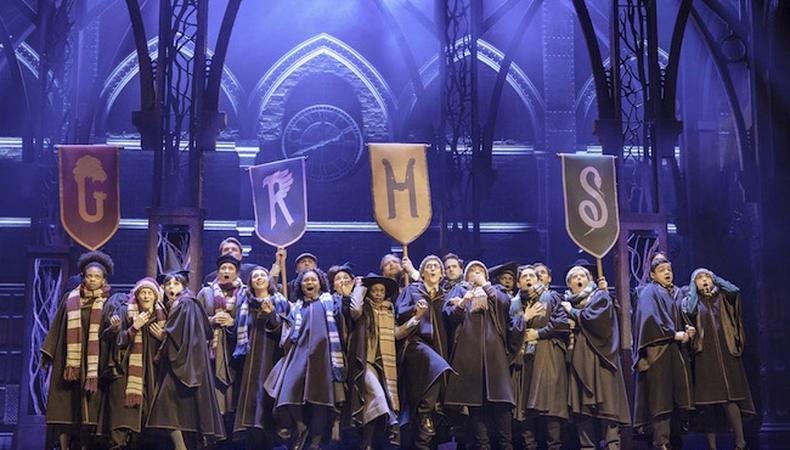 Scenic designer Christine Jones already has one Tony Award for her work on the 2010 musical "American Idiot," and she's vying for No. 2 with her wizarding work on Broadway's epic two-parter, "Harry Potter and the Cursed Child." Just hours after receiving the good news about her 2018 nod, Jones spoke with Backstage about the spaces between J.K. Rowling's words that allow for expansiveness in theater and the way each actor helped her find the show's onstage magic.
What are the duties of a theatrical scenic designer?
I would describe scenic design as creating an envelope that provides many different potentials within which to tell the story at hand. It's working closely with the director to create an environment that is full of potential and possibility and creates a visual envelope for the production…. I also love to [collaborate with actors], and I often don't get to. This project allowed me an opportunity to be directly engaged with them.
READ: How Production + Set Design Will Help You Develop Your Character

What was the process for creating the "Cursed Child" sets?
When you look at the books, J.K. Rowling doesn't often describe what things look like, but she often describes what a space feels like. She imbues her books with so many emotional qualities that those become the source of inspiration. We realized we had an opportunity to use what theater has to offer, which is mainly the audience's imagination, and use a different vocabulary to evoke the magical world. We went back to our theater roots and figured out how we can use the imagination and create all of these different moments.
Was your work at all informed by the films?
No, in fact we were extremely intentional about not referencing the films. The thing that was really unique about this production was that we did three workshops, and then we had a 10-week rehearsal period, because it is two plays, really. All of the designers were in the room together, rehearsing and playing and devising and making stuff up. We were really creating it on our feet, just playing around with pieces of fabric and string and cardboard and using our collaborative, playful skills to figure out how to solve all the different challenges.
How does your work as a scenic designer affect actors?
Well, the other thing that was unique about this project was that, because I was in rehearsal every day, I actually did the warmup with the actors every day. I really felt like I was part of the company in a way that I don't always get to be. So I got to know the actors intimately. For example, I created wands for all of the characters. I was able to sit in rehearsal and draw each person's wand while I watched them and listened to them, so I was able to be truly inspired by their presence and their energy. And that is what I set out to do: create a space that has potential and possibility.
READ: 'Harry Potter' Star Noma Dumezweni on Indulging the Pain and Gain of Any Moment
How did you come to be involved with "Cursed Child"?
As these things happen, it's all about relationships that grow organically. I met [choreographer] Steven Hoggett doing "American Idiot" and really felt like I had met a soulmate. One of the things that excites me more than anything is when scenery is used by the actors and the performers in a kinetic and dangerous way. Steven's use of the set in "American Idiot" was exhilarating. And then it was Steven who introduced me to [director] John Tiffany, because they've known each other since they were 15. Most Broadway shows that I've done have really started in Off-Broadway houses: "Spring Awakening," "American Idiot." They were all projects that began just as passion projects, and one thing led to another.
How did you break into the realm of scenic design?
I was passionate about dance and theater for many years, and it was through doing theater in school and meeting different teachers who exposed me to different aspects of what it takes to create a production. I had an amazing teacher named Victor Garaway who I not only performed with, but then assisted with mounting productions at school, and I found myself stage managing and painting scenery and doing all kinds of different jobs. He was the one who pointed out to me that there was actually a career in scenography that might be a possibility.
Do you have any words of wisdom for someone who aspires to get into scenic design?
Try to find somebody whose work you love and offer your time to them as an intern. Try to see from the inside what their world is. That's a wonderful way to have a foray into what this world really is. And then if it still feels of interest, there are some wonderful programs where you can study set design. I teach at NYU, and I think it's a phenomenal graduate program. I don't always think people should only study theater. I think becoming a well-rounded individual is really important. So see as much theater as you can, travel, and offer your services to the people who do the thing you want to do.
Ready to hit the stage? Check out Backstage's theater audition listings!