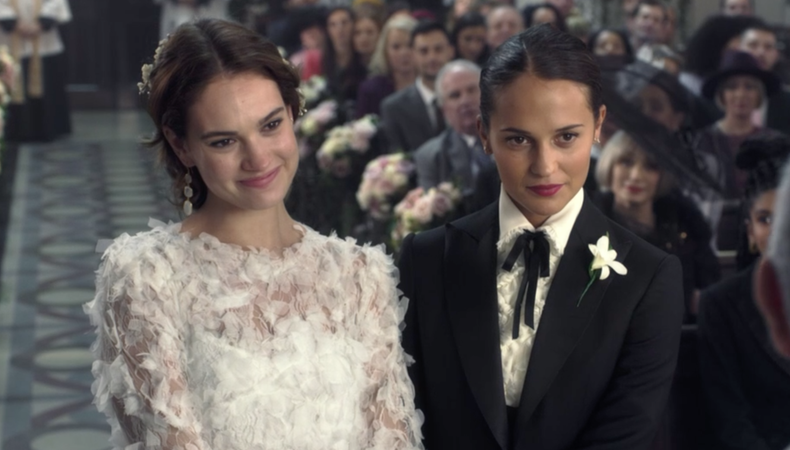 Hello, and welcome back to Week in Review, our roundup of industry-wide news. From stage to screens big and small, we've got you covered. It's everything you need to know and all you can't afford to miss.
Four Weddings spoof sets internet alight
Alicia Vikander and Lily James set Twitter ablaze with their onscreen marriage in Comic Relief's sequel to classic rom-com Four Weddings and a Funeral. One Red Nose Day and a Wedding saw the pair married by Rowan Atkinson's bumbling vicar alongside Hugh Grant and Kristin Scott Thomas' return as proud parents. Reactions from fans ranged from praising the special for featuring and normalising gay marriage to full-on freak-outs about the screen stars uniting for Red Nose Day.
Alongside the Four Weddings sequel, Comic Relief's annual telethon saw parodies of Mamma Mia and the BBC's thriller Bodyguard, featuring a host of special guests and helping to raise £63 million for a range of charities in the UK and abroad. The parody sequel to Mamma Mia starred Carey Mulligan, Gemma Arterton, and a host of comedians in a "brutal takedown" of the Abba franchise; and a crossover between Line of Duty and Bodyguard saw Joanna Lumley and Adrian Dunbar meet as Keeley Hawes returned as Julia Montague in a "how the show should have ended" moment.
LGBTQ casting called into question over actor's social media history
An actor cast in the lead role of musical The Color Purple is facing calls to respond to a post in which she said: "I do not believe you can be born gay, and I do not believe homosexuality is right." Oluwaseyi Omooba was cast as Celie in the adaptation of Alice Walker's prize-winning novel which charts four decades in the life of a character from the very bottom of American society and includes a lesbian relationship.
Hamilton performer Aaron Lee Lambert called out the casting on Twitter last week, asking Omooba: "Do still stand by this post? Or are you happy to remain a hypocrite? Seeing as you've now been announced to be playing an LGBTQ character, I think you owe your LGBTQ peers an explanation. Immediately."
In a statement, the producers of the show said: "The views expressed in the historic social media post by a member of Birmingham Hippodrome and Leicester Curve's The Color Purple cast in no way reflect those held by either of our theatres."
Review of Central exposes 'accidental' and 'deliberate' racism at drama school
An independent review of the Royal Central School of Speech and Drama (Central) found that students allegedly experienced racism while at the drama school and only half felt Central had a zero-tolerance approach to discriminatory behaviour. Published last week, the report was commissioned in the wake of a peaceful walkout and a public argument between students and principal Gavin Henderson last year.
Although the report's authors celebrated the "strong wish from management, staff and students to support equality" at the school, some reported witnessing and experiencing "micro-aggression, accidental racism and deliberately racist comments." A statement from governors said Central "fully acknowledge that we can – and we will – do better" and that an investment of £100,000 will be put into the school "to drive progress and accelerate a step change." Read the full report here.
World's first VR theatre streaming service launches
An on-demand virtual reality (VR) service for theatre has launched, becoming the world's first such platform for live performance. Called LIVR, the company aims to make theatre "more accessible to all" by giving subscribers "the best seat in the house without leaving the house." LIVR has captured more than 100 productions and is to release eight exclusive shows to the platform each month, from "brave new works by emerging artists to critically acclaimed productions."
The "immersive 360-degree experience" has launched with a selection of shows, from a stripped-down Hamlet to Songlines, a play from new writing company High Tide, and a reimagining of Medea with electronic music. Users can watch one show a month through a subscription service via a free VR headset that works with smartphones.
Nottingham's Nonsuch open venue and creative studios
Nottingham theatre company Nonsuch has announced the opening of a new creative venue. Nonsuch Studios will be an expansion of the company's existing rehearsal and event spaces and will feature a new 110-seater studio theatre and performance space, the only independent space of its kind in Nottingham. Alongside a programme of theatre, dance, comedy, cabaret, music, and film, the studios will provide office and creative co-working space for artists, producers, and creatives in the heart of Nottingham's creative quarter. Read more here.
Channel 4 looks behind the curtains
Writer Jack Thorne will finish a trilogy of dramas for Channel 4 that "behind the curtains of this country" and "ask difficult questions" with The Light, a drama about a Welsh community left behind in the wake of a terrible accident. What started with hit dramas National Treasure and Kiri will conclude as Thorne surveys another aspect of British life, that of a rural community struggling to cope. The Light will put characters living with disability at the centre of the story and is to star Sarah Lancashire.
Stage winners get festival help
Theatre companies Barrel Organ, Burnt Lemon and Poltergeist have won the Untapped Award 2019, taking them up to the Edinburgh Fringe for a full run. Awarded by the New Diorama Theatre and Underbelly, the initiative supports early and mid-career theatre companies to bring productions to the festival, with the three winners being chosen from almost 200 applicants. Barrel Organ is to take a new show inspired by conspiracy theorists, Burnt Lemon will produce a story about a falsely accused propagandist, and Poltergeist is to take a satire about a stolen artwork. Read more here.