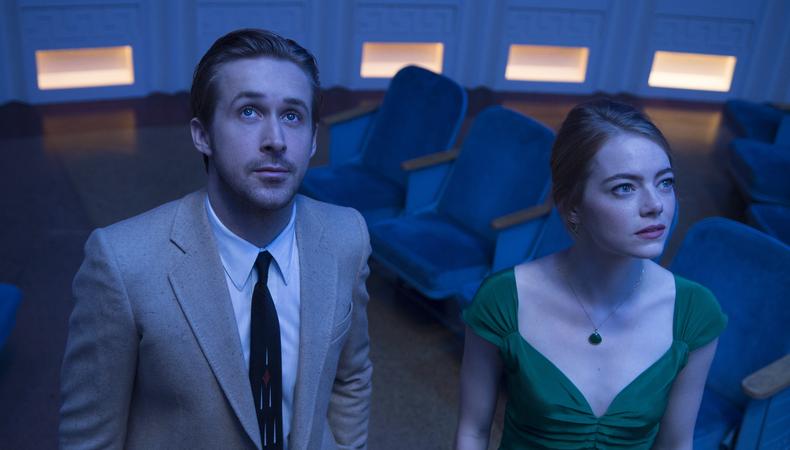 Awards season kicks into high gear today with the announcement of the film nominees for the 2017 British Academy of Film and Television Arts Awards. The U.K. equivalent of the Academy Awards recognized Lionsgate's movie musical "La La Land," Damien Chazelle's love letter to old and new Hollywood, with 11 nods, followed by Focus Features' "Nocturnal Animals" and Paramount Pictures' "Arrival," each with nine.
As announced by Dominic Cooper and Sophie Turner at BAFTA's London headquarters, this year's nominees constitute some of the top film artists from the U.K., U.S., and beyond. Taking top honors in the Best Film category were "Arrival" and "La La Land," as well as "I, Daniel Blake," "Manchester by the Sea," and "Moonlight." The latter film failed to break into the directing category, which instead nominated Tom Ford of "Nocturnal Animals."
BAFTA's Leading Actress category mirrored the upcoming SAG Awards exactly, nominating Amy Adams in "Arrival," Emily Blunt in "The Girl on the Train," Natalie Portman in "Jackie," Emma Stone in "La La Land," and Meryl Streep in "Florence Foster Jenkins." This year's leading men are Casey Affleck in "Manchester," Andrew Garfield in "Hacksaw Ridge," Ryan Gosling in "La La Land," Jake Gyllenhaal in "Nocturnal Animals," and Viggo Mortensen in "Captain Fantastic." Other actors received recognition in pairs in the supporting categories: Nicole Kidman and Dev Patel for "Lion," and Naomie Harris and Mahershala Ali for "Moonlight."
READ: Emma Stone Speaks on the Movie Musical of the Decade
Last year's BAFTA film awards honored the same actors that would go on to win Oscars in three out of four categories, as well as director Alejandro G. Iñárritu. His film "The Revenant," however, was bested by "Spotlight" at the Academy Awards after winning the BAFTA for best film.
The EE Rising Star Award, voted upon by the British public and announced last week, honors five up-and-coming stars: Laia Costa ("Victoria"), Lucas Hedges ("Manchester"), Tom Holland ("Captain America: Civil War"), Ruth Negga ("Loving"), and Anya Taylor-Joy ("The Witch"). Last year "Star Wars" actor John Boyega took home the prestigious award.
BAFTA is an independent charity dedicated to promoting "the art forms of the moving image by identifying and rewarding excellence, inspiring practitioners and benefiting the public." The EE British Academy Film Awards ceremony will take place Feb. 12 at the Royal Albert Hall in London, hosted by actor Stephen Fry and broadcasted on BBC One. Who do you think will take home top honors—and gain momentum in the last stretch to the Oscars?
For a full list of BAFTA film nominees, click here!
Want to star in a feature-length movie? Check out our film audition listings! And for acting advice, visit Backstage's YouTube channel!