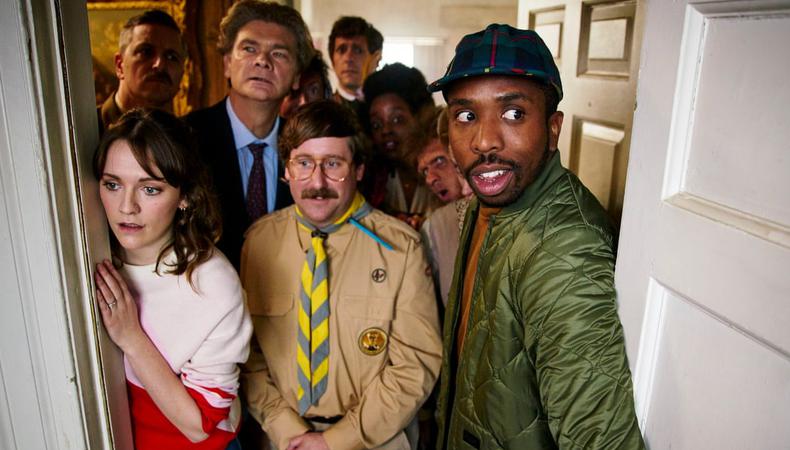 You may have seen him as the sarcastic, apathetic estate agent in multi BAFTA Award-winning Stath Lets Flats or as the lovable Mike in the side-splitting show Ghosts, or perhaps you spotted him recently in the entertaining drama-comedy Man Like Mobeen.
Kiell Smith-Bynoe is a dab hand at developing hilarious, memorable performances for the screen. But to book the role of Mike, Smith-Bynoe admitted it was the hardest he'd ever worked on a casting, with preparation being the key. So, how exactly do you create a character for comedy? Backstage sat down with Smith-Bynoe to find out.
How did your comedy journey start?
"When I came out of drama school, I was desperately unemployed. I signed with an agent who wasn't right for me – I wanted to be with a big name but I hadn't thought about what they could do for me. Then a friend of mine, a YouTuber, posted on Facebook saying he was looking for actors to be in his sketch. I replied 'When is it? Where is it? I'll do whatever!'
We put lots of videos together, all of us working on these things with no locations, no budgets. Props and costumes were whatever we had at home. Sometimes we didn't even have a script – it was just an idea. We were doing that for ages, for free. That quickly became my showreel. Looking back, not all of them were very good but it was all part of the journey."
Looking for your next TV role? Check out our UK castings
How should actors seek out other collaborators to work with?
"Ask people if they're up for doing stuff! I met Jamie [Demetriou, Stath Lets Flats creator] at a party and banged on about his [Channel 4 comedy] Blap for – maybe too long. I had watched it so many times because I'd never seen anything like it. I'm quite forthcoming when it comes to telling people their work is good. The audition didn't come through until 2017 but when it did, I had to be a part of it. I always say when I would love to work with someone."
What advice do you have for preparing for a part?
"Know the script back to front, first of all, so that you can play with it in any which way. Once you've got the lines down and you know exactly what it is, you can try this, try that. Usually, with scripts, I try to find the funniest way to deliver something and pull the comedy out. Even if the line is not written to be funny, I will find different ways to say it. And then the director can choose whether they want to scale it back or not. It's to give them the option."
Are there tricks to make things funny without using the text?
"I think with Dean, Jamie Demetriou's idea was to make him the voice of the audience – to be what the audience is thinking when you're in this workplace filled with ridiculous characters. A lot of the time, Dean's lines are reactions to other things. So, for me, it was doing that in the funniest way possible. Quite a lot of it is me sat down at a desk, so I was really focusing on my facial expressions when I jump in or interrupt people. I think that works. I've seen a few memes of Dean's disgruntled face.
How did you build your character in Ghosts?
"I really wanted Mike to just be funny and modern. It is written funny anyway, but I wanted to make him as well-meaning but as useless as possible. I had to visualise, and think about people I know who are like that, to have that person in my head."
But the writers and [director] Tom Kingsley are very easy about allowing you to let something flow. For example, on the Christmas Special, there were a few lines I was allowed to go off with and they made it into the edit. So, there was quite a lot of freedom."
Everything You Need to Know About Improv Comedy In the UK
What advice would you have for an actor struggling with a line on set?
"I would always go to the writer first. I'd just say: 'I get a bit stuck on this line – can I try something like this or something like that?' So yeah, always go to the writer first – it's their words. Every line is there for a reason. If the writer is not there, go to the director. But always ask. And talk things through with your castmates. Running scenes through with them might help with what you're struggling with."
You're one of the writers for the BBC sitcom Enterprice. How can aspiring writers create content, and what advice would you have for them?
"Keep up the practice – because you can get rusty – and keep working on things! For me, the parts I was going up for were all quite samey, quite similar, and not really the dream thing. [So] I just wrote stuff I was interested in playing. Also, people think they need to have written loads of plays or scripts but you know, you can also just be the ideas person. You can have an idea and say: 'These characters do this' – and then have a conversation with someone who is a writer, and you can be the creator."
Ghosts Christmas Special airs on 23 December, 8:30 pm on BBC One.