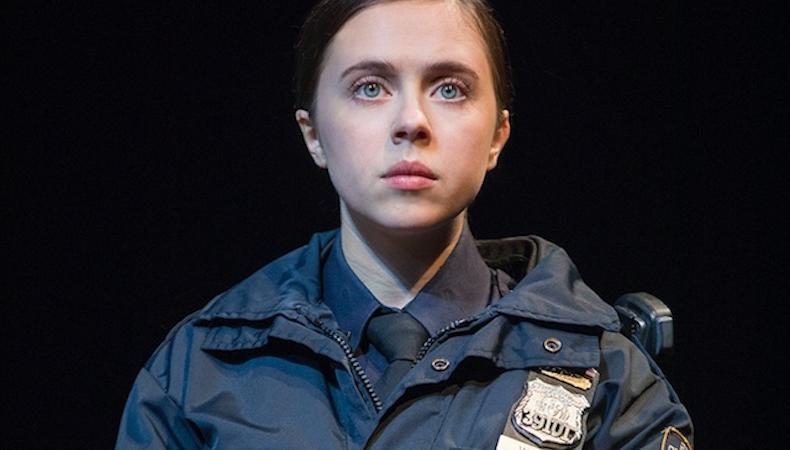 British actor Bel Powley blasted her way onto the scene in 2015 with her starring turn in "The Diary of a Teenage Girl" and has been popping up in indie films ever since. (This year alone sees the 26-year-old starring in three films, with "Mary Shelley," "Wildling," and "White Boy Rick.") But before hitting the big screen, she cut her teeth in U.K. theater, and this spring saw her return to Broadway with Kenneth Lonergan's three-time Tony-nominated "Lobby Hero." Directed by Trip Cullman, the play stars Powley as Dawn, a rookie cop working alongside her partner, Bill (Chris Evans). With the show having recently wrapped, Powley stopped by Backstage HQ to chat with us about what it's like to work with Evans and Tony nominees Michael Cera and Brian Tyree Henry to bring this acclaimed revival to life.
Powley enjoys the closeness that comes from working with a small cast.
"It's so nice to be able to play with just three other cast members. There's [less] pressure. When you're doing a play with a huge cast, you get nervous that you're not connected with one person but you're connected with another person. Whereas with this, there's just four of us. They're such great guys."
Dawn was a breath of fresh air—as was 'Lobby Hero' as a whole.
"There still aren't that many amazing roles for women my age. Anything that's a woman in her 20s that's a leading role, I'm like, 'That could be great!' I think that even though this show was written in 1999, it's so unbelievably timely to have it on now. The gender politics and race politics [that are] in the show are so poignant for this time."
Auditioning is a job in and of itself.
"Firstly, never be underprepared. There's literally no point in going to an audition if you don't know your lines and you don't know what the show is about. You're immediately not going to get it. I always try to have a list of things to say about the project. Have stuff in your back pocket. Soundbites, basically. Stuff to leave an impression on them with. Just don't freak out too much."
READ: Brian Tyree Henry on 'Atlanta,' Breaking Down Expectations + His Return to Broadway
For Powley, time to rehearse is key.
"I think the rehearsal process of theater is so organic. Just the structure of the way you do it. You sit down for a month, and then you put it on the stage. Whereas when you're making a movie, it's such a mishmash and a jumble that you sort of lose that process along the way. Because I learned through doing theater, I can't do a movie if I don't rehearse. I find it too strange."
You have to move on from the good auditions, too.
"Even if you leave an audition and you're like, 'That went so well,' you need to bin it. Put it in the garbage, it's gone. Goodbye. Just forget about it. Because you never know what's going to happen. There's no point in beating yourself up about it if you think it was not good. On to the next."
Want to act onstage? Check out Backstage's theater audition listings!