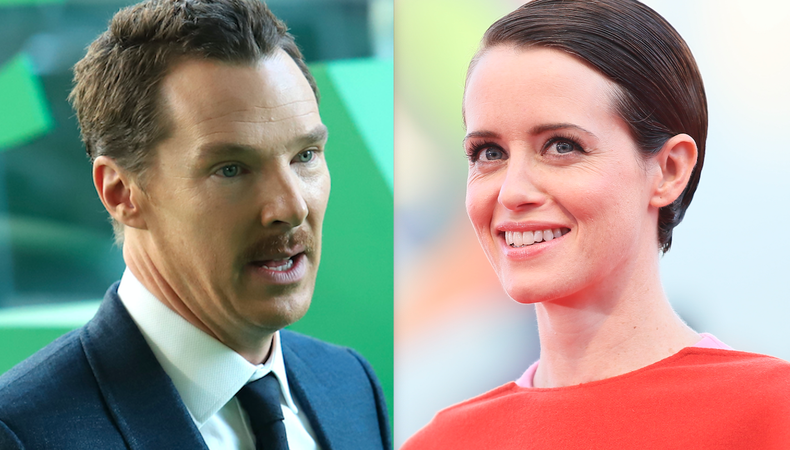 Hello, and welcome back to Week in Review, our roundup of industry-wide news. From stage to screens big and small, we've got you covered. It's everything you need to know and all you can't afford to miss.
Benedict Cumberbatch and Claire Foy to star in Louis Wain
Benedict Cumberbatch and Claire Foy are to star in The Nine Lives of Louis Wain, a feature biopic telling the life of the Victorian painter of cats whose work is seen as an early form of psychedelia. From actor and Flowers creator Will Sharpe, the project sees the rising star co-write and direct the drama which originally appeared on the Brit List in 2014. Cumberbatch will play the brilliant but misunderstood Wain, a man famous for his distinctive paintings of cats. Foy is to play his wife Emily, whose death inspired his love for cats. Filming begins on 10 August and further casting is to be announced soon.
READ: Get Cast With Jude Law and Eddie Redmayne in Fantastic Beasts 3
Campaign to honour modern-day Oscar Wilde
Calls to commemorate the "Oscar Wilde of the welfare state" are building, with stars and industry figures offering their support for a statue of the playwright Joe Orton. Ian McKellen, Stephen Fry, and Alec Baldwin are among those backing a fundraising campaign to erect a statue of Orton in his hometown of Leicester. Led by the playwright's sister and an Orton expert at the University of Leicester, the team are hoping to raise £120,000 to design and build a statue "in a suitably Ortonesque way" for the city. The writer of Entertaining Mister Sloane and Loot was tragically murdered in 1967 aged just 34, the day before he was set to discuss a project with The Beatles. Alec Baldwin described the writer as a "true original" and described his dark humour and wit as that of a "half poet, half devil's apprentice." Read more here.
Creative industries warn Boris of 'extreme damage' of no-deal Brexit
In the wake of Boris Johnson becoming Prime Minister, a group representing the creative industries published an open letter warning of the "extreme damage" of a no-deal Brexit and urging the new PM to support the performing arts. Boris's win over Jeremy Hunt on a ticket that prioritises delivering Brexit by 31 October has alarmed many in the arts, who fear a no-deal could be catastrophic for the industry. The Creative Industries Federation, a membership body that champions the arts sector, responded with an open letter calling on Boris' help in securing the future success of Britain's "world-renowned" arts and culture by stopping a no-deal Brexit.
Signed by chief executive Alan Bishop, the letter called for a second referendum and highlighted grave concerns over the end of European freedom of movement, saying "the free movement of goods, services, capital, and people have underpinned the sector's success." The letter also warns of the "severe decrease in the number of young people studying creative subjects at school" and suggests this "hugely concerning" trend will impact the talent pipeline for the creative industries for years to come.
Boris' appointment of Nicky Morgan as culture secretary, replacing Jeremy Wright, has cheered some in the industry who hope her pro-EU stance could assist in making the case for how Brexit will affect the industry. However, The Stage pointed towards her comments in 2015 that studying creative subjects in school could "hold [people] back for the rest of their lives."
READ: Is the UK Film + TV Industry Brexit-Proof?
Ten performing arts BTecs cancelled after government 'crackdown'
The government has discontinued ten performing arts BTecs from next year as part of a "crackdown on poor-quality post-16 qualifications." 160 qualifications are to be scrapped as the education secretary, Damian Hinds, announced he was reviewing the "confusing and complicated system" of over 12,000 qualifications for post-16 learners. The move comes after Ofsted's chief warned that some further education arts courses promoted "unrealistic career prospects for young people" and that colleges were giving "false hope" to arts and media students. Read more here.
No 'significant change' in disabled representation on stage
Former culture minister Ed Vaizey has argued there has been no "significant change" in the representation of disabled people on stage, pointing out that the creative industries are taking a step back in terms of diversity. Speaking at the launch of an all-party parliamentary group tasked with improving diversity in the creative industries, Vaizey argued that although minority ethnic diversity in theatre had improved, the number of senior BAME figures in theatre was "woefully inadequate." In a letter to the Guardian, he revealed that despite the arts industry "booming," research showed diversity was slowing or taking a step back in key areas. Vaizey highlighted that the number of BAME employees has shrunk by 18.3% in advertising, 13% in design, and 10.2% in film and TV. Read more here.
New Diorama Theatre to showcase UK theatre in New York
London's New Diorama Theatre (NDT) announced their autumn/winter season last week alongside their new role in showcasing UK companies off-Broadway. 59E59's Brits Off Broadway season in New York will now be co-curated by NDT, with the theatre looking to showcase innovative new work from the UK from April to June next year. The theatre's 2019/2020 season includes Breach Theatre's alternative Christmas show Joan of Leeds, Antigone by Holy What, Wait til the End by The PappyShow, Burnt Lemon's Tokyo Rose and in-house production The Incident Room. Read more here.
BBC commissions new Jack Thorne drama 'Best Interests'
The Virtues and His Dark Materials writer Jack Thorne is to create a drama series, Best Interests, about a family's fight to save their sick daughter after doctors say the child should be allowed to die. The series has been commissioned by the BBC and is produced by Chapter One Pictures. BAFTA-winner Thorne said: "As a parent of a three-year-old, I've looked at the cases in the media about 'best interests' with some fascination and a little dread," adding that the story will look at the issue "from all sides." Filming begins in 2020. Read more here.
For more from Backstage UK, check out the magazine.