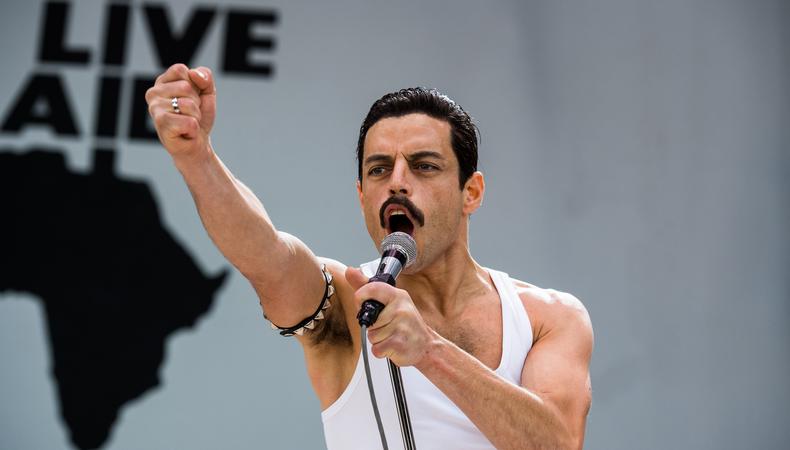 Hello, and welcome back to Week in Review, our roundup of industry-wide news. From stage to screens big and small, we've got you covered. It's everything you need to know and all you can't afford to miss.
Bohemian Rhapsody star speaks out about troubled production
Bohemian Rhapsody star Rami Malek used an interview to speak out about drama on set and to explain his "intense" transformation into Freddie Mercury during his stay in London. Talking to Screen, the American actor, previously best known for Mr Robot, revealed the year-long process for getting into character as the Queen frontman, including nailing the signature moves and flamboyant physicality with the help of British movement director Polly Bennett.
Malek said he watched "all the archive footage you could ever find," adding: "I keep searching for more because I'm even more of a fan than I've ever been." Before the film was even greenlit, Malek started preparations by flying to London and embarking on piano, singing and dance lessons. "Someone led me to Polly Bennett and within a day we were working on ballet moves…At one point Polly [had] me do Killer Queen as a Shakespearean soliloquy as performed by Marie Antoinette. Essentially, she was getting me to be as spontaneously Freddie as possible. To not mimic him in any way, or try to do an impersonation…"
Malek's performance earned him his third Golden Globe nomination – despite behind-the-scenes drama that included delays, a halt in production and the firing of director Bryan Singer after continued absences from the set. With just two weeks left to shoot, Singer was replaced by actor and director Dexter Fletcher (Eddie the Eagle, Sunshine on Leith). Talking to Screen, Malek said: "It was a very, very difficult, complicated time on set. All I wanted to do was honour [Freddie Mercury] and do him justice." He added: "I'm very, very proud of the way I conducted myself" and thanked fellow actors and the British crew for "stepping up" as the film seemed doomed to crash and burn.
Answering criticisms of the film, including the alleged "straightwashing" of Mercury's life, Malek said Bohemian Rhapsody rightly avoids "the illicit side of his life" so as not to "limit our audience."
"The one thing I was told he said before he passed [...] was, 'Do what you want, just never make me boring.' I don't think we've made him boring."
Performers recognised in New Year honours
Actor Sophie Okonedo, dancer Richard Alston and set designer Bunny Christie are among the stage and screen names being recognised in the New Year honour list, alongside literary giants Philip Pullman and Margaret Atwood. Okonedo received critical acclaim in the film Hotel Rwanda and was recently named as best actress for the National Theatre production of Antony and Cleopatra. She receives a CBE for her work, alongside fellow actors Thandie Newton (Line of Duty) and Jim Carter (Downton Abbey) who are to receive OBEs, as is Inception and Dunkirk director Christopher Nolan.
Read more here.
Hollywood 'utterly bemused' by Brexit
Film mogul Eric Fellner, co-founder of Working Title, has said that when he goes to Hollywood the reaction from fellow producers is one of "incredulity" over Brexit and the impact it will have on the booming British film industry. Fellner told the Guardian: "They cannot get their heads around the fact that nobody knows what could happen, let alone what is happening.
"They can't understand how we put ourselves in this situation and they're totally and utterly bemused." Talking as part of a piece on how the industry in Britain could be changed by Brexit, Fellner, whose credits include Four Weddings and a Funeral, Elizabeth and Darkest Hour, said: "We are very lucky in that we have a really strong industry, but we rely on a lot of actors and a lot of talent coming from all over the world, not just the EU, and it just seems a real shame to chuck all that away."
Read more here.
Stage production news
South London's Ovalhouse Theatre announced their spring 2019 season, headed up by Rhiannon Faith's Smack That (A Conversation), performed by a cast of professional dancers alongside survivors of domestic abuse. Other productions include Random Selfies by Mike Kenny, Coco Mbassi's Haendel on the Estate and Sherine Chalhie's Hijabi Matters. The new season also includes a work-in-progress of live music and performance company Pecho Mama's new show Divine Intervention and Joana Nastari's Amazonian Sweat Lodge, exploring the consumerism and faux spiritualism in a new collaboration with Casa Latin American Theatre Festival.
Screen production news
David Jason is to return in another instalment of Open All Hours spin-off series Still Open All Hours. Jason dons the apron once more to play Granville, the owner of a quiet suburban corner shop, once owned by Ronnie Barker's character Arkwright. Co-starring Johnny Vegas and Kulvinder Ghir with Tim Healy and Brigit Forsyth, the series is written by original creator Roy Clarke. David Jason said: "It always gives me great pleasure to look forward to working with such a wonderful and talented cast and crew, kick-started by the creation of such a surreal and silly world courtesy of Roy Clarke." Filming begins early in 2019.