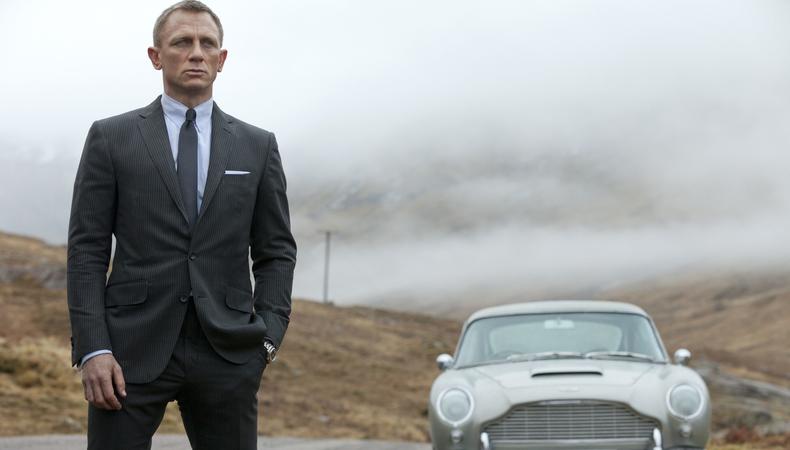 Hello, and welcome back to Week in Review, our roundup of industry-wide news. From stage to screens big and small, we've got you covered. It's everything you need to know and all you can't afford to miss.
Bond car-chase footage taken down from social media
Amateur footage of a car chase being filmed for the latest Bond film has been taken down across social media after MGM filed copyright claims on the footage. Shot in the historic Italian city of Matera, the videos reveal how difficult it is to film location scenes in a tourist hot spot when everyone has a camera in their pocket. To the frustration of the 007 fan community, the behind-the-scenes footage of a chase involving Bond's classic Aston Martin has been removed because it was deemed as "unauthorized behind-scenes" content.
The removals come at a time when Bond 25 could do with less negative attention and press, after a change in director, accidents on set, and a push-back on production and release. Worse, the removals from social media don't seem to have made a difference to the many copies on YouTube, showing that it's difficult to keep things under wraps in an age where filmmakers are playing catch-up with online communities. Read more here.
READ: Rami Malek: Bond Villain Must Not Be 'Religious Terrorist'
Original plays boom in West End
The amount of original plays in the West End has tripled from a decade ago, according to research from The Stage. Taking snapshots of London's theatreland between 2019 and 1999, the team revealed the proportion of original plays now accounts for 21% of all productions, with productions from subsidised theatres being credited for the boom. Super-producer Sonia Friedman suggests the adverse economic outlook creates the right conditions for new plays in the West End: "When you live in challenging times, writers will have something to say and audiences will want to listen."
The Stage's research looked at whether work on West End stages was "completely original, an adaptation of a source material, a revival, or, in the case of musicals, a jukebox work." The paper found the number of plays and musicals has remained roughly equal and that jukebox musicals have remained on around 7–10% of all stages. Read more here.
READ: London's New Theatre Boom: What You Need to Know
More women and performers of colour leading blockbusters than ever
Last year saw more women and performers of colour leading blockbuster films than any previous year, according to a new survey, suggesting Hollywood is responding to criticisms about on-screen diversity. A University of South California study found an increase in the breadth of representation in mainstream Hollywood films, 39 of the top 100 grossing movies in 2018 featured a female lead or co-lead, almost doubled from their first survey in 2007. The number of films with a non-white lead or co-lead also increased, up to 27 from 21 in 2017.
But it wasn't all good news: the study proposed that women over 44 were experiencing a "cut-off" from major films, with only 11 films featuring a woman of that age compared to the 24 featuring men. Just 1.3% of characters in the year's best-performing films were LGBTQ, none were transgender, and just 2% of characters had a disability. The statistics will echo around Hollywood but, at a time when audiences, actors and campaigners are demanding more representation, will also be keenly observed by major players in the British film industry.
New subsidised theatre wages 'bad deal for jobbing actors everywhere'
Performers working in subsidised theatres are fearing a pay cut in real terms after a new deal sees rates increasing by just 2% over the next three years. After negotiations with Equity, the UK Theatre weekly minimum pay will rise from £450 to £459.05 over three years, a little behind the rate of inflation. Described by some as a "pay cut" and a "bad deal for jobbing actors everywhere," some fear that after tax and agent fees, performers will be left with around the minimum wage of £8.21 an hour.
Equity's previous agreement saw rates rise by 12.5% in less than two years but has reportedly left some theatre managers "struggling to meet the unprecedented rises." Hilary Hadley of the union described this latest negotiation as "prolonged and difficult," but a UK Theatre spokesperson argued the new rates were "fair and forward-looking."
READ: Equity Engages With Fringe, Netflix, HMRC + More UK Union News
Six goes on tour
Pop musical Six has announced the full cast for its second UK tour, running alongside productions on Broadway, in Chicago, and in Sydney, Australia. Lauren Drew, Maddison Bulleyment, Lauren Byrne, Shekinah McFarlane, Jodie Steele, and Athena Collins will play the six wives of Henry VIII in the acclaimed production, backed by the show's all-female band, the Ladies in Waiting. Alternative casting will see Jennifer Caldwell, Cassandra Lee, and Harriet Watson perform some dates. Co-directed by Lucy Moss and Jamie Armitage, the UK tour begins in Guildford on 24 October.
Tomb Raider returns with a twist
In an unlikely twist, cult independent filmmaker Ben Wheatley (High Rise, Kill List, A Field in England) is to direct the return of the Tomb Raider film franchise, returning to the big screen after 2018's reboot starring Alicia Vikander as the fierce adventurer. The film, set for a 2021 release, sees the Oscar-winning Vikander return, with screenwriter Amy Jump – Wheatley's wife and regular collaborator – co-writing a new story for video-game character Lara Croft. Tomb Raider 2 is set to start production early next year.
For more from Backstage UK, check out the magazine.