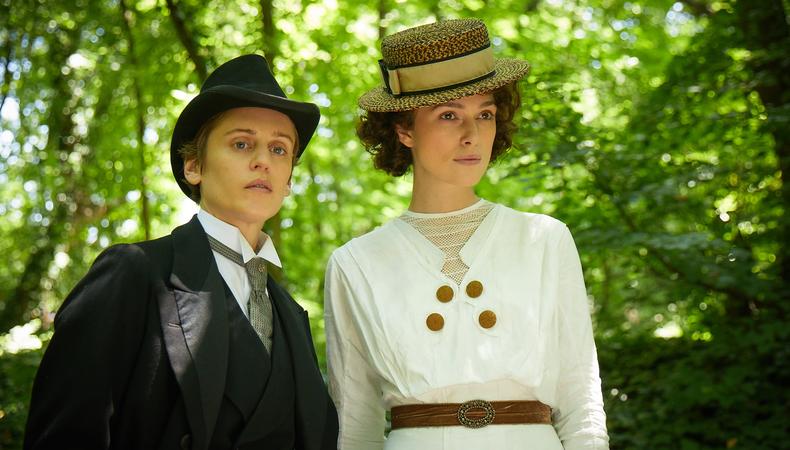 Keira Knightley is hiding inside a sarcophagus. It's part of her performance at the Moulin Rouge (the one in Budapest, Hungary, built to mirror the iconic Paris club), and once she emerges onstage, à la robot Maria in Fritz Lang's "Metropolis," the breakthrough sci-fi film of that moment, her sensual dance moves will incite a massive riot.
That was the toughest day on set according to "Colette" director Wash Westmoreland. "The logistics alone were so daunting," he says. "Writing something is very different [from doing it]. There are no time or budget constraints and no 150 extras in period makeup and costume—you just have your imagination. I still had two days left of the shoot, but once that big day was done, I felt like I could get the flu and they could just go on without me."
The scene appears in the third act of "Colette," the biopic that recounts how Sidonie-Gabrielle Colette came to pen the enormously popular Claudine novels. Though the semiautobiographical books were groundbreakingly honest about their female protagonist's sexual experience, they were published under her husband's name, who continuously denied her creative ownership as the titles became a cultural sensation.
READ: Keira Knightley Lives Out the Wild Days in 'Colette' Trailer
"I think this marriage reflects the tectonic shift in gender roles of the Western world in the early 20th century. Women are demanding acknowledgment, and men are using every weapon in their arsenal to keep them down," explains Westmoreland of the movie, which remains relevant in the current Time's Up era. "That's what puts her right into now: She went to great lengths to free herself of a very oppressive situation, discovered her true and authentic self, and never felt guilt or regret about her desires."
Colette's trajectory is traced with a distinctly buoyant and cheeky tone, achieved by combining a naturalistic acting style with deliciously witty dialogue and heightened moments of levity. "French stories done in the English language successfully, like 'Dangerous Liaisons' or 'Moulin Rouge' or 'Marie Antoinette,' have a twist in style that says, 'This can be authentic, but it's not meant to be completely realist,' " says Westmoreland. "Being free of the confines of realism was liberating for us; to do otherwise would be like putting a straitjacket on this story."
That's why, though Knightley has starred in a number of period films, "Colette" is new territory for the actor. "Keira has many great qualities that fit the part naturally—a facility for period pieces, a strong sense of self, an eye for fashion, and a lightning speed for comprehension. But she was also attracted to things she found to be a new challenge," explains the director. "In a lot of the period pieces she's done before, she hasn't expressed the same amount of sensuality. It was important for the film to have this frank view of sexuality, and Keira completely aced it."
As the unbearably egotistical Willy—a noted Parisian wordsmith who regularly employed ghostwriters, and Colette's husband, mentor, and exploiter—Dominic West "really ate this part up with a spoon. He understood all the ways that Willy was the villain, but he had to be charming and appealing so you see what Colette first saw in him," says Westmoreland, laughing at West's "middle-age dissipation" over the film's 15-year span. "We did this with makeup, Dominic slowed his speech, and [he wore] a series of bodysuits that got progressively larger. The costume department really had to keep up! Shooting in Budapest was so hot, so he had two tubes with cold water that ran around the bodysuit, and he'd plug them into a water system between takes."
Westmoreland co-wrote the final drafts of "Colette" with Rebecca Lenkiewicz, but the film is truly a longtime passion project of his late husband and "Still Alice" collaborator Richard Glatzer, who suffered from ALS. "Richard was determined to keep working, even as he became less and less physically mobile, so it was very important for me to make this film, to realize that dream, and to extend his creative legacy," he says. "We lived together, we worked together, we traveled together, we slept together! Writing with him was great fun, and I miss it tremendously. It's so nice to hear Richard's words come out of the mouths of these great actors."