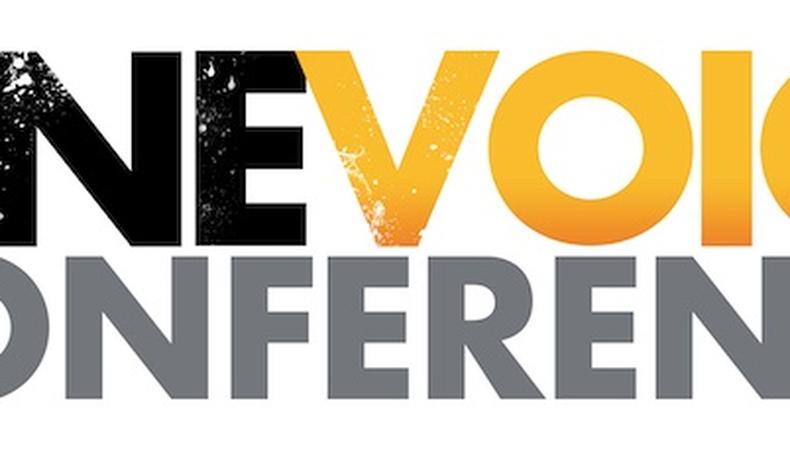 Whether you're new to voiceover or have been at it for years, there's a London conference coming up that's not to be missed. Taking place in April, the One Voice Conference will bring together VO artists industry-wide for four days of workshops, talks, networking, and, of course, lots and lots of practice using your voice.

Prior to the conference, co-founders and voice actors Peter Dickson and Hugh Edwards shared their hopes for the gathering, advice for anyone new to the field, and why you hear British voices might just be the most desirable ones in the world.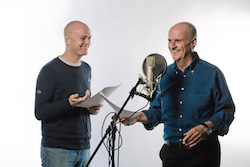 Tell us a little about the One Voice Conference.
Peter Dickson: Put lightly, it's a voiceover conference taking place in London between the 26-29 April and it's going to set the standard for what a U.K. voice acting event should be. It's a single place that voiceover artists from across the industry, from different fields and expertise, can come together and hear from expert speakers, take workshops hosted by industry legends, and network as one collective.
Hugh Edwards: Exactly, if you're a novice, intermediate or even expert voiceover, the One Voice Conference will make you a better voice artist and give you more opportunities to grow your career. It's an event for everyone in VO that's fun and educational. Sounds impossible to do, but we're doing it.
Why was the One Voice Conference started/founded?
HE: The answer to that is a mix of ideological and practical reasons. The idea had been growing for a while when [Peter and I] went to American voiceover conferences. They were huge, they offered so much potential to voiceovers, and they were like a retreat for you to become a better voiceover and have an amazing time doing it. And I was just wowed by it and saddened at the same time that we didn't have anything like that for U.K. voice artists, who produce some incredible work on the global stage.
PD: Yes, giving U.K. voiceovers that same experience is exactly what we want to do and we don't think they're ready for just how incredible the conference is going to be compared to what they're used to. It will set a new standard, that's what it's created to do.
What's the main goal of the conference?
HE: To give people a place to network, learn, and practice new voiceover skills in an environment that fosters their creativity, delivering courses and classes and opportunities that would usually cost a voiceover thousands of pounds, for the price of one ticket, in one weekend.
PD: We want voiceovers to get value and a real shot at growing their career. It's about giving them a network that simply wasn't there when I started working.
Why do you feel it's important to bring together voice actors and people in the VO industry like this?
PD: Voice acting can be a pretty solitary existence. A conference like this will bring everyone together under one roof for four days to socialise, engage with star talent, and teachers and learn from one another in an open and safe environment.
HE: That's why we're offering so many chances to network—getting a chance to meet people is really important, not just for your career, but your morale as well. Working from home is lonely work and we want people to meet their colleagues from across the country and become better voiceovers all in the same weekend.
READ: 3 Things All Voiceover Actors Should Be Wary Of
What's one thing you wish people knew/that most people don't know about voice acting work?
HE: The internet century has made the world a flooded market of voiceover actors and this intimidates many potential voiceovers and even puts them off because they think the competition is so huge. But they forget that a large percentage of these are poorly trained and execute voiceovers poorly, so it's relatively simple to stand out from the crowd, or at least, much more than people think it is. It puts off potentially great people, which is a real shame.
PD: How bloody hard it is! Not only getting cast to do the work in the first instance but the process of gaining the necessary skills to be able to do it well. Most people outside the business consider what we do to be easy, as most of us can read and speak. The really hard bit is the skill to be able to make someone else's words sound like they are wholly your words and that you don't sound like you are reading them.
What can attendees expect from the conference? What do you hope they walk away with?
PD: Well, primarily, I want everyone who attends to have a really great experience and our team has done a great job on both the educational elements and with the conference's social calendar. But more than this, I expect that those who attend and fully embrace all that this conference has to offer will leave with a sense of being reinvigorated and inspired by the new skills they may have learned from our stellar lineup of speakers and trainers and leave with a whole new bunch of ideas for progressing their own career to the next level.
HE: They can literally expect everything. This conference is a crash course in everything voiceover has to offer. It's the biggest conference of its kind in the U.K. and it gives anyone who attends more than they could ask for. Workshops, one-on-one assessments, panels, talks, social events, a nighttime Thames party boat cruise and even lunch every day. If you can think of it, we have it.
Any hallmarks of British voice acting?
PD: It's impossible to know where to start. Jon Briggs is attending who was the U.K. male voice of Siri and voice of the 'Weakest Link'. Trish Bertram is an announcer for the International Olympic Committee. Brian Bowles, the voice of Captain Pugwash and a Spitting Image regular, is joining us, as is Alan Dedicoat, the voice of the national lottery. And we have Alix Wilton Regan, the female lead of Assassin's Creed Origins joining us for our Women in Voiceover panel and hosting a gaming workshop. Plus I'll be there, if I may be so bold as to add me to the list.
HE: And that's just voice actors. We have dozens of talents joining us who work as animation producers, like Dave Peacock who did work on 'Dangermouse' and 'Wallace and Gromit', and Peter Bishop, who's the president of World Voices. And then our US guests include voice actors like Randy Thomas, who voices the Oscars and every other major US event, and Joe Cipriano, who is the voice of Fox and CBS. These are great people from all over the world and from across the industry. It really is an exceptional group, it would be hard to select any one particular hallmark.
What advice would you give someone who is just starting out in voice acting?
HE: There's a bit of a myth with people who start out in the business that they can be a great voiceover as long as they have a great-sounding voice. Your natural base voice is five percent of your package. In the same way you have 10 fingers, you are not necessarily a virtuoso pianist. It takes hundreds of hours of training to become a pro VO.
PD: I always tell people that if you want to be serious and succeed at anything, be it tennis, football, playing an instrument or indeed voiceover, then you need to invest in yourself and find the best person you can, or can afford, to teach you. You could always try and go it alone, but you would inevitably end up wasting time and money doing the wrong things.
What's one piece of networking advice you can offer voice actors?
PD: Go to as many parties and industry events as you can. Always have your branded, well-designed, professionally-produced business card with you at all times. Spread the word and tell people what you do when you meet them. You will be amazed at how interested people are in your world and what you do and regular contacts like this often lead to work down the line. Be as visible as you can. Keep your website looking current and up to date. Offer your services for free to your favourite charity. Create a dialogue with people on social media. Be interesting but NEVER sell yourself.
HE: And you should come to the One Voice Conference! Not to sound sycophantic, but conferences like One Voice are the best way to meet a diverse group of people and carry out all the great pieces of advice that Peter has pointed out.
Check out Backstage's voiceover audition listings!