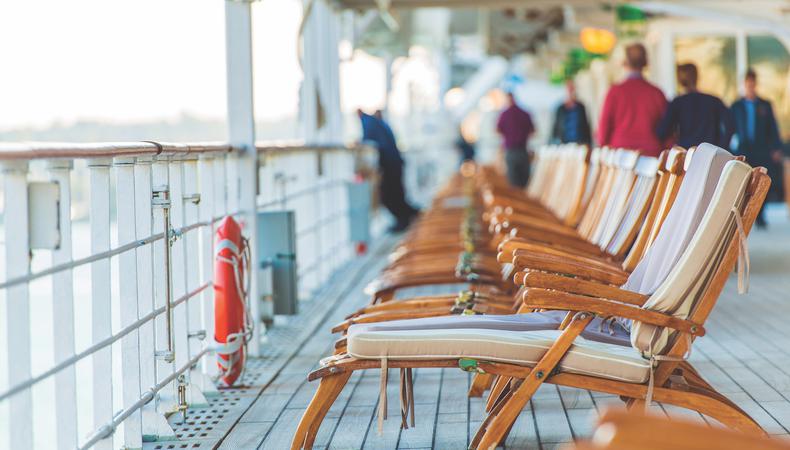 When one thinks of cruise performances, it's often musicals, show tunes, and sparkly costumes that come to mind. But the U.K.-based, three-ship Cunard fleet is bringing straight plays to audiences on the open seas.
In addition to abridged versions of Shakespeare productions, the luxury cruise line partners with students and teachers at London's Royal Academy of Dramatic Art to bring original productions to a live audience on around 15 voyages a year.
"We're currently proactively trying to find creatives to create bespoke plays unique to us and pieces of performance that you'll only see at Cunard," says Paul Wright, head of entertainment at Cunard's parent company, Carnival U.K. "We're going out to producers and creators to have individual conversations and give opportunities to creators who can't get their work up and out, whether it's down to funding or venue capability. We'd love to be the type of brand people in the creative business call and engage with."
READ: "On the High Seas of Performance Success"
The process of bringing plays to a cruise line audience began three years ago, when, according to Wright, patrons explicitly voiced a desire for onboard entertainment outside of the traditional musical format. Since then, Cunard has expanded to 13 full productions—both musical and straight—across its Queen Elizabeth, Queen Mary 2, and Queen Victoria ships.
Several shows focus on dancers, highlighting styles such as jazz and Latin ballroom, while others are tailored to vocal and performative elements that evoke West End and Broadway productions, as well as pop culture references including Queen, Whitney Houston, Abba, and "Saturday Night Fever." (For jazz music enthusiasts, Grammy winners Gregory Porter and Dee Dee Bridgewater are currently performing on Cunard.)
The variety caters to the company's larger dedication to performers who wish to hone and expand their craft through exposure to different styles, nationalities, and locations, says Wright. And the fast--paced environment will enhance any performer's innate abilities.
"Sometimes they only have six days on land rehearsing before they have to perform in front of a live audience," says the entertainment director, who often sits in on dancer and singer--dancer auditions that take place in London, Manchester, and New York City. Auditions are typically split into two days: Dancers and singer--dancers followed by pure vocalists and actors.
Generally, Cunard casting directors come stateside to New York City between March and April and are looking to cast actors, dancers, and singers up to 12 months in advance. Those casts will be brought to the U.K. for about eight weeks of rehearsal before they embark on a six-month tour.
READ: "How to Be More Confident in the Audition Room"
"For the actual audition process, do what you're comfortable with," Wright advises aspiring Cunard performers. "Don't try to be clever, and I'm particularly looking at the vocalists. We're clear in the vocal range we want, but we want to see personality as well."
Personality is important on- and offstage, as Cunard performers mingle with guests in between shows, says Wright. If you're considering auditioning for a Cunard production and aren't sure about something, call up the company and ask. Not only will it get you the information you're seeking, you'll begin to form a relationship with the company.
"We love people calling us up and asking questions to understand what they do," says Wright. "Checking salaries, conditions, styles of shows, and where they can bring their ideas out onstage. We want to help to develop long-term careers, not just [cast] people in a produced show. We want you to develop your own show."
See if any cruise ships are seeking singers or singer-dancers in Manhattan! Check out our New York City audition listings!