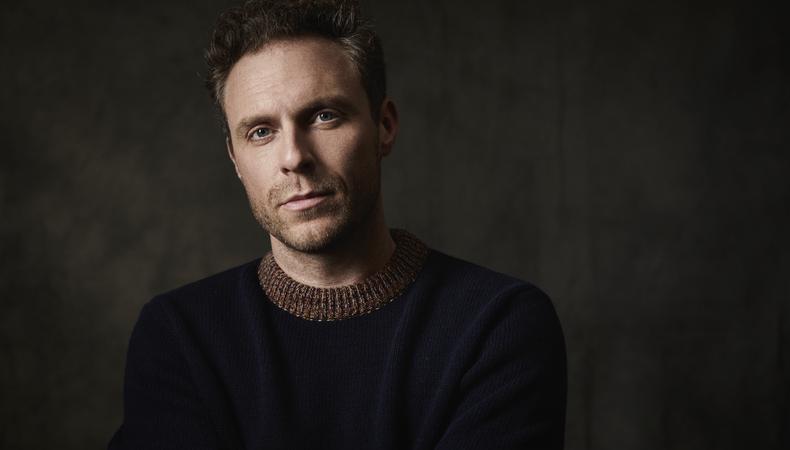 The following Career Dispatch essay was written by actor and director David Elliot, who will soon be reprising his role of Jonesy in the second season of Sky One's cop drama Bulletproof. He's also known to UK viewers from Outlander, Clique, and the superb Afghan War film Kajaki, and will star next year in Netflix's WWII drama The Liberator.
What advice would I give my younger self?
If I were to tell my younger self, who passed the summer holidays playing cops and robbers in the Edinburgh streets, that when he is all grown up he would be playing the same kind of cool detectives he saw on shows like Miami Vice, doing shootouts, car chases, and cracking jokes, I probably wouldn't have believed it.
Right into my early 20s, I really struggled to find an outlet, and ended up acting out in less constructive ways. Things only came to pass when I decided to look into acting classes as a way to reconnect that joy I had felt in the playing and make-believe of my childhood. Fifteen years later, I am now living that dream I had as a kid on the highly successful action cop show Bulletproof, playing Jonesy, one of the lead detectives. My character has shot lots of bad guys, had car chases and hand-to-hand combat, even kicking the ass of a real-life bare-knuckle boxing champion. Not bad for a working-class boy from the rough Leith streets!
The journey to booking the job in Bulletproof was itself a rollercoaster ride. Until this show, I was mainly doing independent movies and theatre, both of which I adored as I took myself very seriously as a dramatic actor, seeking gritty authentic stories and troubled character roles. But although I was getting creatively fulfilled, I wasn't getting the same amount of exposure as I would have in more mainstream projects. So, I had a conversation with my agents about wanting to move into such projects.
READ: 10 London Talent Agencies All Working Actors Need to Know
Firstly, I booked a role in a big-budget American film. It was a smaller role, but we hoped that if successful, it could lead to more. The movie didn't explode in the way we'd hoped and it wouldn't suddenly put me on the map. I saw being part of these massive mainstream projects like being part of a brand: if you are associated with them, you are deemed more credible.
I saw this happen overnight around the time I got my big break in the war film Kajaki. I hadn't changed my work ethic and my talent hadn't suddenly altered, but the role itself, and the success of that great film, suddenly transformed me from this unknown actor who couldn't get in the room to someone who was part of this intense piece of storytelling that people in my industry could see and respect. These moments are like the end and beginning of chapters in the book of your life as an actor.
Bumps in the road
Then there were three brilliant jobs that didn't go my way right before I booked Bulletproof. In two of these, I was led to believe they were mine – I'd even shaken the hands of the people making those movies and we spoke about our excitement to work together. I thought: "This is the end – I am not booking work, success isn't happening, and perhaps it's time to call it a day."
READ: How to Book Work on Backstage
Then I got the phone call telling me that a recall I'd gone to a couple of weeks prior – that I'd assumed had gone away – had turned into an offer, and I'd be starting soon in Bulletproof. I was back in the game in a big way – a leading series-regular in a brand new, exciting show on one of the best networks in the UK. That little kid who fired make-believe guns with his fingers was about to start training with real ones!
The only trouble I had while filming Bulletproof was reminding myself that this was a real job. I had become so used to the hardship of independent filmmaking and drama that I wasn't used to being in a broad and entertaining show like Bulletproof – we were having so much fun, chasing bad guys, having banter and laughs on camera. It felt so far away from what I had being doing previously as that "serious dramatic actor" that I had strived to become.
Then I realised: I didn't have to feel guilty. I had to remind myself of that young boy playing cops and robbers on the street – the simplicity of using your imagination and playing. Not all acting needs to be intense or mentally gruelling, and a lot of the movies I grew up watching – and the movies and television I actually love – are these broadly appealing, exciting action shows.
That was the moment I felt truly blessed, and it sunk in that I was living the dream. I think it's very cool that maybe some young kid from the working-class neighbourhood I grew up on in Edinburgh watches a show like Bulletproof, and hears his regional voice on screen, and realises that it is possible to have a career in acting, and that playing make-believe isn't just for kids!
More for UK actors? Check out the magazine.