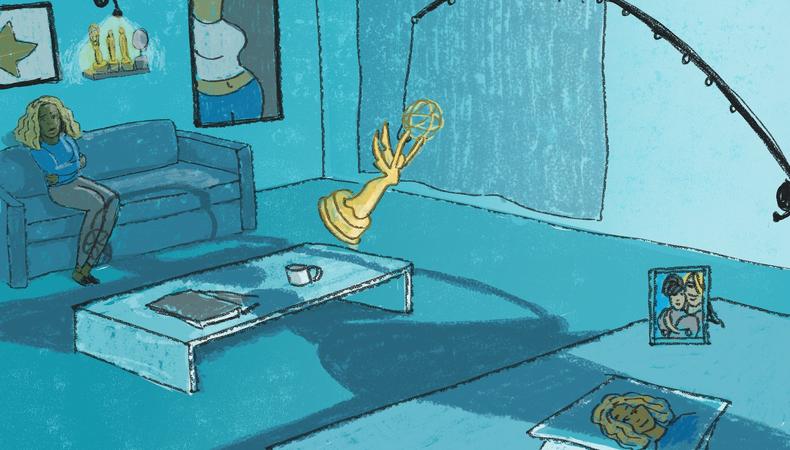 From Harvey Weinstein to Bill Cosby to Kevin Spacey, it's been almost a year since the floodgates were opened on industry harassment in Hollywood. While the groundswell of oustings has led to an unprecedented intervention from industry creatives, actors, and unions—and rightfully catapulted abusers out of their positions and into criminal trial—the dissemination of crucial information to protect yourself and others is as powerful and necessary as ever.
As movements like #MeToo have grown, we have a continued obligation to protect victims, especially those who don't feel like they can fight harassment without putting their careers at risk, and who are part of marginalized communities.
This guide is for those with questions about avoiding harassment or being an ally to those who have experienced abuse. Here's how you can spot and respond to red flags, find resources you can lean on, and learn realities to be aware of.
What is the "casting couch" and why should I avoid it?
Whether you're new to the business or a veteran, you have likely heard of the term "casting couch." What sounds like a fairly innocent term has a long history and a terrible reputation. As noted in an article in the Atlantic on the origins of the phrase, although the term itself had not really come into popular use, a New York journalist reported back in 1920 on "immorality in camera-land," where "young women are not advanced in their chosen profession unless they submit to the advances of studio managers, directors, or influential male stars."
Nearly a century later, the "casting couch" has remained what the United Nations refers to as "quid pro quo harassment," defined as when "employment and/or employment decisions are based on that employee's acceptance or rejection of unwelcome sexual behavior." Since the start of #MeToo, casting couch and audition horror stories have come out with regularity, from Thandie Newton to Helen Mirren to Judy Garland.
Thankfully, we're getting closer to making sure these detrimental practices become as antiquated as their origins. California lawmakers are currently working to revise a two-decade-old sexual harassment law to make it easier for victims to file a complaint. The modifications will address professional relationships where victims are harassed while seeking advice, treatment, or in mentoring relationships. According to Jessica Stender, senior counsel at Equal Rights Advocates, the most important part of the bill "is it gives people a clear avenue for redress if they are harassed. Would-be harassers are made aware that this type of behavior is unlawful and will not be tolerated."
If this has been going on for so long, why are we only now talking about it on a larger scale? How does #MeToo play into this?
There are few people who know more about the impact of workplace sexual harassment than Anita Hill, who testified in a landmark 1991 hearing against now–Supreme Court Justice Clarence Thomas. Hill currently serves as the chair of the Commission on Eliminating Sexual Harassment and Advancing Equality in the Workplace. According to Hill in a recent interview on HBO's "Last Week Tonight With John Oliver," the major things that have changed in recent years are public opinion and the amount of available information. While it still seems like it takes dozens of accusers to come forward before allegations are believed (and sometimes not even then), with more and more people becoming change agents, progressive conversations around the issue are more commonplace.
One of the greatest catalysts for both has been #MeToo, the social activism movement created by Tarana Burke aimed at combating sexual harassment and assault. The movement went viral in October 2017—10 days after the New York Times allegations about Weinstein were published—when actor Alyssa Milano tweeted "If you've been sexually harassed or assaulted write 'me too' as a reply to this tweet." Since then, #MeToo has become an international rallying cry.
In addition to the initial movement, Time's Up, an organization addressing "systemic inequality and injustice in the workplace that have kept underrepresented groups from reaching their full potential," was formed at the start of 2018 and was later prominently spotlighted at the Academy Awards ceremony in March.
The flood of reactions from A-listers and prominent behind-the-scenes creators alike was a long time coming: A poll released by USA Today in February 2018 showed of the 843 women in the industry surveyed, 94 percent have experienced sexual harassment, intimidation, or abuse. Sixty-nine percent of those surveyed reported being touched in a sexual way, 64 percent reported being propositioned for a sexual act or relationship, 10 percent were ordered to strip naked for a scene without prior notice, and 24 percent of respondents left their job due to sexual misconduct.
However, there are numerous reasons why victims don't come forward right away—or ever—with allegations: fear of retaliation or consequences from the abuser or the public, denial or minimization, fear of not being believed, not to mention an arduous and notoriously unjust criminal justice process for survivors of sexual assault. (Out of every 1,000 rape cases, 994 perpetrators will walk free, according to the Rape, Abuse and Incest National Network.)
But with more people coming forward about the harassment and abuse they have experienced in the industry, those who have previously been silenced are now finding their voices.
What are some red flags I should be aware of?
Knowing how to spot certain red flags and identify types of sexual harassment is an important first step in protecting yourself.The two main forms of sexual harassment in the workplace are quid pro quo harassment and hostile workplace harassment. Quid pro quo harassment will consist of a requirement for the applicant or employee to submit to offensive conduct in return for something; for example, but not always so blatantly: "If you have sex with me, you will be cast," or be given a raise or promotion, or special treatment. Conversely, the requirement may be presented in the form of a threat or ultimatum: "If you won't have sex with me, I will fire you."
Hostile work environment harassment includes any unwelcome verbal, physical, or visual conduct that creates an intimidating or offensive professional environment or that interferes with work performance. The content is usually severe or pervasive in nature, such as unwelcome kissing, touching, groping, suggestive emails and texts, etc. Time's Up has a great guide for identifying both forms of harassment, the red flags to pay attention to, as well as situations that toe the line but may not "rise to the level of sexual harassment."
An obvious red flag to look out for is auditions and similar meetings held outside of a professional environment, such as apartments and hotel rooms, which the industry is actively working to prohibit. In April 2018, SAG-AFTRA announced it will push for a ban on auditions in hotel rooms and residences, which the guideline refers to as "high-risk locations."
"We are committed to addressing the scenario that has allowed predators to exploit performers behind closed doors under the guise of a professional meeting," said the union's president, Gabrielle Carteris.
What qualifies as harassment?
Generally, the most conclusive definition of "harassment" comes from the Equal Employment Opportunity Commission and the United Nations: "Unwelcome sexual advances, requests for sexual favors, and other verbal or physical conduct of a sexual nature when submission to such conduct is made either explicitly or implicitly a term or condition of an individual's employment; used as a basis for employment decisions affecting such individual; or has the purpose or effect of unreasonably interfering with an individual's work performance or creating an intimidating, hostile, or offensive working environment."
Keep in mind that "unwelcome" is the stressed word here: "Sexual conduct is unwelcome whenever the person subjected to it considers it unwelcome." This may include anything from giving personal gifts without justification to rape or sexual assault, and everything in between. It is at the discretion of the victim on an individual basis what they consider to be unwelcome, and the best way to determine what that individual finds appropriate is to ask for consent prior to any action.
Also important to note is that harassment affects all genders and identities, not just cisgender women. While women make up 83 percent of the EEOC's complainants, Corey Feldman, Terry Crews, James Van Der Beek, and Anthony Rapp have also been significant male voices in the #MeToo movement, coming forward to discuss their experiences with abuse. Unfortunately, nonbinary and transgender victims have been greatly left out of the mainstream conversation, though prominent activists and creators, such as Laverne Cox, Sarah McBride, Raquel Willis, Xoài Phạm, Jari Jones, Yael Levine, and Munroe Bergdorf, are ensuring their contribution to the conversation is heard.
How do I know if this is an abuse of power even if it's consensual?
Harassment can be targeted to stagehands, actors, writers, designers—anyone. However, the power dynamics of a situation can vary greatly and control the outcome. Even if a relationship or act is consensual, if one of the two consenting individuals has a position of power over the other, it is an unavoidable factor that dictates the relationship's circumstances.
Consider a relationship between a director and an actor. If the two engage in a consensual act, no matter what that act is, for as long as the two persons are working together in that context, the director is still in a position to leverage their influence, should the situation change for the worse. Unless one has the star power to influence major decisions, in most cases, who would the production rather lose: an actor or the director?
Even if both people have consented in one situation, the dynamics of another situation may be entirely different. What is consensual with one person may not be with another, but the advantages for one over the other remain the same. Anita Hill said it best: "If you have an individual...who feels entitled to do whatever they want to whomever they want, because they're in that position of power, then that is your red flag."
RELATED
What should I do if I find myself in this situation?
The first thing you should know is that you are not alone in your experience. A survey conducted by the Center for Talent Innovation showed that women in the entertainment industry were more likely to report misconduct than in other industries, making up 41 percent of surveyed claims.
What comes next is entirely up to you, and there is no one right answer as to how you should handle the situation, especially if you are afraid of exacerbating it. If you feel comfortable or safe in addressing it one-on-one with the abuser, or even with another higher-up, do so. If you are a victim of rape and feel comfortable reporting it to the police, do so. If you don't feel comfortable with either scenario, speak with a trusted friend or family member. Talk with other performers and creatives who have worked with the abuser or have experienced similar situations themselves. Warn others within your circle and rely on the word-of-mouth "whisper networks" that exist to keep people safe.
RELATED
What should I be prepared for in the aftermath?
A sex crime and its aftermath can (and often does) affect the victim's entire life. Depending on the individual and the event(s), the psychological effects of harassment are well-documented: anxiety, loss of self-esteem, post-traumatic stress disorder, suicidal behavior, guilt, and feelings of helplessness and hopelessness.
While reporting sexual harassment or assault seems for many like the obvious next step, there are many reasons why victims do not report the crimes against them. Reporting harassment and abuse often leads to adverse effects for the victim while the abuser continues to thrive.
Although it feels like we're on the path to real change, what you should be aware of, unfortunately, is the likelihood that nothing will be done. An expectation of retaliation from the abuser is often a major deterrent from taking further action, especially among performers. Of sexual violence crimes not reported between 2005–2010, 20 percent feared retaliation, 13 percent believed the police wouldn't do anything to help, and another 13 percent believed it was a personal matter. Victims are regularly accused of exaggerating or lying about claims of sexual abuse, although FBI statistics for false claims range from 2 percent to 10 percent of all reported sex crimes. Actors such as Blake Lively have spoken at length about being harassed by higher-ups or colleagues where nothing was done even after reporting it to producers. The possibility of losing a role or being blacklisted from the industry is a very real fear.
The most important thing to be prepared for in any scenario is deciding what you need to do to keep yourself safe, and considering taking action if and when you are in a place to do so.
What should I do if I'm aware of the harassment of another person?
If you are in any position of power, either societal or career-oriented, you have an obligation to speak up when you see or hear of harassment or abuse. You need only look as far as Weinstein and his enablers and silent observers—from executives and assistants in his company to other producers and directors, such as Quentin Tarantino—to know the damage keeping quiet can cause.
If a person who has been harassed or abused tells you about it, believe them. If you are witnessing harassment or are a bystander, intervene. Confront the harasser or get the victim out of the situation if possible, or, if neither of those are an option (especially if you yourself are not in a position of power), stand by the victim to corroborate and confirm an account of what happened. Work to provide a voice for those who are not able to speak out without fear of retaliation. Work toward dismantling the networks of silence that exist to keep abusers in power.
Who can I call on for support? What are resources I should know about?
In addition to reaching out to trusted friends, family members, and allies, there are many resources for actors who have experienced harassment and abuse. The RAINN National Sexual Assault Hotline at 800-656-4673 and Planned Parenthood Sexual Assault Hotline at 877-212-2323 can both be reached 24 hours a day (some after-hours calls to RAINN will be handled by an answering service) to provide counseling from employees trained in sexual assault. In addition to the hotline, Planned Parenthood has advocacy and education services that can be found by contacting the Sexual Assault Services line at 518-561-4430.
Los Angeles District Attorney Jackie Lacey also joined the movement in November 2017 and created a task force of veteran prosecutors to deal with sexual abuse crimes in the entertainment industry. Soon after, Women in Film launched a sexual harassment help line and a pro bono legal aid service for actors of any gender. Per an article in Variety, the help line can be reached Monday through Friday from 10 a.m. to 5 p.m. PT by calling 323-545-0333, and "after-hours calls will be returned during business hours." Other resources specific to L.A. include S.A.F.E. (Stop Abuse From Existing) L.A., the city's domestic abuse awareness initiative that provides legal assistance and shelter to those enduring abuse.
The Chicago theater community also formed the support group Not in Our House, which includes the Chicago Theatre Standards, "a tool for self-regulation in theater spaces" serving to mentor institutions, theater-makers, and others about procedures and responses to harassment, bullying, and discrimination. There is also a monthly support group to hold space for those who have experienced industry trauma, as well as local resources.
The Time's Up Legal Defense Fund, administered by the National Women's Law Center, is available to help fund legal and public relations costs in select workplace sexual harassment or related retaliation cases. Additionally, the organization also provides several resources, including BetterBrave, Futures Without Violence, and more.
If you are an actor working in the U.K., there are numerous resources that offer support to victims of rape or harassment and work to help with the reporting of incidents, including the Equity Helpdesk and the United Nations.
RELATED:
What if I want to press charges?
If you are in a situation where you feel able and want to press charges against your abuser, there are several routes, depending on your position in the industry. Both SAG-AFTRA and the Actors' Equity Association have specific laws in place to combat abuse and file charges if it occurs. SAG-AFTRA members can report the incident (anonymously or otherwise) to the SAG-AFTRA EEO & Diversity Department at 800-724-0767 or by filling out a form online. SAG-AFTRA can be reached during business hours in Los Angeles at 323-549-6644, or in New York at 212-827-1542. There is also a 24-hour hotline for onset emergencies at 844-723-3773.
The Actors' Equity Association Showcase Code was updated in January 2018 to include the prohibition of nudity in Equity interviews and an upfront agreement for clear language denoting possible nudity during auditions, rehearsals, or a production's run. Additionally, in the wake of #MeToo and the Weinstein revelations, Equity's National Council formed a new committee chaired by Equity President Kate Shindle that is dedicated to preventing sexual harassment and workplace hostility in the theater.
"Our employers have an obligation under federal law to ensure that everyone can go to work without the fear that they will be harassed," Shindle said in her statement. "We take that obligation very seriously, and this new committee will endeavor to make sure that every Equity workplace is free from harassment and bullying."
The theater union continues to run a strict antidiscrimination policy. According to Equity's Executive Director Mary McColl, members who experience an act "that makes them feel uncomfortable and that they believe constitutes harassment" can find and report it to their Equity Business Representative.
If you are not in the union, you may think you don't have options. However, actors not protected by the union are still protected from workplace sexual harassment under Title VII, a federal law. According to Title VII, a violation takes place "when the workplace is permeated with discriminatory intimidation, ridicule, and insult" that is "sufficiently severe or pervasive to alter the conditions of the victim's employment and create an abusive working environment." Charges may be filed in person, by mail, by contacting the nearest EEOC office, or by calling toll-free at 800-669-4000 or 800-669-6820 for more information.
What if I don't want to press charges?
Whether you want to go forward and press charges is entirely your decision. While for many it may seem counterproductive to not do so, the criminal justice process for harassment and abuse is more often than not disappointing at best. According to RAINN, perpetrators of sexual violence are less likely to go to jail or prison than other criminals. Out of every 1,000 rapes, only 310 are reported to the police and only 13 cases get referred to prosecutors. The entire process can be mentally, physically, and financially taxing to the victim; for this reason and many others, there is no shame in not taking legal action.
Also, be aware that choosing not to press charges is not the same thing as not reporting the crime. That option is still there for you if you feel safe to do so, either within your organization or to an outside organization such as RAINN.
Will reporting it affect my career? What else should I consider?
One of the biggest fears of reporting sexual harassment and abuse is how it will affect the victim's career. As early as training, actors have avoided reporting perceived harassment. According to a survey from the U.K.-based theater newspaper and website the Stage, of 1,050 theater professionals and performing arts students surveyed, 67 percent of those who had experienced harassment did not report it.
Many performers, in disclosing their stories, have said they've lost roles by rejecting the advances of a higher-up or by reporting crimes against them. In an interview with Ronan Farrow for the New Yorker, Mira Sorvino said, "There may have been other factors, but I definitely felt iced out [of Hollywood] and that my rejection of Harvey [Weinstein] had something to do with it." Kate Beckinsale has written about a male friend who, after hearing about Beckinsale's negative experience, warned another female actor about Weinstein's advances and was then blacklisted within the industry. Lisa Rinna lost a role on a major television series for refusing to have sex with a producer. The list goes on.
In one of the most prominent examples of sexual abuse in recent years, Anthony Rapp, on the advice of a lawyer, chose to not pursue a case against Kevin Spacey and remained silent about the assault for over 30 years. When Rapp was ready to tell his story, over a dozen other account came to the surface, and the whisper network that existed against Spacey for decades was proven to be right.
You should always feel empowered to report a crime against you, but it is also always your choice. What is most important is that you put yourself in a situation where you feel safe and where you can hopefully confide in someone, be it a friend, legal counsel, or law enforcement.
Check out Backstage's film audition listings!