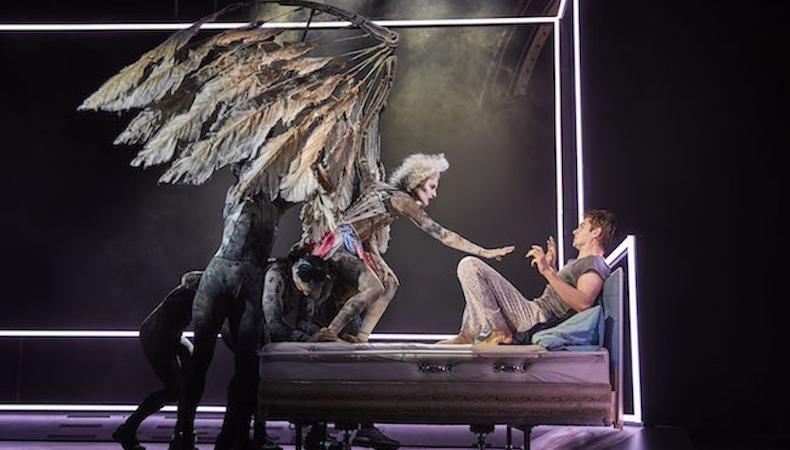 Marianne Elliott knows she's not the most obvious person to direct Tony Kushner's 1993 Pulitzer Prize–winning masterpiece, "Angels in America: A Gay Fantasia on National Themes." "I'm not American; I'm not Jewish; I'm not Mormon; I'm not gay; I'm not a man," she points out. But to see Elliott's 11-time Tony-nominated staging (the most of any play—ever) is to learn that no other stage director can pull it off quite like her.
"I love it as a piece, and for me it feels like, despite all of those things, it is about my life, and that's [the result of] really excellent writing," says Elliott. "However specific it is, it also has these universal resonances. So I fought—I fought and fought and fought to get the rights in London."
Her "Angels in America" ran at the National Theatre last year and took home the 2018 Olivier Award for best revival. This New York transfer, on the other hand, is one that Elliott never allowed herself to predict for fear that such aspirations would take her mind away from the London run. "If there's a further life, then so be it, but that's something that you just can't concentrate on when you're originating it," she says.
Herself a two-time Tony winner for "War Horse" in 2011 and "The Curious Incident of the Dog in the Night-Time" in 2015 (and now a nominee for "Angels"), Elliott and her ensemble of actors (among them 2018 Tony nominees Andrew Garfield, Nathan Lane, Denise Gough, and Susan Brown) breathe "more life," as Garfield's Prior would say, into Kushner's generation-defining and theater world–changing epic on AIDS, politics, and religion in Reagan's America. And it's not made especially relevant just because Lane as Roy Cohn happens to play our sitting president's ex-lawyer and right-hand man—though that helps.
From a technical standpoint, it's thanks to the way Elliott decided to dive into Kushner's text that enlivens it anew, beginning with the eponymous Angel, here originated by Amanda Lawrence and now played by Beth Malone. Rather than the magnificent winged creature portrayed by Emma Thompson in Mike Nichols' 2003 HBO miniseries, Elliott preferred Lawrence's Angel looking wrecked and tattered, nearly disintegrating before Prior's eyes after her fall from infinity to his small New York apartment. She wanted the angels to "have that sense of decaying from something that was once glorious and fabulous, but was frayed on the edges" to emphasize that "she had an ailment [that is] connected to Prior's ailment."
Similar creative tweaks are seen throughout the grand, seven-and-a-half-hour production—from pink and blue neon-lined set pieces (sets by Ian MacNeil and Edward Pierce, lights by Paule Constable) to a haunting score (music by Adrian Sutton) to unexpected line reads from the inimitable players onstage. When it came to fleshing out the ensemble, which also includes James McArdle, Nathan Stewart-Jarett, Lee Pace, and Beth Malone, Elliott offers a final glimpse into her process: "I worked in casting for about five years before I became a director, and that taught me a huge amount, because you never actually will see the character walk through the door—and if you do, then you have to be slightly suspicious of that," she explains. "What you're looking for is somebody who you think has certain qualities or has the potential to do something they might be able to do. There's a risk in that, obviously, but, you know, you just listen to your instincts."
And if one theater director working today has found acclaim for the not-so-small feat of following her instincts and putting her stamp on an American classic, it's Elliott.
Want to act in the U.K.? Check out Backstage's London audition listings!